Recap: '14 Elite 32 Summer Jam I
Posted
6 years 2 months ago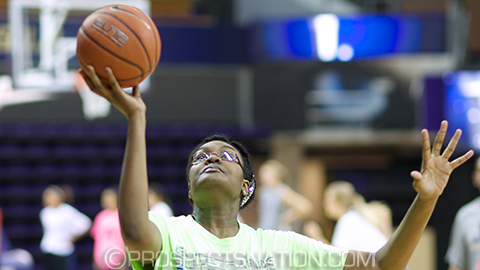 Erin DeGrate of Waco, Texas, has shown continual growth as a player making her one of the most highly sought after posts in the country right now. *Photo by Chris Hansen.
AUGUSTA, Ga.-The Peach State Basketball ELITE 32 Summer Jam I was attended by quality teams from most regions of the country. College coaches had the opportunity to watch 50 teams in two days. This has become a must see event during July's second half.

Erin DeGrate (Waco, TX.), United Elite-2015
Truth to the saying that, "everything's bigger in Texas" is very apparent when Erin DeGrate steps onto the floor. Her commanding presence is not just a visual thing. In the past three years she has constantly improved in all areas of her game and is most definitely one of the top post players in the country.
One of the things that is most noticeable in DeGtate's game is how big she plays. The 6-foot-4 post uses every inch of her size on both ends of the floor. On offense she keeps the ball above her head around the basket and is almost unstoppable, while on the defensive end she takes up a lot of space in the lane. Her strength and soft touch around the basket is a combination that makes her a potential go-to player. The 27th ranked player in the class of 2015 drew a lot of attention from her opponents, but most importantly from major college coaches from all over the country. This has been a very good July for DeGrate.
FEATURE PROGRAM
Kentucky Premier
Coach Nick Cann's Kentucky premier team came away with the championship of MercedesPSB bracket at the PSB ELITE 32 Summer Jam I. Class of 2016 wing Kaela Saner of Mt. Olivet, Ky., had a very good showing. It was highlighted by how well she shot the ball from the perimeter. Saner ended with 16 points, 12 of which came from beyond the arc. Some of her supporting cast includes class of 2016 shooting guard Markeia Porter and class of 2017 power forward Gabby Burris. Both add a different element to this team, Burris with her ability to score inside and out and Porter with her powerful game as a bigger guard with good ball handling skills. This is a well-rounded Kentucky Premier team.
The entire Kentucky Premier program is sprinkled with some very talented players. Some of the players that drew attention were senior Katie Collier, freshmen J'nae Hall and Eli Bartley, and sophomore Hannah Langhi.
Other players of note from the program that have made their college choices from the class of 2015 are Kentucky commits Morgan Rich and Maci Morris, Kansas State commits Anna Hammaker and Cheyenne Hooper, and Colorado commit Alexis Robinson. The Kentucky Premier program continues to prove that it provides a quality experience for players that want to play basketball at the next level.
AROUND THE RIM
♦ The future of girl's basketball is alive and well. TN Xtreme is the travel home for a couple of notable 2018 prospects -- Jazimine Massengill of Harrison, Tenn., and Elizabeth Balogun of Chattanooga, Tenn. Massengill is a combo guard that is hard to contain when she has the ball in her hands and the athletic ability of Balogun is still untapped and somewhat unlimited. This duo will draw a lot of attention years to come.
♦ TN Fury is another program that has good talent in a variety of classes. The class of 2018 is represented well by point guard Casey Collier and post player Abby Cornelius, both of Knoxville,Tenn. Hanna Garrett, a forward from Jamestown, Tenn., is a key component of the this underclass team. Elizabeth Trentham and Dakota Turner are the anchors of the 2015 team. Trentham gives an offensive punch and Turner provides physical play on the defensive end of the floor. The TN Fury coaches have done a good job preparing these girls with solid fundamentals. Follow @StephenPeckPSB

Peck is the owner of Dream In Motion Athletics and is a national evaluator for the JumpOffPlus.com National Scouting Report. He also serves as a on-floor skills coach at the Elite Basketball Academy events. He can be reached at StephenPeck@peachstatebasketball.com.