Recap: 2015 EBA All-American Camp
Posted
6 years 9 months ago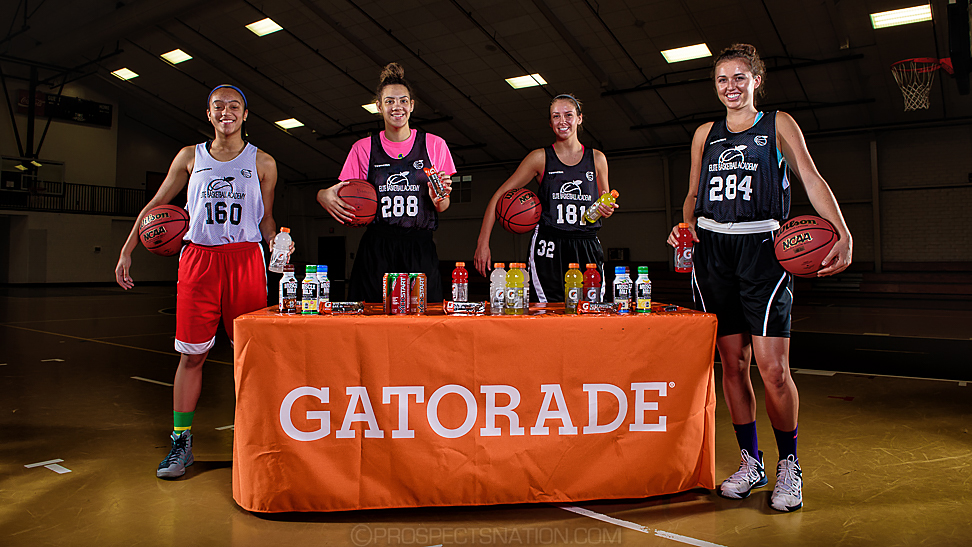 Jenna Brown, Amira Collins, Blair Green and Erin Boley let their stars shine bright at EBA All-American Camp. *Photo by Ty Freeman.
LAWRENCEVILLE, Ga. -- The Elite Basketball Academy's All-American Camp brought 110 hoopers from 18 different states into the gym to compete in a national setting. Here is a look at some of the standouts from the Labor Day Weekend of action at Central Gwinnett High School.
There isn't much more to say about the stellar play of Erin Boley that hasn't been said already multiple times over and her play this weekend further emphasized her elite status because of it. Consistency. Being 6 feet 2 and the best player in the gym isn't an excuse to cruise, and with Boley that is never a concern. She is showing growth in identifying when to use her size and athleticism to get to the paint and then countering with the jumper instead of visa versa. The Hodgenville, Ky., native is a special talent who leads at events like this with her focus and effort before her talent.
Amira "MiMi" Collins has a world of upside and this setting where the safety of club teammates and familiarity is gone, she rose to the occasion playing with a sense of urgency. She utilized her size and athleticism but found the poise and patience to finish as well as we've seen her to date. The No. 6 prospect in the ELITE 60 earned her ranking in Georgia.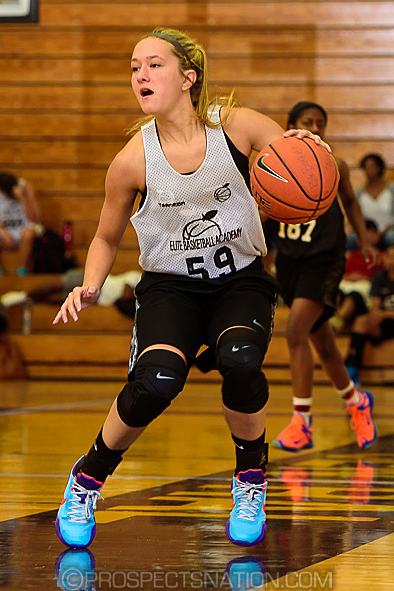 Karissa McLaughlin of Roanoke, Ind., showed her knack for scoring with her solid basketball I.Q. and court vision. The class of 2017 combo guard made things happen when she had the ball in her hands and moved well without the ball to get herself into to position for open shots. Her quick pull up jumper is an asset the will come in handy as her game progresses.
When it comes to attacking low and keeping a defender of balance, Kristen Mayo of Grayson, Ky., put on a clinic. She's not the biggest guard in the gym but attacks downhill and has some shift to her game. She showed a floater as well as the ability to get all the way to the glass.
Jenna Brown of Woodstock, Ga., has earned the No. 9 spot in the ELITE 60 and she displayed the consistency and versatility that earned her the early ranking over the weekend. She's not bothered by pressure, can excel as a playmaker setting teammates up or scoring. It's refreshing to see an elite player that doesn't need to see her shot go in to play with intensity.
Grace Berger of Louisville, Ky., came with focus and desire to get better. The 5-11 guard has tools in her arsenal that she continues to bring out and fine-tune. She played with poise and was not rattled by pressure. The more intense the game, the more focused she becomes. Berger's confidence and versatility were very apparent at this event.
Rachel McLimore of Carmel, Ind., showed that she can be a creative scorer. The class of 2017 guard made several finesse moves around the basket for scores. McLimore looks to score when she gets the ball in her hands. She can get to the basket off the dribble as well as knock down shots from the perimeter with her high release jumper. She is a prospect to watch in the near future.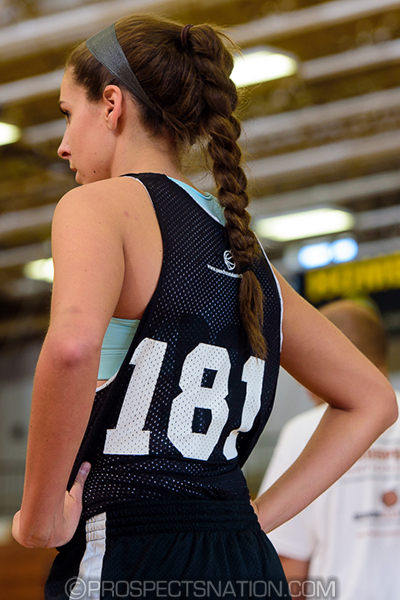 Blair Green of Harlan, Ky., was part of a loaded 2018 group at EBA All-American camp. She plays the game with the utmost poise. She picks her spots to show her scoring ability on offense and it's that precision in her game that projects well to the next level. She uses her length well and will take a smaller defender inside and also be effective from the high post, where a lot of lean wing players tend to float at 20 feet.
Brylee Bartram of Seffner, Fla., continues to improve each time we see her. The 5-8 shooting guard gave her all in games as well as in the drill sessions. She has a great feel for the game and a desire to learn and get better. Bartram was one of the more passionate players at this event. She is a player to watch in the class of 2019.
Sydney Parrish of Fishers, Ind., caught our attention with her size and her solid basketball aptitude. The 5-11 wing player has a mature game for her age. She shoots the ball well from the perimeter and can also create scoring opportunities off the bounce. Parrish is a young prospect with a lot of potential and will be one to watch in the future.
In spurts 6-4 post Jessika Carter was scary good at EBA All-American Camp. Very few players at her size and position move like she does. She's perfected challenging and blocking shots without fouling. When she is active she makes an impact and the more this sophomore from Waverly Hall, Ga., keeps her foot on the gas the more her star will shine.
AROUND THE RIM
A player that finished on a high note Sunday was Jessee Wallis of Dayton, Tenn. She used her frame well on the defensive end and really hit her scoring groove on day two. She is a kid that get hot from long range.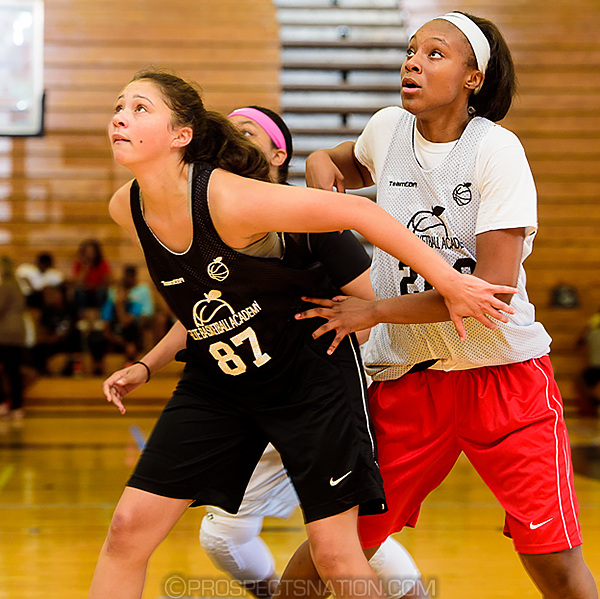 Alexis Hunter of Raleigh, N.C., is a do-everything type of perimeter player that coaches will love. At 5-10 she can guard multiple position and she plays a balanced game on the offensive end.
Freshman point guard Mya Giusto of Naples, Fla., has a new confidence about her game this fall and has added some strength as well, allowing her to show more of her game.
Avree Carpenter of Lakeland, Fla., impresses each time she hits the court because she plays with purpose and has a high level of ball skill. It's not about flash but she has enough tools to get to her spots on the floor.
Kaila Hubbard of Jonesboro, Ga., brings a unique set of skills to the court because she possess such good ball skill yet the size to overpower most guards with her frame and strength. She had a solid weekend of hoops.
Fautine Aifuwa is one of the top uncommitted posts in the 2016 class and her play this weekend was a great capstone to a solid summer. She has presence and consistency that was not present a year ago.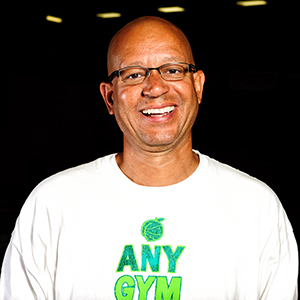 Stephen Peck is the owner of Dream In Motion Athletics and is a national evaluator for the JumpOffPlus.com National Scouting Report. He also serves as a on-floor skills coach at the Elite Basketball Academy events. He can be reached at StephenPeck@peachstatebasketball.com.

Chris Hansen is managing editor of ProspectsNation.com and serves on the McDonald's All-American and Naismith Trophy selection committees. He was the national director of scouting for ESPN HoopGurlz from 2005 until 2012 and is the director of the Check Me Out Showcase. He can be reached at chris@prospectsnation.com.