Posted
8 months 1 week ago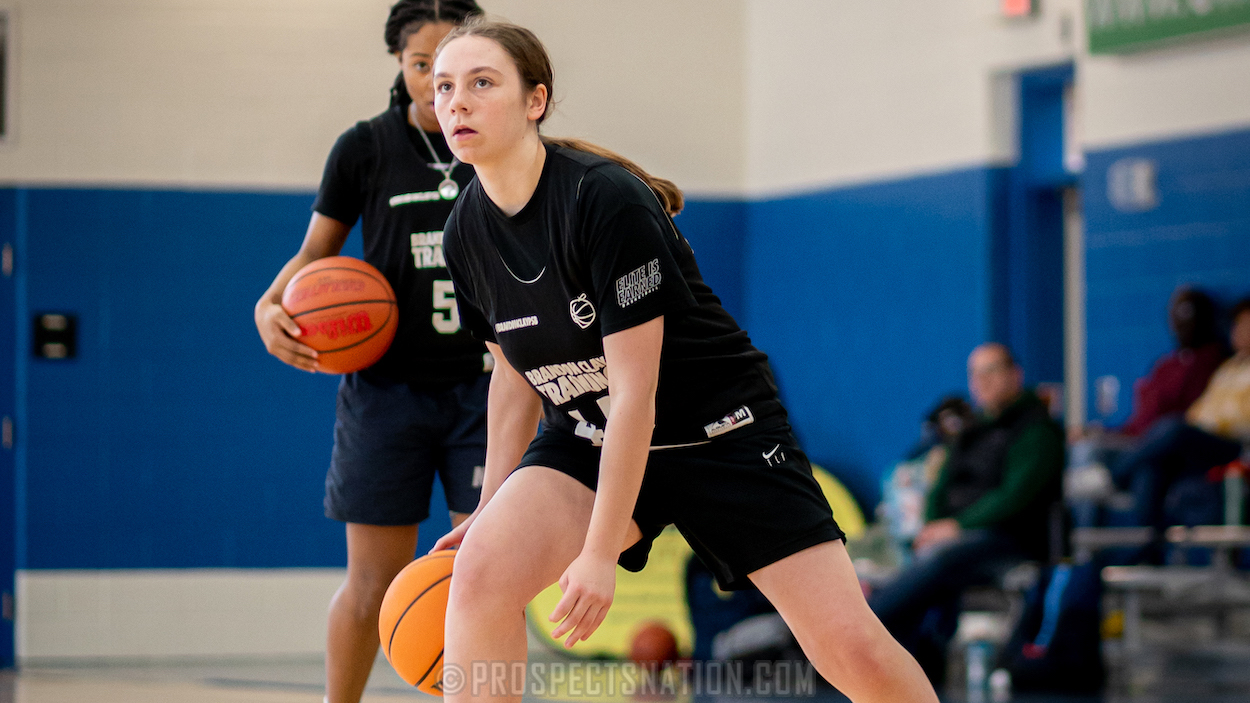 Jayla Frasz of Rabun Gap has done a great job of adjusting to the US game after moving from Canada. *Photo by Tony Lugardo.
BUFORD, Georgia – The Brandon Clay Elite 100 Showcase was designed to give prospects from up and down the Eastern Seaboard a chance to work with our staff before the club basketball season kicks off. Here are the new in-game evaluations from that workout:
Brannen is a solid prospect in the frontcourt who competed well in a gym full of players from as far away as Canada and New Jersey. She possesses both good size and versatility. Branned can play both inside and outside especially as her outside shot continues to develop. She is a factor as an offensive rebounder. Based on her quality play here, Brannen has plenty of room to keep growing offensively.
Bryan is a shooter on the wing with both length and size. She made multiple shots in the halfcourt and in transition from beyond the 3-point line. In that regard, Bryan can be considered a specialist regionally. There aren't many prospects within 300 miles that will shoot the ball as well or more consistently than Bryan does right now. She has the skill to create off the dribble and can utilize that piece of her game even more over the next six to 12 months.
Frasz showed that she is a nice spot shooter with her feet set. Inside the gameplay, she showed both poise and pace. Frasz made open jumpers and found the open player. At Rabun Gap, she is playing in a quality school situation that lends itself to competing with multiple college prospects on a daily basis. The pace of play wasn't too fast for Frasz.
Gray showed a steady hand in the backcourt in a gym full of elite level talent. She played both on and off the ball showing the skill to make shots when left open. Gray was really good when others created shots for her and her feet were set. As she gets even better with commanding the floor with her voice, Gray's production will continue to grow as a result.
One of the youngest prospects in a gym full of elite high school players, Johnson still found a way to make an impact. She forced a turn over defensively with good on-ball pressure. Johnson also showed some aggressiveness offensively most notably with a nice pull up jumper off the dribble. It was impressive to watch Johnson compete with prospects three to four years her senior yet not try to force the action in the process. Keep an eye on her development.
Steinhauer has a world of potential as she matures physically. Her build, pace and play reminds me of Habersham Central rising senior, Kyia Barrett. Right now, Steinhauer has shown that her outside shot is a real weapon. She was a Second Team All-Region selection as a freshman at Pickens County this HS season. Much like Barrett, Steinhauer has a slender frame but her versatility allows her to offset any lack of physicality that is there as she grows. In a gym full of some of the Peach State's top current upperclass players, Steinhauer showed plenty of reasons to consider her as a part of the wave up.
Watkins has improved her game quite a bit since her time in the gym with us last summer. Though she possesses a slender build, her willingness to get out in transition offsets matchups in prospects with a little more size. Watkins has really good tools on both ends of the hardwood. Her positive disposition is also a plus. For Watkins, adjusting to the speed of the elite level game will have to do in large part to her ability to space the floor with the open 3-pointer from the corner or trail slot.

Brandon Clay serves as the Director of Scouting for ProspectsNation.com and owns The BrandonClayScouting.com Evaluation Report, which is read by more than 200 colleges and universities nationwide. He also serves as the Executive Skills Director for the Brandon Clay Scouting Academy Series.