Recap: Breakdown Classic '14 Seniors
Posted
8 years 1 month ago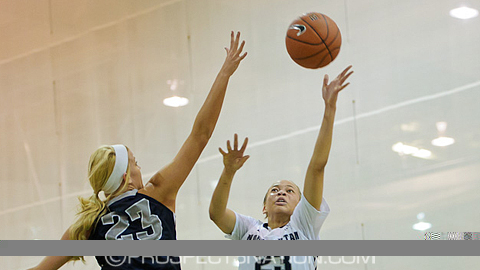 For the second straight year Cayla McMorris has excelled in a marquee matchup at the Breakdown Classic. *Photo by Ty Freeman.
Tweet
MINNETONKA, Minn. - The Breakdown Classic has become the North Star State's premier single day event. Our staff has been on hand for the past two editions of the event. This year was no different as over 20 colleges and universities came to Hopkins High to view 26 of the top high school programs in the state, all under one roof. The class of 2014 was as plentiful as any in recent memory inside Minnesota. Here are three prospects who shined during the event:
Claire Lundberg (Andover, Minn.), Anoka HS – 2014
Seton Hall added Lundberg to their 2014 recruiting class in the fall. A 6-foot-1 forward, Lundberg has a diverse skill set that includes the ability to handle the basketball in the open floor or knock down the open jump shot. She made several plays inside of a tough matchup versus the home team Hopkins. Coach Tony Bozzella will expect the four-star prospect to bring that versatility to East Orange next year. Until then, Lundberg will continue to find ways to make plays by cleaning the glass on the inside in addition to the skill set that we mentioned above.
Cayla McMorris (Brooklyn Park, Minn.), Park Center HS – 2014
McMorris elevated her game last year at the Classic in a head-to-head matchup with 2013 Minnesota Ms. Basketball and current Vanderbilt freshman Rebekah Dahlman. This year McMorris was back on the same floor to battle with fellow ELITE 150 prospects Kaneisha Bell and Tonoia Wade of Bloomington Kennedy. McMorris, a Wisconsin signee, not only led her team to victory but did so by making plays on both ends of the floor. A 6-foot forward, McMorris is the nation's No. 48 ranked player in the ELITE 150. This versatile performance was just another reason why out staff has the four-star senior graded so high.
Carlie Wagner (New Richland, Minn.), NRHEG – 2014
For the second straight year Wagner used the Breakdown Classic as a stage to showcase that she is the state's premier perimeter scoring guard in the senior class. The difference is this year her game appeared even more efficient than this time 12 months ago. A 5-11 guard, Wagner projects very similar to the aforementioned Dahlman. Her future college coaches from Minnesota were on hand to watch her play. The nation's No. 31 prospect in the ELITE 150 gave them a glimpse of what both they and Golden Gopher fans should expect scoring 40 points in a win. Follow @BrandonClayPSB
Clay is the owner of the JumpOffPlus.com International Scouting Report, PeachStateBasketball.com and ProspectsNation.com. He can be reached at brandon@prospectsnation.com.