Posted
10 years 3 months ago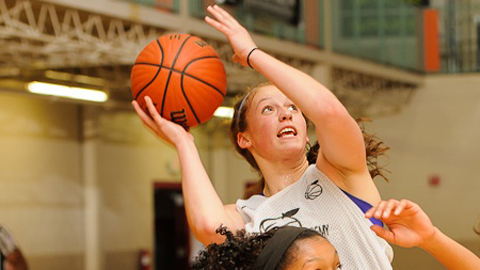 '15 ELITE 25 combo guard Ali Patberg of Columbus, Ind., was on her game on Saturday.
at the EBA Super 64 Camp. *Photo by Ty Freeman.
Tweet
SUWANEE, Ga. – The opening salvo of the EBA Super 64 Camp was impressive as the high school aged group kicked off the morning.

Ali Patberg (Columbus, Ind.), Columbus North - 2015
A lot of the time when you come into an event as a highly ranked player it is near impossible to live up to the hype, because being good isn't enough. So for Patberg, the No. 16 prospects in the ProspectsNation.com ELITE 25 for the 2015 class, the bar was set much higher than being just good today. To her credit, she ended the morning leaving those in the gym believing in her rating.
At 5 feet 10, Patberg has the size to play multiple positions on the perimeter and be successful. The most impressive part of her game is her body control. She may not be the quickest guard in the gym but she neutralizes defenders by getting into their hips and taking her time to get to her spots. She did a dynamite job of veering into the defender into the lane and releasing to create separation right before her finish. She never plays out of control and is about as consistent of a performer as you can ask of in a camp setting. Notre Dame is getting an outstanding young prospect here.
AROUND THE RIM
♦ Some players create separation with quickness, but Breonn Hughey of Washington, D.C., was really successful being shifty with her change of direction moves. She did a great job of using her dribble moves to create closeout situations and they beat the defender to the lane when they tried to close the gap. She's not the biggest kid in the gym at 5-5, but she sure got it done on day one of Super 64.
♦ If you like aggressive defenders with good speed then Cierra Rice of Farms, Mich., should intrigue you. The 2015 prospect showed she could convert steals into scores and had a few drives in the lane where she had help defenders sliding over to take a charge and she sidestepped them and finished with good touch.
♦ Dekeiya Cohen of Charleston, S.C., is a scary good athlete. She makes plays that the average player simply cannot. The 6-1 combo forward is hard to stop if she gets an angle going right. She hit a nice floater with her right coming out of a crossover move. She needs to learn how score within a halfcourt set but has a really high athletic ceiling. Follow @ChrisHansenPSB

Hansen is managing editor of ProspectsNation.com and a McDonald's All-American selection committee member. He was the national director of scouting for ESPN HoopGurlz from 2005 until 2012. He can be reached at chris@prospectsnation.com.