Recap: End of the Road -- Georgia
Posted
8 years 5 months ago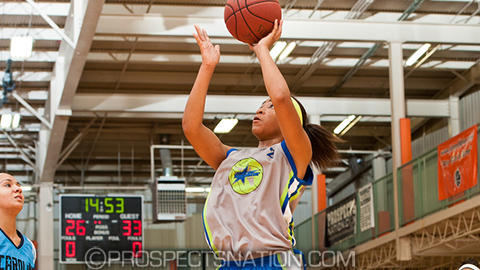 Aliyah Abney was one of the standouts for Blue Star Florida at End of the Road in Suwanee, Ga. *Photo by Ty Freeman.
Tweet
SUWANEE, Ga.- The End of the Road Championships allowed top travel teams and players to close out the travel season by competing in this top-notch exposure event. Competition was intense and several teams and players showed their wares in front of over 100 college coaches.
FEATURE TEAM
The Kentucky Premier program continues to be a group that draws attention from a wide selection of college coaches. The End Of The Road was no exception. All classes were well represented in almost all divisions. The Kentucky Premier Green team, which is coached by Jarrad Parmley, took the championship in the ChrisHansenPSB bracket. This team is filled with young prospects that we expect to see good things from in years to come.
The class of 2018 was well represented on this team by talented wing players such as Ally Niece and Grace Berger and also MyKassa Robinson at the point guard position. Each brings a different element to the game. Berger, at 5 feet 10, has a very mature game at this stage and will develop into a versatile player at the next level. The complement of the 5-10 Niece at the other wing makes this team tough to defend. Niece is very vocal on both ends and has a high IQ.
The nearer future is represented well with the class of 2016 guard Ansley Eubank. Her supporting cast includes 6-1 small forward Raleigh Potts and 6-3 post Krystaline McCune. Eubank continues to grow physically as well as in her basketball acumen. She is developing into a true leader. McCune has real size and is a strong presence around the basket. As her skill set improves and develops, so will her stock. Potts brings a versatile element to the game. She has the length to play around the basket and also has the athletic ability to move out to the perimeter on offense as well defense. This has been a fun group of prospects to watch throughout the travel season.
AROUND THE RIM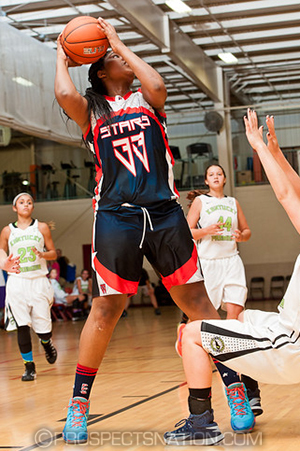 Freshman post Erin Garner.
*Photo by Ty Freeman.
♦ Solid post play always draws a lot of attention. Brittany Garner of Mercerville, N.J., is a force in the paint with her size and strength. At 6-3, the class of 2018 post had a lot of coaches clamoring for information on this dominant force in the lane. She has had good a good role model in her sister Erin, who is will play this season at Georgia Tech. Garner has great upside and look for great things from her in the near future.
♦ The South Carolina Stars Jr. has a strong tandem in class of 2017 players Nia Sumpter and Kiana Adderton. Both attend Myrtle Beach High School. Adderton, at 5-11, has great footwork and has the ability to catch and shoot while being tightly defended. Sumpter, at 5-9, was very impressive with the way she tracks rebounds and the energy she showed on offense and defense.
♦ Blue Star Florida Elite continues to bring it every time the team hits the floor. Sara Nuxol always has her teams prepared and ready to perform at a high level. Aliyah Abney of Apopka, Fla., was one of the most impressive combo guards of the weekend. She showed power and finesse with the ball in her hands. Briana Laidler of Port Orange, Fla., is very athletic at 6-0. Ger ability to elevate and track rebounds was impressive. Laidler is also a solid perimeter defender.
♦ One of the players that made huge impacts on the game was Musharapha Alhassan of Glenarded, Md. The 6-5 post player showed her agility by being able to defend on the perimeter. The length of the class of 2017 prospect is a true asset that will pay dividends at the next level.
♦ EOTO Black is a team that has consistently improved their game over the course of the travel season. Although it is a relatively young team, the group plays with an enthusiasm that is not matched by many. Expect to see good things as these prospects head into the high school season. Players of note in the class of 2016 are Jessica Storr of McDonough, Ga., Karlie Bearden of Dawsonville, Ga., Autumn Sizemore of Lilburn, Ga. and Breanna Locke of Flowery Branch, Ga. The class of 2017 was represented well by Hope Forrester of Jefferson, Ga., and Endia Banks of Duluth, Ga. Follow @StephenPeckPSB

Peck is the owner of Dream In Motion Athletics and is a national evaluator for the JumpOffPlus.com National Scouting Report. He also serves as a on-floor skills coach at the Elite Basketball Academy events. He can be reached at StephenPeck@peachstatebasketball.com.