Recap: Fab 5 Focus On 2016
Posted
8 years 10 months ago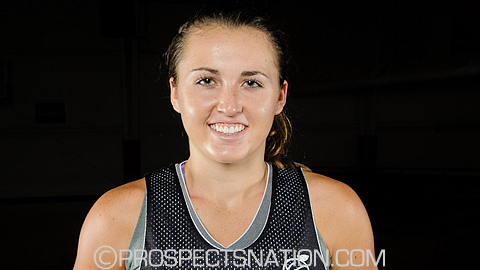 Erin Boley of Hodgenville, Ky., was one of the standout 2016 prospects at the Fab 5 camp. *Photo by Ty Freeman.
Tweet
SUWANEE, Ga. – The 2013 Elite Basketball Academy Fab 5 Camp allowed the 2016 class a session of its own and several rising sophomores wasted little time making the most of the opportunity.

Erin Boley (Hodgenville, Ky.), Elizabethtown HS - 2016
Boley's vision was clear by her performance this weekend . The 6-foot-2 power forward came with a lot of energy in both skill sessions and games. One measure of a true competitor is how they strive to become a better player by making their time spent in the gym beneficial. Boley clearly came to play this weekend with the mission to be the best, the same mission she was on with her Kentucky Premier team this past summer.
Boley has versatility that is hard to match by some of the best players at her position in the class of 2016. She has the ability to create scoring opportunities off the dribble as well as playing with her back to the basket. Boley has the size and the ability to stretch defenses and with her ballhandling skills can help ease the load for her point guards in pressure situations. She really impressed with the confidence she displayed and how she was able to score around the rim to beyond the arc.
AROUND THE RIM
♦ Breanna Locke of Flowery Branch Ga., showed that hard work pays off. The 5-11 small forward made her presence known with her consistent play and the ability to score around the rim. What is most impressive is how she can rebound and push the ball out on the break and she also has the ability to knock down shots from the perimeter. Locke is a solid performer in the class of 2016.
♦ Anna Kelly of Lexington, Mass., is one of the most creative players with the basketball that we've seen in a while. It is impressive how she can turn a dead end situation into a basket or a scoring opportunity for one of her teammates. The 2016 point guard has a crafty game that will serve her well in the future.
♦ Good shooters have good footwork. This is definitely the case with Taylor Casey, another class of 2016 stand out. The 5-7 point guard from Norcross, Ga. gets in shooting position quickly and has a nice release on her jump shot. She was a definite topic of conversation during the skills sessions and games. Follow @StephenPeckPSB

Peck is the owner of Dream In Motion Athletics and is a national evaluator for the JumpOffPlus.com National Scouting Report. He also serves as a on-floor skills coach at the Elite Basketball Academy events. He can be reached at StephenPeck@peachstatebasketball.com.