Recap: Freedom Jamboree Seniors
Posted
9 years 12 months ago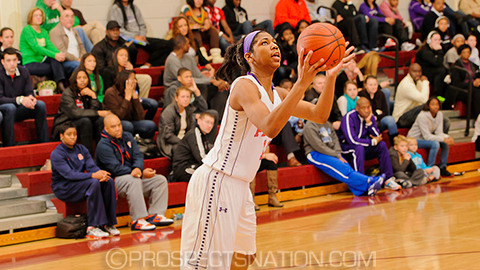 ELITE 150 senior Kristina King has her New Hope Christian squad off to a strong start this season. *Photo by Ty Freeman.
Tweet
MORGANTON, N.C. -- The Freedom High School Jamboree has become a staple of the early season coverage calendar. Held in Western North Carolina, some of the Tar Heel State's top talent made its way from around the state to this marquee event. Here are three seniors who left a mark as they embark on their final high school campaigns.
Kristina King (Thomasville, N.C.) - New Hope Christian Academy – 2014
King has pledged to West Virginia and will give coach Mike Carey a viable inside-outside threat when she arrives in Morganton next fall. At 6-foot-3, King is a legitimate sized presence at the power forward position. Ranked No. 56 overall in the ELITE 150, she is more than willing to take the open 3-pointer as the trail post on the secondary break. The four-star prospect also showed that her length allows her to change shots on the interior.
Cameron Nieters (Winston Salem, N.C.) Bishop McGuinness School — 2014
Like King, Nieters is a familiar name for our readership after the summer she had playing with the Winston-Salem Stealers. Nieters chose Harvard before the July evaluation period. Her style of play should be a perfect fit with the emerging Ivy League power's style of play and current personnel. She took at least two charges in each of the three games that her team played. Nieters' cerebral approach to the game coupled with her outside shooting ability puts us in the mind of NBA veteran Shane Battier.
Jatarie White (Charlotte, N.C.) Providence Day School — 2014
After committing to South Carolina earlier in the month, White appeared determined to work on her offensive game in the post, scoring on multiple opportunities around the rim. The left-handed post is ranked No. 14 in the country. She showed the overall improvement that Director of Scouting, Keil Moore, alluded to this time last year. White is rebounding the basketball in her area, then throwing the ball ahead and running the floor to make a play on the other end. Continuing to develop that skill as she heads towards the SEC next year is essential. Follow @BrandonClayPSB
Clay is the owner of the JumpOffPlus.com International Scouting Report, PeachStateBasketball.com and ProspectsNation.com. He can be reached at brandon@prospectsnation.com.