Recap: National Fall Showcase I
Posted
9 years 4 months ago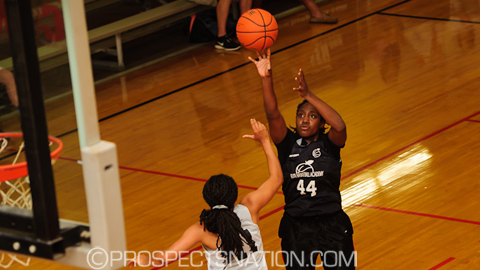 Karma Jeremie was one of the many standouts of the National Fall Showcase at Suwanee Sports Academy Friday night. *Photo by Ty Freeman.
Tweet
SUWANEE, Ga. – On the opening night of the fall exposure weekend, nearly 100 individuals came out to play and compete at Suwanee Sports Academy. Several uncommitted seniors and many underclassmen got valuable exposure in front of college coaches from over 50 schools and universities. Here is a quick look at some of the notable names from Friday night.

Karma Jeremie (Orlando, Fla.) Blue Star Florida – 2014
Jeremie, a 5-foot-8 wing, is a name that has been floating around our office all year long. The athletic forward showed why we had her tabbed as one of the top uncommitted seniors coming into the event. Her constant activity on the glass and step-back jumpers in the mid-range earned a number of looks from college coaches Friday evening. We project Jeremie as a kid who could give valuable minutes at the next level because of her energy on the court. Tonight was a big night for Jeremie and the National Fall Showcase provided the perfect stage for her abilities.
AROUND THE RIM
♦ Fresh off of being moved into the ELITE 150, Yaktivia Hickson of Stone Mountain, Ga., picked up where she left off in July. The 5-10 wing continued to score at a high rate and wreak havoc on the defensive end. She clearly is one of the top uncommitted prospects in the state of Georgia.
♦ One of the top class of 2015 prospects in the building was Amber Richardson of Garner, N.C. The versatile 5-10 wing is a top candidate to slide into the ELITE 60 when the rankings are released in a few weeks. Her ability to affect the game in a multiple ways is special.
♦ A number of quality point guards caught our eye this weekend as well. Mecca Sneed of Stone Mountain, Ga., handled the ball well and found the open player consistently. Baylee Rexing of Suwanee, Ga., showed her steady play once again. And Keke Smith of Athens, Tenn., caught our eye with a variety of dribble moves. All three class of 2014 prospects are viable prospects to move on to the next level and produce for years to come.
#ProspectsNationTV recap for the National Fall Showcase with Brandon Clay:
Follow @JLHemingwayPSB

Hemingway is the Assistant Director of Scouting for the JumpOffPlus.com National Scouting Report. He can be reached at jonathanhemingway@peachstatebasketball.com.