Recap: PSB Pre-Season Shootout
Posted
8 years 5 months ago
MARIETTA, Ga. -- The Pre-Season Shootout was an opportunity for players to prepare for the upcoming evaluation period. Some of the top players in the region were in attendance. Here's a look at a few players that that performed well.

Christa Reed (Bay St. Louis, Miss.) South Mississippi Elite-2014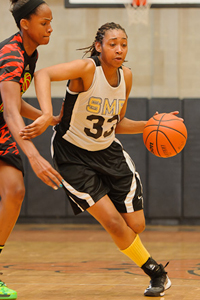 '14 ELITE 100 watch Christa Reed.
*Photo by Ty Freeman.
The steady improvement of Reed was very apparent at this weekend's Pre-Season Shootout. The 6-foot small forward, is very efficient in the way she plays the game. Her feel for the game is elevating and offers her the opportunity to be more of a scoring threat. Reed showed that she has worked on her mid-range jumper and has also increased her range. She continues to make shots off the dribble and stretch defenses. A missing part of her arsenal is the ability to confidently attack the rim, which will add a new dimension to her game.
The Pre-Season Shootout was a great start to the club season for Reed. The fluidity of her game has drawn a lot of attention from college coaches across the country. As she continues to improve her game over the club season, she will solidify her spot as an ELITE 100 small forward.
Around The Rim
♦ Brianna Cummings of Lawrenceville, Ga., is the epitome of consistency. She showed that she not only can score around the rim, but can also step out and knock down shots from beyond the arc. Cummings was solid in the championship game of the TeamPSB Division, scoring 11 points.
♦ Aunisha Williams of Canton, Ga., showed that she is a player that can make a difference. Her energetic, physical play shined amongst her talented AOT teammates.
♦ Aneysa Williams of Lawrenceville, Ga., showed that she has shooting range beyond the arc. She dropped seven 3-balls in the championship game of the ELITE100 Showcase division.
♦ Kayla Gordon of Meridian, Miss., impressed us this weekend with her aggressive play on both ends. Coming off a recent knee injury, she looks as if she hasn't missed a beat. When you speak of internal fortitude, Gordon has a "truck load". Follow @StephenPeckPSB