Recap: Real Deal In The 'Ville Day 1
Posted
8 years 8 months ago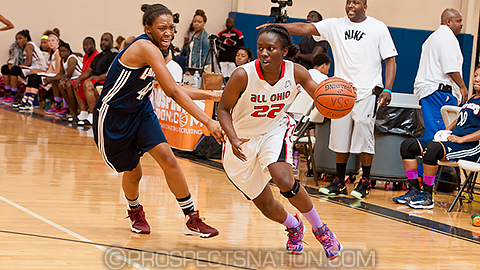 Cierra Rice is a big part of All Ohio Black's success this season. *Photo by Ty Freeman.
Tweet
FRANKLIN, Tenn., - The first day of the Real Deal in the 'Ville was an instant success with numerous college coaches to watch the talent at the Franklin Fieldhouse. With all of the games being played under one roof, it allowed for all teams to receive maximum exposure. Here is a look at which teams and players took advantage of the opportunity.

Daly Sullivan (South Bend, Ind.), Sky Diggs Elite -- 2017
Sullivan again proved to be a consistent handler and playmaker at the Real Deal in the 'Ville. Our ProspectsNation.com staff has grown accustomed to watching the 5-foot-8 point guard shake defenders with dribble moves and make the right play in the lane. The prospect from the Hoosier State has all of the tangible skills needed to be an effective point guard. She shoots the ball well from behind the arc and will set her teammates up with the pass. However, what is most impressive about Sullivan is her consistency and progression as a player. Her steady performance helped her squad earn an opening day victory in Franklin.
FEATURE TEAM
All Ohio Black
After having one of the most talented teams in the nation last year, coach J.B. Bethea is not experiencing a letdown this year. Although this year's team is a bit a younger than normal, it has the talent necessary to compete at the highest levels of summer basketball. Class of 2015 guard Cierra Rice of Grosse Pointe, Mich., is the engine to this team. Her energy to defend and rebound is infectious. Rice's offensive skill set has rounded out nicely over the past 12 months as she is effective in attacking the bucket and hitting the open 3-point jump shot. She is joined by class of 2015 prospects Amber Wilks of Cincinnati, Ohio, and Deja Turner of Fort Mitchell, Ky. Wilks' interior presence is key for altering shots and rebounding. While Turner, who is a Wright State commit, brings her long range jump shooting ability to stretch the defense. The future is bright for coach Bethea as class of 2017 point guard Nia Ahart of Detroit, Mich., shows the poise to be a floor leader for years to come. Also keep eye on class of 2018 prospects Bexley Wallace of Pickerington, Ohio, and Valencia Myers of Solon, Ohio.
AROUND THE RIM
♦ EOTO Green played exceptionally hard to gain an opening round victory over Team Miller. In a team effort, Lexie Xsengkhammee of Braselton, Ga., Paige Thomas of Cleveland, Ga., and Maddie Hetzel of Flowery Branch, Ga., all gave big contributions in the win.
♦ The Gainesville Wildcats earned a nice victory over Team All-In from Memphis late Tuesday night. Abbie Franklin of Homer, Ga., and Taylor Hawks of Buford, Ga., led the way with ball handling and scoring.
♦ Jaguar Elite has solid guard play behind class of 2017 guards Breonca Ducksworth and Brianna Page who are both from Taylorsville, Miss. Their quickness and athleticism set them apart from the competition.
♦ Our staff was impressed with Macie Lively of Tipton, Ind., who played for Sky Diggs Elite. The 5-7 point guard is athletic and likes to set her teammates up with the pass.
♦ Coach Burnell Wesco with South Mississippi Elite always has a solid team and this year is no different. Class of 2015 Ashailee' Brailey of Abbeville, La., is one of the more promising prospects on the roster. The 5-9 left-handed wing is a versatile option on the floor. Follow @JLHemingwayPSB

Hemingway is the Assistant Director of Scouting for the JumpOffPlus.com National Scouting Report. He can be reached at jonathanhemingway@peachstatebasketball.com.