Recap: Select 24 - Part I
Posted
10 months 3 weeks ago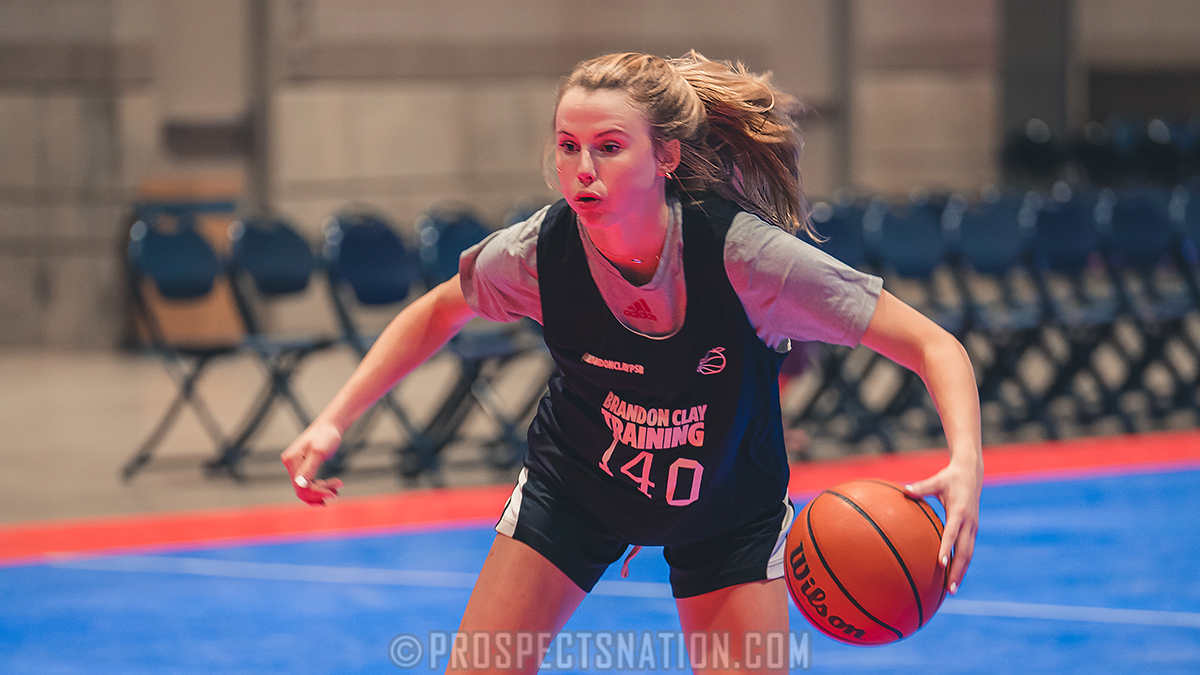 Lenee Beamont is an Indiana commit who joined the Select 24 workout in Chicago. *Photo by Anthony Lugardo.
CHICAGO, Illinois – The Brandon Clay National Select 24 Workout allowed some of the nation's elite prospects to take center stage in the middle of the first July evaluation period. We offered a shooting session to make sure players were sharp for the Nike Tournament of Champions held directly afterwards. Here are the initial set takeaways from that workout:
Beaumont's ascent into the upper echelon of the Elite 150 nationally is a direct result of her work ethic in settings like this. During the midst of a week where the future Indiana Hoosier played 10 club games, Beaumont still made getting shots up on Saturday night a priority. Her shot percentages are significantly higher than they were two years ago. As she continues to fill out, expect Beaumont to keep showing progress on both ends of the floor.
Sabrina DeSio (New York, N.Y.), Xaverian – 2025

DeSio is emerging as a sharpshooter to keep a close eye on. She drove up from Indianapolis just for the workout. Seeing her ability to space the floor for her club team matched up perfectly with what DeSio showed here. She's got legitimate range to 23 feet off the catch and shoot. Like Beaumont, getting stronger will help DeSio take the next leap in her game.
Jade Marquez (New York, N.Y.), Choate Rosemary Hall – 2024
Marquez is a powerful option with a consistent motor. In the modern era, coaches will have plenty of choices on how to best utilize her game. She has good hands, good feet. I told Marquez on the way out of the session that she's a consistent jump shot away from taking her game to new levels.

Phelan is a shot maker with point guard build. She's spending more time as the primary ball handler this summer and it's paying off. Skill wise, Phelan has a combo guard like quality about her game stretching the floor well enough with her 3-pointer to keep opposing defenses honest. Being able to use her left hand to initiate the offense will be big.
Sellers has a slight frame but is still able to play with contact. She can shoot it with range to the 3-point line with the ball skill needed to help break the press. Sellers has the makings of a shot making guard who can also run a team. Continuing to get physically stronger will aid in her development.
Brooklyn Shamblin (Carpinteria, Calif.), Oaks Christian – 2025
Shamblin's desire to show and improve her skill set shined bright. She wasn't at 100 percent physically but made it a point to come work on her jumper anyway before TOC got started. Already committed to Southern California, it's that type of consistency as a person that will help Shamblin reach her maximum potential.
Laila Sierra (New York, N.Y.), Xaverian – 2025
Sierra has room to grow physically already possessing good length on the perimeter. She has a firm grasp of how to play while spending this club season around other high level players. Sierra's versatility is a major plus at the next level. Can she become a consistent threat down the hill through contact?

Brandon Clay serves as the Director of Scouting for ProspectsNation.com and owns The BrandonClayScouting.com Evaluation Report, which is read by more than 200 colleges and universities nationwide. He also serves as the Executive Skills Director for the Brandon Clay Scouting Academy Series.