Recruiting Rundown: Cunningham, Swain, Williams
Posted
1 year 3 months ago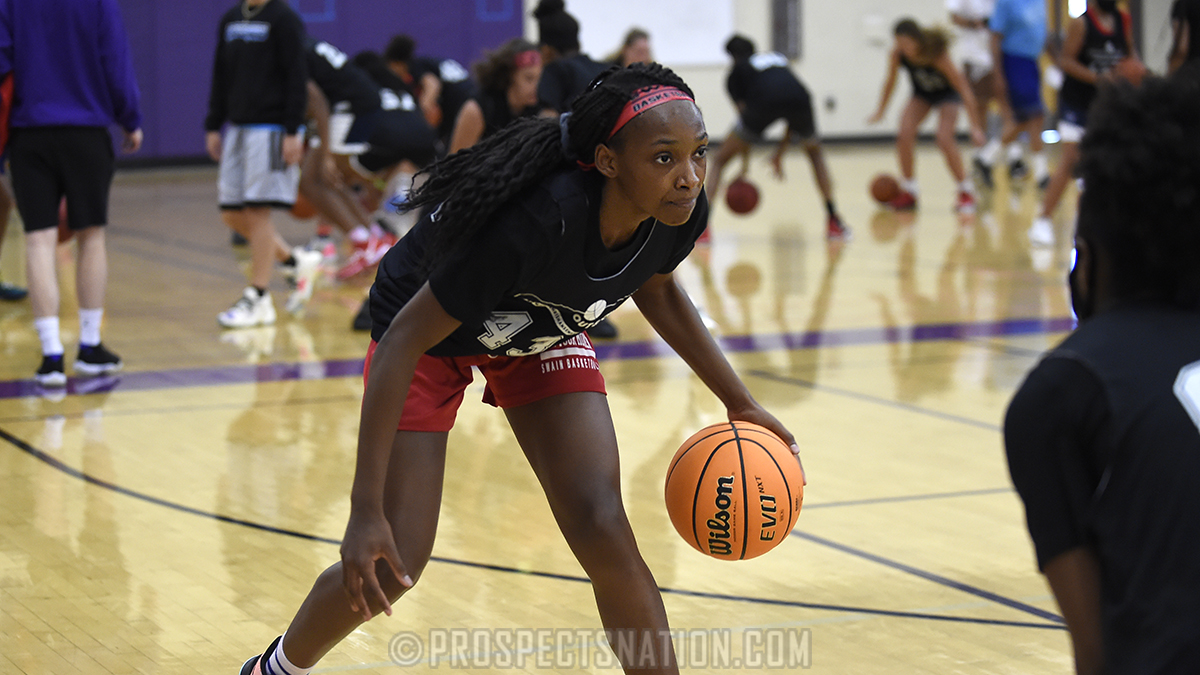 Hailee Swain is just the second ELITE 25 player in 2025 to commit. *Photo by Rob Kinslow.
While the first July evaluation period is just days away, the week leading up to it has been extremely busy with impact recruits announcing their decision.
No. 1 Williams To LSU
Mikaylah Williams, a 6-foot guard from Bossier City, Louisiana, gave her verbal commitment to LSU, giving Kim Mulkey a marquee piece to build the next era of the program around. She chose the Tigers over finalists Baylor, Duke, Ole Miss and Texas A&M.
Williams, who is ProspectsNation.com's top ranked player in 2023 heading into the summer, is highly decorated with in-state player of the year awards and multiple medals with various USA Basketball teams in her collection.
Williams is a dynamic perimeter option who creates well off the bounce but has the frame, athleticism and physicality to play several positions at a high level. Most recently ProspectsNation.com saw her compete at the USA Basketball U17 national team trials where she stood out clearly as one of the elite players in the gym.
No. 6 Cunningham A Wildcat
Breya Cunningham, a 6-4 post from Chula Vista, California, gave her verbal commitment to Arizona. The commitment gives head coach Adia Barnes' program one of the few elite posts in the class. Cunningham chose the Wildcats over finalists Oregon, Texas, UCLA and USC.
Cunningham enters the summer as the No. 6 player in the ProspectsNation.com ELITE 25 for the 2023 class. She's currently with Williams in Hungary with the USAB U17 national team, going for her second FIBA gold medal.
Cunningham is a highly skilled post player who understand seal angles and positioning to score efficiently as well as any post in recent memory. She's competed at a high level since she was young and that experience will pay her well transitioning to the next level.
Swain Picks Stanford
Hailee Swain, a 5-8 point guard from Marietta, Georgia, gave her early verbal commitment to Stanford, continuing a trend of the Cardinal signing out of region point guards like Kiana Williams from Texas and Marta Sniezek of Virginia.
Swain is a 2025 ELITE 25 Watch List player. Her ability to get downhill off the dribble is a real strength of her game. This spring she attended the CMO Texas Showcase hosted by Elite Is Earned Basketball where she showed she's a real problem to defend in ball screen action. She's a player that has added a jumper to her bag as well.
Swain is just the second ELITE 25 prospects in the 2025 class to commit. She joins Lanie Grant of Midlothian, Virginia, who committed early to North Carolina.
#CheckMeOutNATION Arizona 2021@HaileeSwain (25-GA) of @HubbardCoach pic.twitter.com/Cs5TL6gaxa

— ELITE is EARNED ®️ (@ELITEisEARNED) May 12, 2021

Chris Hansen is managing editor of ProspectsNation.com and serves on the McDonald's All-American and Naismith Trophy selection committees. He was a co-founder of and the national director of scouting for ESPN HoopGurlz from 2005 until 2012 and is the director of the Check Me Out Showcase and ELITE is EARNED events. He can be reached at chris@prospectsnation.com.