Recruiting Rundown: February 23
Posted
1 year 3 weeks ago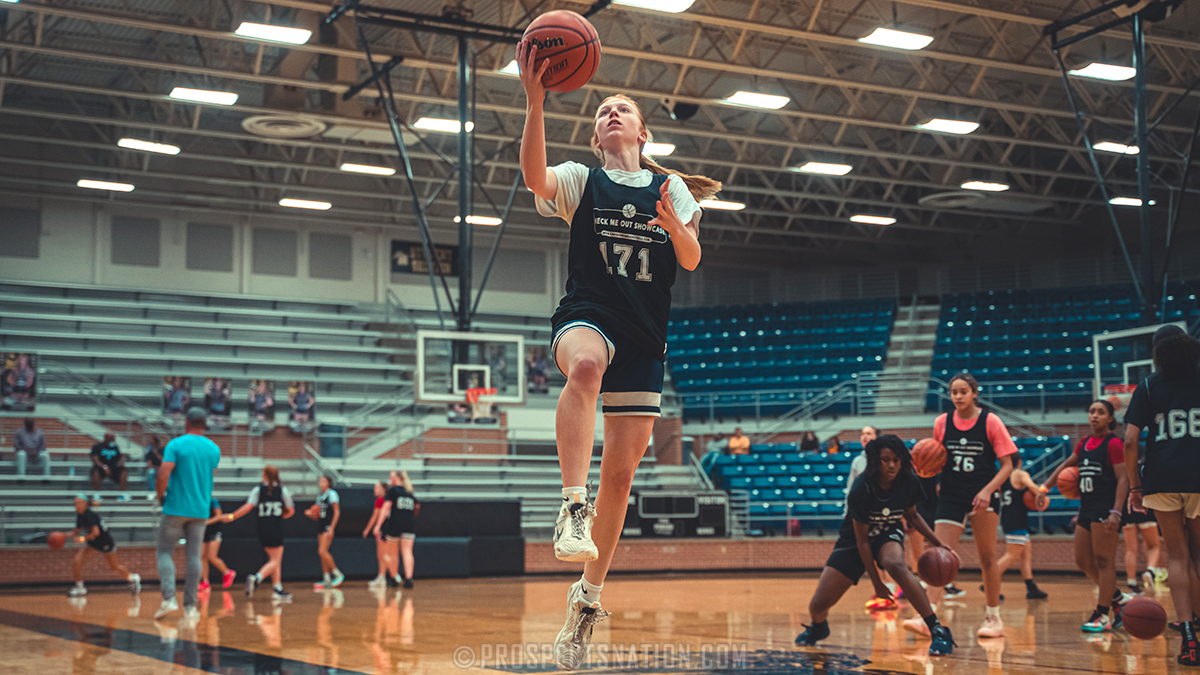 Peyton Freiermuth elevates for a bucket at the PN National Training Academy in Texas. *Photo by Anthony Lugardo.
A lot has happened over the course of the summer for the members of the Brandon Clay Recruiting Program. Here's an update on multiple prospects with new recruitment information:
Class of 2024 Point Guard Shay Ijiwoye of Desert Vista (AZ) Has a new offer from North Carolina State. She visited the Raleigh based campus earlier in the month. Ijiwoye also stopped by North Carolina as well.
Class of 2023 Post Kendall Emener of First Presbyterian Day (GA) received an offer from Shorter this week. With a shortage of skilled post players on the big board, Emener's recruiting will be all over the board from elite smaller programs to legitimate NCAA Division One Tournament contenders.
Speaking of post play, keep a close eye on Class of 2023 frontcourt prospect Kelsey DuBois of University (IN). Dubois's recruitment should resemble Emener's as they share many of the same skill traits including the ability to shoot the outside jumper while possessing modern day interior size.
Class of 2022 Wing Ananda Mayhew of Union Grove (GA) has signed with Allen University. Mayhew was a major factor on the club scene last summer with OMG-TGE.
Class of 2023 Wing Jayda Johnson of Hamden Hall (CT) visited Virginia Tech and Boston College in the past 10 days. It would not surprise our staff to see Johnson's recruitment narrow if not come to a close in the coming days.
Class of 2023 Wing Madeline Freeth of Covenant Christian (IN) has continued to put the time in to grow her game. As a result, she has new interest from both Adrian College and Wisconsin Lutheran.
Class of 2023 Wing Nylah Nuri of Johns Creek (GA) will visit UNC-Asheville this weekend. Nuri had an elite school year dropping 30 plus points in multiple games.
Class of 2023 prospect Peyton Freiermuth of Westlake (TX) had a high level school season. The dynamic lead guard will visit Tulane on Wednesday.
Staying in the Lone Star State, we're tracking Class of 2023 prospects Molly Ly and Madison Heiss progress closely this spring as should college coaches. Ly has expressed an interest in potentially going out west while Heiss is wide open. Both have shown at our showcase academies that they are next level difference makers.
Class of 2023 Forward Maddie Petroelje of Hudsonville (MI) is arguably the region's premier available shot maker. She has a new offer from Eastern Michigan.

Brandon Clay serves as the Director of Scouting for ProspectsNation.com and owns The BrandonClayScouting.com Evaluation Report, which is read by more than 200 colleges and universities nationwide. He also serves as the Executive Skills Director for the Brandon Clay Scouting Academy Series.