Recruiting Rundown: Kampschroeder, Marotte, Sundell
Posted
2 years 3 months ago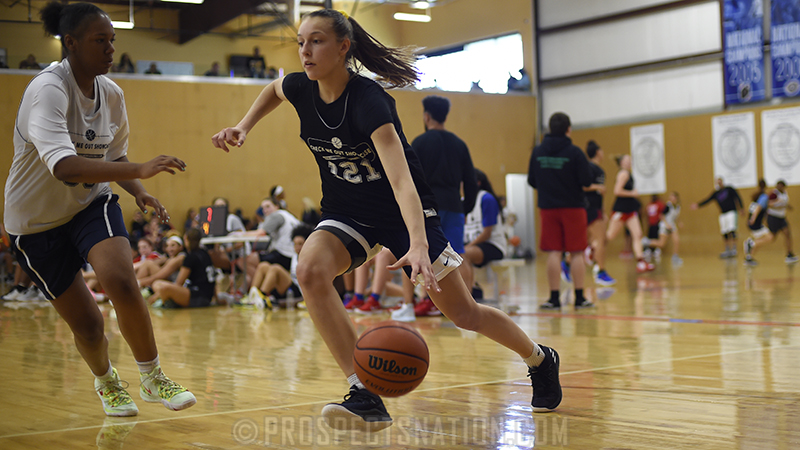 AJ Marotte of Austin, Texas, attacks at the 2019 Check Me Out Showcase in her hometown. *Photo by Chris Hansen.
LISTEN TO BRANDON CLAY'S "BCS DAILY" Podcast
The class of 2021 is seeing an uptick in commitments, which makes sense since visits and evaluations are postponed for the foreseeable future. Players with good options and strong relationships are at an advantage. Here are three significant commitments this week that are making headlines.
Kampschroeder To Oregon State
The old rule used to be that only Stanford and sometimes UCLA could recruit nationally in the Pac-12. Oregon State continues to prove times have changed, the latest evidence being the commitment of Greta Kampschroeder of Naperville, Illinois.
Kampschroeder, the 6-0 guard ranked No. 26 in the 2021 by ProspectsNation.com, is the first commitment for Scott Rueck and his staff in the class. The Beavers' 2020 class included Sasha Goforth of Fayetteville, Arkansas, and Savannah Samuel of Woodstock, Georgia. In 2019 they program reached out to Texas and Kansas to land Taylor Jones and Kennedy Brown.
"Kampschroder has the size to be a perfect cog in the Oregon State wheel," Brandon Clay, ProspectsNation.com publisher, said. "In one evaluation of mine, she had a tough challenge matching up with Brea Beal (University of South Carolina rising sophomore) but gave the elite prospect all she could handle on both ends of the floor, not backing down even though her shot wasn't falling as it normally does. I wrote then that if Kampschroeder can develop her outside shot, her value increases at the next level as a result. For a program armed with high level interior players, perimeter shooting keeps the floor spaced. Scott Rueck and his crew will look for Kampschroeder to do just that when she arrives in Corvallis."
That improvement appears to be taking place as she had several games this high school season with three or more made 3-pointers.
Marotte To Washington
Oregon State wasn't the only Pac-12 school picking up a key 2021 commitment as the Washington Huskies landed their second commitment in the class. AJ Marotte of Austin, Texas, announced her verbal commitment. The 6-1 wing from Vista Ridge High School (Cedar Park, Texas) is the second commitment for the Huskies in the class. She joins 5-10 guard Avery Vansickle of Aurora, Colorado.
Marotte was a standout at the 2019 Check Me Out Showcase in Austin, Texas. Her length and smooth perimeter skills were on full display. She shot the ball really well that weekend as well and her versatility should fit well into head coach Jody Wynn's scheme in Seattle.
The Huskies could sign as many as five in the class so this fast start in the middle of the extended NCAA dead period due to the coronavirus is doubly important.
Sundell To Kansas State
Serena Sundell of Maryville, Missouri, has given her verbal commitment to Kansas State. The 6-2 wing is rated a four-star prospect by ProspectsNation.com
Sundell does a little of everything and should be a fantastic utility option in that regard for Kansas State," Clay said. "She has the length to be effective at multiple positions giving Jeff Mittie's staff exactly what they desire in a wing player. Even with a slighter build, Sundell is a tough competitor capable of stretching the floor with her jump shot."
Sundell is the third commitment for the Wildcats in the class. She joins ELITE 75 prospects Brylee Glenn and Jaelyn Glenn of Raymore, Missouri. This trio of perimeter players gives the program a wealth of length. They also play on the same club team so they should bring chemistry as well.

Chris Hansen is managing editor of ProspectsNation.com and serves on the McDonald's All-American and Naismith Trophy selection committees. He was a co-founder of and the national director of scouting for ESPN HoopGurlz from 2005 until 2012 and is the director of the Check Me Out Showcase and ELITE is EARNED events. He can be reached at chris@prospectsnation.com.