Recruiting Rundown: October 7
Posted
2 years 1 month ago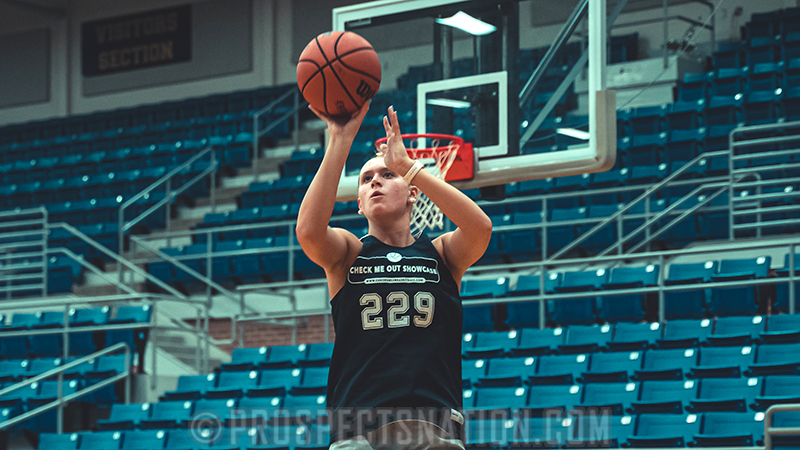 Duke signee Shay Bollin works on her jumper at the 2021 ProspectsNation.com Friday Night Lights training session. *Photo by Anthony Lugardo.
A lot has happened over the course of the past 14 days for the members of the Brandon Clay Recruiting Program. Here's an update on multiple prospects with new recruitment information:
Class of 2022 point guard Maya Osborn of Illinois committed to DePauw. Osborn is exactly the type of player who has helped propel DePauw into a perennial powerhouse over the past decade.

Class of 2022 forward Shay Bollin of Massachusetts will visit Duke officially for Midnight Madness. Bollin committed to the Blue Devlis last fall.

Class of 2022 forward McClain Mahone of Wisconsin has a new offer from Wisconsin Lutheran. Mahone is one of the more versatile, available forward prospects that our staff has seen inside the state.

Both Dixie State and Kennesaw are tracking class of 2022 guard Timothi Williams of Kentucky. Williams is a dynamic option in the backcourt. Like Mahone, Williams is one of the best available prospects remaining in her state if not regionally.

Class of 2023 guard Gracie Barnes of Ohio is back in action after a foot injury sidelined her for most of the summer. Barnes is a consistent threat from the outside projecting as a potential next level specialist in that regard.

Auburn, North Carolina State and Southern California are amongst the schools who have been in to Brookwood High School (Georgia) to see class of 2023 guard Diana Collins. Collins projects as a multi-faceted option at the position.

Class of 2023 guard Karson Martin of Georgia has been busy as of late. After seeing Mercer a week ago, Martin visited Kennesaw State last weekend.

Class of 2023 wing Lily Pereira of North Carolina is seeing her recruitment start to take shape. Liberty was in for an open gym. In addition, North Greenville is planning to have Pereira on campus soon.

Class of 2024 guard Madison McKinnon of Texas will visit Tarleton State this month. McKinnon worked out with me last Saturday in Dallas showing improved consistency on her outside shot from our initial session earlier this calendar year.

Alabama has offered class of 2024 guard Chloe Spreen of Indiana. Spreen had a fantastic showing this summer proving that she can be considered amongst the elite guards in the country on the defensive end.

Keep a close eye on both class of 2024 guard Chloey Graham and class of 2025 guard Gabby Spink of Gibson Southern (Indiana). Together, they could have one of the best underclass led backcourts outside of the metro Indianapolis area if not in the entire Hoosier State.


Multiple schools including Agnes Scott, Jacksonville State and Mercer have been in to watch workouts at Fayette County HS (GA). Class of 2025 guard Megan Ohonde is in line to be a major contributor there over the next four years.

Alabama and North Carolina State have offered class of 2025 point guard Hailee Swain of Georgia. Swain is on pace to be considered as one of the elite guards in the region if not nationally.

Class of 2025 point guard Ananda Jenerson of Texas visited SMU this weekend. Jenerson's game is emerging to the point where she'll be on the recruiting board of most if not all the programs inside the Lone Star State before too long.

Class of 2026 guard Khloe Moye of North Carolina is getting a head start on her process having visited several college campuses including Southern California and Texas.

Brandon Clay serves as the Director of Scouting for ProspectsNation.com and owns The BrandonClayScouting.com Evaluation Report, which is read by more than 200 colleges and universities nationwide. He also serves as the Executive Skills Director for the Brandon Clay Scouting Academy Series.