Recruiting Rundown: Sept 2
Posted
8 months 3 weeks ago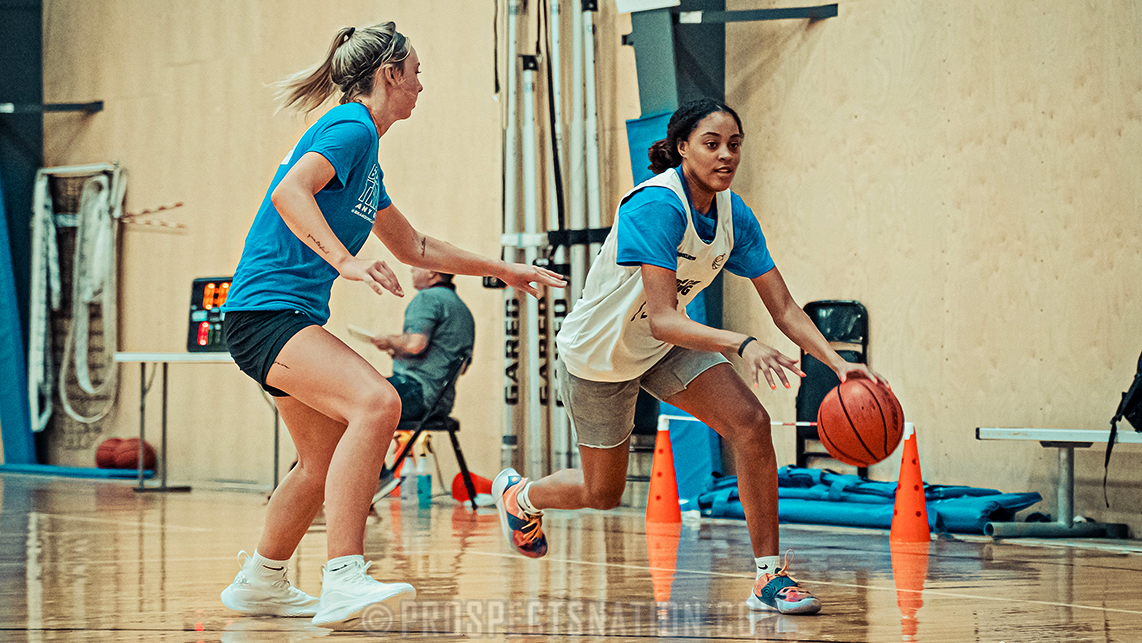 Alexis Parker competes at the 2020 Check Me Out Showcase in Austin, Texas. *Photo by Anthony Lugardo.
September 1 is here which means the lines are buzzing for many 2023 prospects across the country. But it's still prime time for the 2022 class in a process complicated by COVID-19 by way of extended eligibility of current collegiate players and limited viewing opportunities. We caught up with some 2022's at various stages of the process.
Alexis Parker To UTSA
It was a good summer for Alexis Parker. Her San Antonio Finest Cee Lou team won the 3SSB national championship at the end of July and the end of August saw her commit to Karen Aston and the UT-San Antonio Roadrunners. The 5-foot-11 guard has a chance to be a hometown hero of sorts as the Aston and her staff look to rebuild the program.
"Ultimate culture kid," her club director, Ray Caldwell said. "She does what is needed for her team to win. Her versatility and willingness to give her all on both sides of the floor will help her succeed at the next level."
That assessment is the ideal piece in rebuilding. Parker, an ELITE 150 Watch List prospect in 2022, held other offers including Lamar.
Taylor Visits NAU
Audrey Taylor, the 5-7 combo guard from Boise, Idaho, is making her official visits this fall. She is fresh off a visit to West Point and in Flagstaff, Arizona, this weekend on the campus of Northern Arizona.
Taylor had a strong summer playing with Tree of Hope-Idaho both regionally and nationally. Her toughness and shot-making ability made her appealing to several schools. She's a fearless competitor who we've worked with at camps all across the country.
Regional Training Academy - Austin, TX@audreytaylorr0 of @hope_idaho pic.twitter.com/HfMTMMmnVX

— ProspectsNation.com (@ProspectsNation) January 11, 2021
Graham Picks Up WAC Offer
Abby Graham, the ELITE 150 Watch List guard from Portland, Oregon, picked up and offer from Dixie State coming out of July. She was also recently on campus at St. Mary's College of the WCC and balled out at the Marquette elite camp.
Graham is a 5-10 shooting guard who has the strength to attack and finish in traffic as well as the deep range to be a tough player to defend. She excels in ball screen action and she was a significant cog in the Upper Left Legion program's summer.
Mack Konig Eyeing Visits
Mackendra Konig, who returned to Canada for her senior season, is on track to schedule her visits this fall. The 5-9 point guard had a terrific summer playing for Ontario-based Become One on the GUAA circuit. The four-star prospect holds offers from Furman, Hofstra, LaSalle, Montana, Iowa State, James Madison, LIU, Marquette, Northeastern, Rice, Southern Miss, Toledo and Wofford. UC-Riverside, UC-San Diego and Washington are also in the mix.
Konig, who will play her final prep season at King's Christian, is also talking with other schools. She should be locking in her visit schedule in the coming weeks.
AROUND THE RIM
Miki Vermeulen of Renton, Washington, was terrific at the Check Me Out Showcase in Seattle in August. The 5-10 lefty guard was on the 3x3 championship team. The 2022 prospect's play this summer with EBC Elite now has her on the radar with several new programs including Point Loma, George Fox and Linfield.
Kyla Momberg of Box Elder, Montana, capped her summer off in fine fashion. She attended the Montana State Bobcat Elite Camp and earned camp MVP honors. She's a 2022 perimeter option with a full array of scoring skills. She holds multiple D2 and NAIA offers currently.

Chris Hansen is managing editor of ProspectsNation.com and serves on the McDonald's All-American and Naismith Trophy selection committees. He was a co-founder of and the national director of scouting for ESPN HoopGurlz from 2005 until 2012 and is the director of the Check Me Out Showcase and ELITE is EARNED events. He can be reached at chris@prospectsnation.com.