Rundown: Fiore, Fuller, Sanfilippo
Posted
2 years 2 weeks ago
In an uncertain time of recruiting, having an advocate working on behalf of creating national brand awareness for prospects is more paramount than ever before. The Brandon Clay Recruiting Program is designed to do just that. Here's a look at three members who recently made their college choices:
Ella Fiore: Class of 2021 – St. Andrew's School (RI)
College Choice: New Hampshire
With the limited amount of high school basketball being played in the Northeast region, Fiore actually made the move to join New Hampshire's roster for the duration of the 2021 season. She'll bring a wing capable of playing multiple positions with her length and potential. She'll still be a freshman in 2021-2022 with the NCAA granting an extra year of eligibility to all student-athletes this season.
Hannah Fuller: Class of 2021 – Southside Christian (SC)
College Choice: Georgia Southern
Fuller has attended numerous training academies building her game piece by piece. That foundation resulted in an opportunity to take her game to Statesboro to suit up for the Eagles next season. Fuller will bring the program a threat from long range serving as another option to stretch the opposing defense out past the 22-foot mark opening driving lanes and post scoring chances in the process.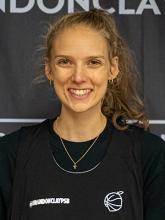 Nicole Sanfilippo: Class of 2022 – Ardsley (NY)
College Choice: Syracuse
A standout at the New York Training Academy hosted by Sean "Sticks" Smith, Sanfilippo is another guard with the ability to let it fly from long range. ProspectsNation.com National Director of Scouting, Jonathan Hemingway says that "Sanfilippo's jumper is the strength of her game. She gets the ball up with ideal arc and holds a consistent follow through." That skill set should serve the Orange well as they look to keep climbing their way up the ladder in the ever competitive Atlantic Coast Conference.

Brandon Clay serves as the Director of Scouting for ProspectsNation.com and owns The BrandonClayScouting.com Evaluation Report, which is read by more than 200 colleges and universities nationwide. He also serves as the Executive Skills Director for the Brandon Clay Scouting Academy Series.