Samuelson Exceeding Expectations
Posted
8 years 7 months ago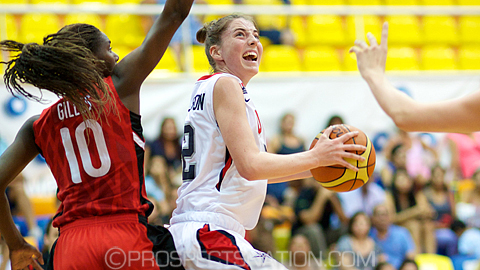 Katie Lou Samuelson is ranked No. 2 in the ELITE 60 and won two gold medals with Team USA this year. *Photo by Haley Weit.
Tweet
It's hard to imagine the pressure to live up to expectations when both your siblings and your parents were celebrated hoopers. Yet Katie Lou Samuelson has seemingly elevated her game beyond all four shadows cast by her family, and the latest accolade, a gold medal for USA Basketball at the FIBA 3x3 U18 World Championships, came a few months after her 16th birthday.
Samuelson, who goes by the name "Lou", started the 2013 non-scholastic season by making the USA Basketball U16 national team, starting all of the team's games in Cancun, Mexico, at the FIBA Americas Championships, and set a record for the most 3-pointers made in an Americas game, going eight for eight in the championship win over Canada.
Lou's mother, Karen, was named to the All-England Netball Team. Netball is similar to basketball but with a lower goal and no backboard. Her father, Jon, played professional basketball in Europe in his day. Both of her older sisters, Bonnie, 20, and Karlie, 18, were highly regarded prep players, ranked in the top 100, and both are currently on the Stanford basketball team. So while basketball is obviously in her blood, the fact that Lou has handled the expectations and excelled is as impressive as the laundry list of accolades she's earned before her junior year of high school.
'15 ELITE 60 wing Katie Lou
Samuelson. *Photo by Haley Weit.
On the recruiting front very little has changed for the No. 2 prospect in the 2015 class. Last December Samuelson, of Fullerton, Calif., released her top eight schools, considering offers from Connecticut, Duke, Kentucky, Louisville, Notre Dame, Stanford, UCLA and Washington.
Being out of the country this fall in Indonesia for the 3x3 championship, the recruiting process has been a little slower for Samuelson, even with the new NCAA rules allowing electronic contact and in-home visits earlier for the junior class.
"I told the coaches we weren't going to do in-home visits," Samuelson said.
The only change thus far she said is the addition to Ohio State to her list of schools. She's been talking to coaches on the weekends only, as she focuses on academics and her 4.0 grade-point average during the week.
"Once the season starts it's pretty much just school and basketball," Samuelson said.
Lou will make an unofficial visit to Notre Dame on November 8th. She will also make an unofficial visit to Connecticut this winter when her Mater Dei High School (Santa Ana, Calif.) team travels to the Boston area for the Hall of Fame Game.
"In January I may start to narrow things down some more," Samuelson said, adding that she's not in a hurry at this point.
In the immediate future Samuelson hopes that her Monarchs can win a state championship and have a shot at the mythical national title in the process. Regardless she is certainly exceeding expectations and is one of the most coveted recruits in the country. Follow @ChrisHansenPSB

Hansen is managing editor of ProspectsNation.com and a McDonald's All-American selection committee member. He was the national director of scouting for ESPN HoopGurlz from 2005 until 2012. He can be reached at chris@prospectsnation.com.