Scout's Take: '13 Class vs Rankings
Posted
9 years 2 months ago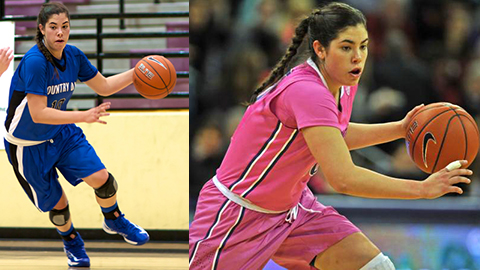 Kelsey Plum has taken her competitive drive and transformed it to an impact freshman year at Washington. Photo Credit: Chris Hansen and Washington Athletics
Tweet
High school player rankings are a mix of snapshots of where players are at that moment and their long term potential or upside down the line. If they were pure projections as to college success we would have to spend a lot of time analyzing where players decide to play their college basketball and deciphering if their games fit with their prospective programs style of play.
For the most part, rising freshman are 18 years old. They are inconsistent by nature. As a result of their youth, as well as the many of other factors that come into play, a player being successful their first year on campus is an inexact science. Some players will out perform their high school rankings while others will struggle during their first year of college.
Certain ELITE 100 players lived up to expectations and some even surpassed them. Players like No. 2 overall Kaela Davis at Georgia Tech and No. 3 overall Diamond DeShields at North Carolina have put together seasons worthy of their top 5 rankings. At the same time, No. 1 overall Mercedes Russell of Tennessee, and No. 4 overall Taya Reimer of Notre Dame had to work their way into line ups filled with upperclassmen and will have more opportunities to show what they can do as their careers develop.
Outside of the top 15 players in the class of 2013, there are a number of compelling cases of players who found their way on the court early in their careers and thrived given an opportunity to perform. While talent is ultimately a major factor, another large part of a player's ability to be successful transitioning from high school to college is school choice. Here is a short examination of some of the players who have had stellar rookie seasons.
Nia Coffey – Northwestern – 6-1 Forward – 15.3 PPG, 8.2 RPG
What We Knew: Nia Coffey, who finished high school as the No. 24 ranked prospect, was an elite athlete during her prep career but also a bit of a late bloomer skill wise. Her game really started to come into it's own the last 18 months of her high school career and she capped off her last days as a prep with a WBCA All-American game MVP and a spot on the U19 USA Basketball team. Her upside was always off the charts and as her prep career wound down the substance really started to emerge.
What we've Learned: Simply stated, Coffey made a school choice that gave her the opportunity to continue to allow her game to grow. At Northwestern this season she ranked fourth on the team in minutes and first on the team in usage percentage (efficiency). In lemans terms, Northwestern made Coffey a primary focus of their offense and it paid off for them offensively.
To Sum it Up: Northwestern had a need for an All-American type high school talent like Coffey and her development during the latter part of her high school career gave her to tools to fill that role very well. Coffey is now in the position to be a major contributor to Northwestern and potentially the face of the program one day.
Kelsey Plum – Washington – 5-9 Guard – 20.8 PPG, 4.7 RPG
What We Knew: There may have been players with more physical talent, but there was arguably no player in the 2013 class that was as competitive as Washington freshman guard Kelsey Plum. We knew Plum had the intangibles and drive to be a successful college player but it is possible we didn't value these traits enough during her high school career.
What we've Learned: Work ethic is a talent. We had Plum as the No. 26 ranked player nationally coming out of high school and what we loved about Plum as a prep prospect was her ability to compete. Plum has gone to Washington, was awarded a captain role in her freshman season and lived up to her billing as a high school All-American. After an outstanding season like this, Plum has the ability to be a college All-American down the line.
To Sum it Up: Plum can really shoot the basketball. Her true shooting percentage, which accounts for the weighted value of a shot and factors free throws, two-pointers and three-pointers into the equation, was an impressive 55.4 percent. Furthermore Plum lead all NCAA rookies in minutes played this year and was second in scoring. Her intangibles and will to win aren't things we can measure but they do find a way to creep into the stat sheet every now and then.
JUMPOFFPLUS.com Bonus Coverage: JOP Campus Tour
Nina Davis – Baylor – 5-11 Forward – 14.6 PPG, 8.9 RPG
What We Knew: Nina Davis finished No. 52 in the class of 2013 rankings. She was always viewed as a prospect who gave you tremendous energy and had the ability to guard multiple positions. Statistically, Davis was a productive high school prospect, but the question of whether or not she could make a seamless transition as an undersized interior player was difficult to answer with certainty.
What we've Learned: Don't count Davis out. More than anything Davis was successful this season because of her energy and that was something she played with since her first high school season. There were times this season where she struggled with length, but posting the stats that she did, Davis proved those struggles were few and far between. Playing with a playmaker like Odyssey Sims was great for Davis as she was able to finish plays that others set up for her.
To Sum it Up: Davis is the kind of player you never have to run a set for. She plays with energy and effort and the situation at Baylor this year with Simms running the show was a perfect opportunity for Davis to thrive.
Jessica Jackson – Arkansas – 6-foot-3 Forward – 16.2 PPG, 6.0 RPG
What We Knew: Jessica Jackson , who finished her high school career at No. 17, was a skilled high school prospect who just lacked the consistent level of production that other players in the 2013 class produced. Her talent level and physical tools were there but as we said in her fall 2012 evaluation, she had the potential to be the best player at her position in the country but buying into taking advantage of her tools and playing more around the rim was something we had yet to see from her yet.
What we've Learned: The right coach and situation can help you to maximize your talent. At Arkansas Jackson has been taught to use her physical tools and take advantage of defenders who are either too slow or too small to guard her. At 6-foot-3 she is a match-up nightmare and her ability to play inside and out presents problems for opposing teams.
To Sum it Up: Jackson was a player who had an enormous amount of talent and now it looks like she is maximizing her abilities as a college player. At Arkansas they are using her on 28 percent of their offensive possessions and with just under a third of her total shots coming from behind the 3-point line it is clear that they are allowing her to play freely. She finished shooting 42.3 percent from the field and 38.4 percent from behind the 3-point line, which is very impressive.
MORE NOTEABLES
♦ Georgetown post Natalie Butler has put up an impressive season given her three-star high school rating. She averaged 14.1 points and 13.4 rebounds per game. All this while playing serious minutes as the 6-5 post rates seventh in the country with 1,094 minutes played. Given the opportunity to play early in her career at Georgetown, Butler has managed to out-produce her high school rating.
♦ Oregon State guard Sydney Weise found a great situation for her game as she managed to transition into her freshman season and put up an impressive 13.6 points per game on 45.9 percent shooting and 44.1 percent from the 3-point line. Weise found a niche at the PAC-12 school and managed to thrive in a role that suited her game well.
♦ Iowa freshman Ally Disterhoft had a very good summer going into her senior year and made a name for herself with her play on the circuit. This year at Iowa the 6-0 guard has proven she has staying power as she has put up a solid 12.8 points per game and 6.2 rebounds a game. Disterhoft is a great fit style-wise at Iowa and staying close to home and playing for the in-state school looks to be a great college choice.
**Advanced stats supplied by Women's Basketball State
Follow @KeilMoorePSB

Moore is the Director of Scouting for the JumpOffPlus.com National Scouting Report and international scouting report. He has been a member if the women's basketball community for more than six years as a trainer and evaluator. He can be reached at keil@prospectsnation.com.