Seattle Spotlight - 2023, 2024 Edition
Posted
2 years 1 month ago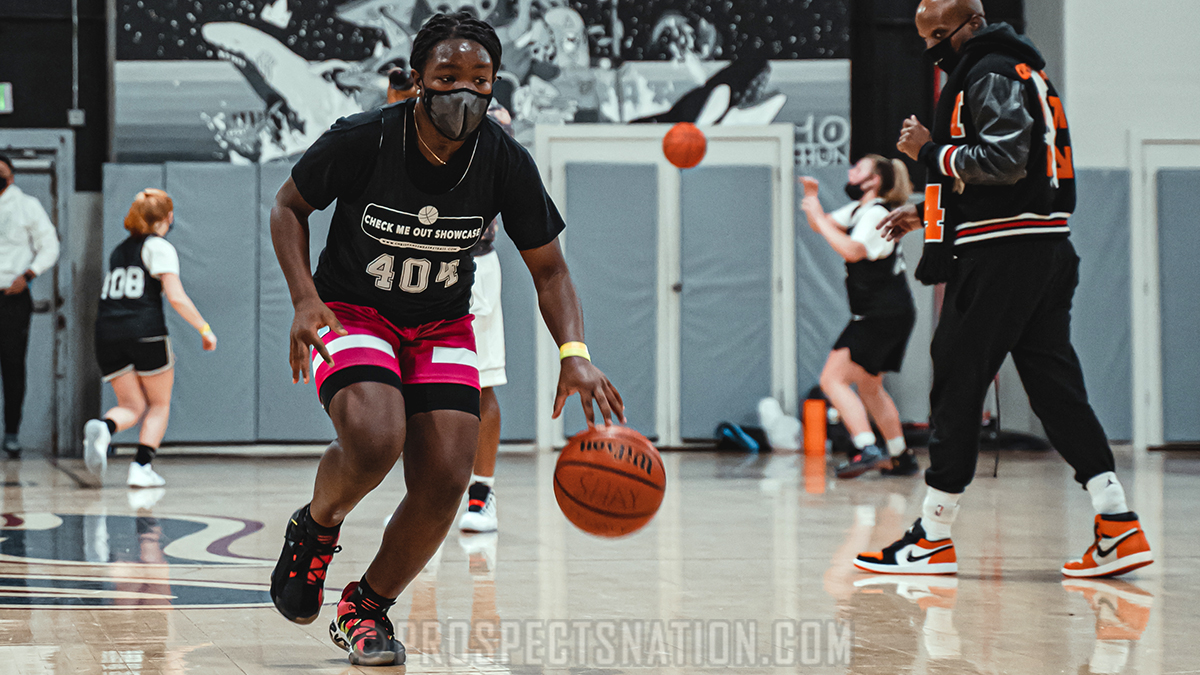 Shay Ijiwoye of Phoenix, Arizona, made the most of her trip to the Pacific Northwest. *Photo by Anthony Lugardo.
SEATTLE – The CheckMeOut Showcase is the premier individual showcase throughout the year in the Pacific Northwest. With elite level talent coming from as far away as Arizona and Minnesota to take part, there was no doubt that the event director Chris Hansen had the place to be for new faces and established names alike this weekend. Brandon Clay Spotlight Shooting Sessions held before hand are designed to give prospects a chance to work on their shooting technique specifically prior to the start of the event:
Carrington's still developing frame and emerging skill on the wing leave her plenty of room to run upside wise during her HS career. Add that to her willingness to be challenged inside this sessionand Carrington becomes a prospect who will have our attention the next four years.
Coppinger's physical growth over the past 18 months is a major propeller to her current success. She's now able to make and complete plays that our staff could watch the Elite Is Earned Boost member trying to make but not completing. Coppinger is making those plays a reality now. Armed with fantastic size, skill and passing ability, she is one to keep a watch on in a loaded 2024 class nationwide.
Dalan has a nice coupling of touch with size giving her a new age post player feel with the potential to do damage offensively facing the rim. She has the type of size and longterm upside over the next two years that college level programs covet on the frontline.
Ellis really impressed with her size, build and a solid frontcourt type of projection long term. In the modern era, there's a preference by teams at all levels to deploy kids capable of stretching the defense with their shot. Ellis has the tools to keep flourishing in that department and in turn, take her game to new heights.
Fiso is emerging as one of our favorite playmakers in the class nationally. She's grown leaps and bounds physically since her Tree of Hope EYBL squad made the trip to Atlanta for the Brandon Clay Summer Invitational last July. Fiso is willing to shoot the 3-pointer when open now and is also starting to attack using her left hand too. That's a major sign of growth for the EliteIsEarned Boost member.

Ijiwoye is a powerful prospect at the PG spot who reminds us of Diamond Johnson in the Class of 2020. Before Ijiwoye arrived in Seattle, current BClayRecruiting member Meg Newman checked in to let our staff know just how talented Shai is. Newman knows talent. Ijiwoye has a chance to be an elite option with a jumper that makes it hard for defenses to keep her in check.
Kast has noteworthy length to play multiple positions based on opponent, need and style of play. That type of versatility is a rare find these days and lends itself well to Kast projection in college. Her attitude here was fantastic from start to finish.
Macris reminds me of frontcourt prospects who have been through our pipeline in years past who get better, more comfortable with skill work in every training session. For Macris, learning to use her size on both ends of the floor will set the tone for her development facing the rim. The physical tools are there.

Brandon Clay serves as the Director of Scouting for ProspectsNation.com and owns The BrandonClayScouting.com Evaluation Report, which is read by more than 200 colleges and universities nationwide. He also serves as the Executive Skills Director for the Brandon Clay Scouting Academy Series.