Seattle Spotlights 2021 - I
Posted
1 year 3 months ago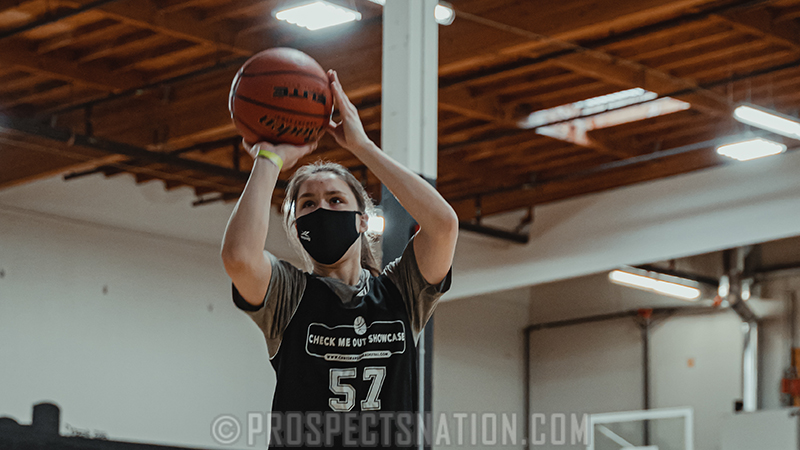 SEATTLE – The CheckMeOut Showcase is the premier individual showcase throughout the year in the Pacific Northwest. With elite level talent coming from as far away as Arizona and Minnesota to take part, there was no doubt that the event director Chris Hansen had the place to be for new faces and established names alike this weekend. Brandon Clay Spotlight Shooting Sessions held before hand are designed to give prospects a chance to work on their shooting technique specifically prior to the start of the event:
Stump has a bounce and lift to her game that most perimeter kids don't possess. She's a more than capable shot maker who showed the skill to be a factor off the move attacking the lane as well. She has great size at the position making her a versatile next level option.
Vermeulen is a left-handed shooter with a solid framework to build based on what we saw here. She is a shooter who will continue to improve as she taps into her physical strength giving her consistent range out beyond the 3-point line.
Graham has long been one of the most talented guards on the West Coast. Her skill level is off the charts with the build to be a consistent producer at the collegiate level as well. The EliteIsEarned Boost member one to keep an eye on over the next 12 months as she should be one of the more well recruited perimeter threats region wide.
As she begins the stretch run training with our staff before heading to Texas Arlington for college, Kinslow is showing the type of touch needed in the modern day game. In this setting, her shot follow through and mechanics were as crisp as we've seen from her to date.
Before heading to the Lone Star State to play at Tarleton State next season, Smith came through for one last training session in her home state. Smith's progress over the years is well documented. During this session, the biggest takeaway actually came from watching her work with a younger camper on how to display proper footwork.
Hanson has such a clean release to her outside shot. The mechanics are consistent, follow through is tall and wrist snap is executed well in addition to the other positives surrounding her overall game.
Koebelin is a smaller guard who did a good job here with showcasing the skill needed to take high level instruction and immediately start piecing it into her game. She is a definite longterm option as a shot making guard. That's hard to do in a competitive setting like this but Koebelin did it flawlessly.
Bock has some rhythm to her game at the guard spot. She's a smaller option but bouncy in her step especially getting downhill off the bounce. Think of her as a potential midrange shooting specialist in a game that is devoid of many kids capable of making the midrange shot.
Smith is the type of prospect coaches love due to her potential upside as a specialist in time. She was solid throughout the session here taking the knowledge and immediately applying it to her game. In that regard, her upside seems to have plenty of room left to run. Armed with an Eastern Washington offer already, keep an eye on her progress the next six months. We will.
Warns has already chosen Eastern Washington but came into the session with the hunger of an uncommitted prospect. She has good size, strength at the guard position showing the necessary bounce to be a consistent scorer, producer in that way. As Warns keeps adding range to her jumper, expect more and more production as a result.

Brandon Clay serves as the Director of Scouting for ProspectsNation.com and owns The BrandonClayScouting.com Evaluation Report, which is read by more than 200 colleges and universities nationwide. He also serves as the Executive Skills Director for the Brandon Clay Scouting Academy Series.