Posted
2 years 1 month ago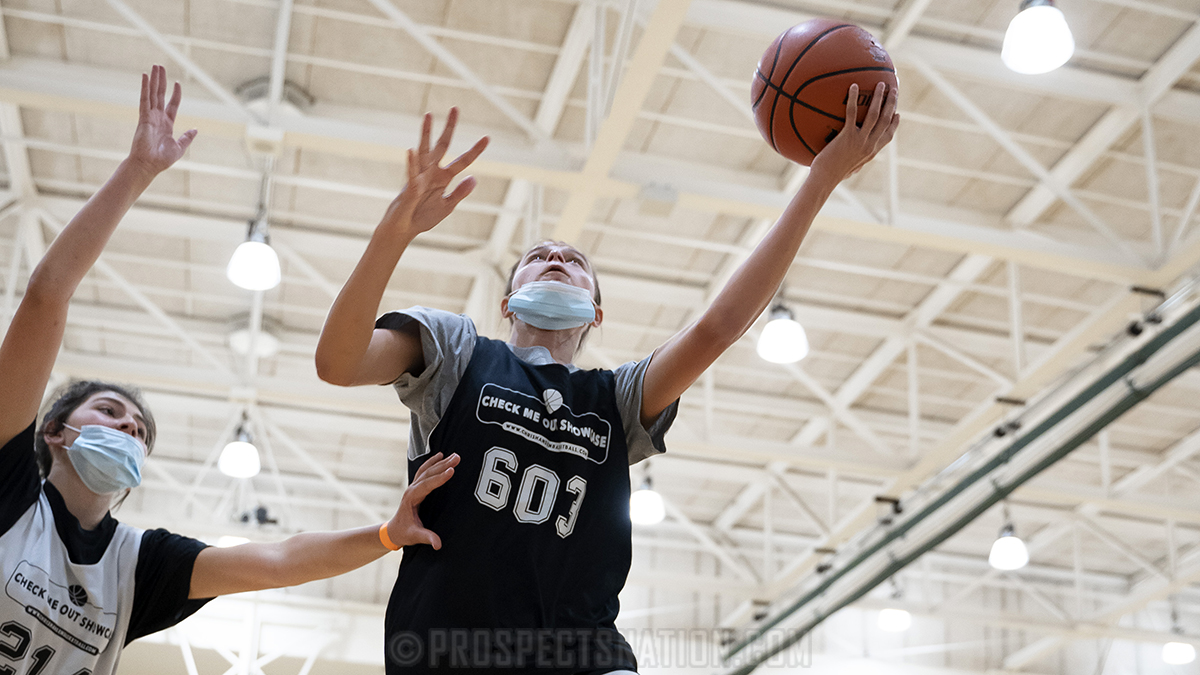 Gabriela Jaquez of Camarillo, California, is a UCLA commit who showed out in Seattle. *Photo by Calvin Koo.
SEATTLE – The Check Me Out Showcase flagship camp in the Pacific Northwest was back on the University of Washington campus this past weekend. Even with masks on the talent in the building could not be disguised or hidden.
#CheckMeOutNATION

Seattle Day 1

Focusing on doing special things before seeking special praise. Greatness is an action not a feeling!@ELITEisEARNED @ProspectsNation pic.twitter.com/sQ383rjwBh

— Chris Hansen (@ChrisHansenPSB) August 22, 2021
A selection of seniors made big impressions during the weekend, including a pair of committed players that use camp to sharpen their skills and compete.
Coming off a terrific spring and summer, Jacquez balled out at camp after a few weeks off. She's a model of efficiency on the floor, wasting very little motion but maintaining a lethal level of offensive production. And the rare misses on the weekend typically ended up back in her hands with activity on the glass. She made for a dynamic duo paired with 2024 point guard Katie Fiso of Seattle, Washington. Add up Jacquez' Spring, Summer and camp performances and you have a compelling argument for ELITE 25 consideration.
We've been in the gym with Lomax countless times over the past three years and this senior is going to be a fantastic late addition for a school still in the 2022 point guard market. Watching her work against traps in the 1 on 2 ballhandling session showed her skill and smarts with the ball make her a great option at the point spot. Her heady play and ability to shoot it well beyond the 3-point line were all on full display.
Jones brings good size and speed to the perimeter. She got out in transition and showed she can make and finish plays. In the half court this 5-10 prospect showed she could attack facing off the dribble but was even more impressive was her willingness to use her size and get physical inside against smaller defenders.
Vermeulen is a super productive player; a box score stuffer. She knocked down open shots as we've come to expect. It's really her ability to adapt to her team's needs that makes her really valuable. It was that skill that helped propel her 3-on-3 team, which included Jacquez, to the championship at camp.
Fraley is a big guard who we've seen improve year over year. She uses her length well, showing she can defend elite players. The 6-footer can effectively play multiple positions. Her handle and ability to finish at multiple levels have her poised to hit the Utah State campus ready to compete.

Chris Hansen is managing editor of ProspectsNation.com and serves on the McDonald's All-American and Naismith Trophy selection committees. He was a co-founder of and the national director of scouting for ESPN HoopGurlz from 2005 until 2012 and is the director of the Check Me Out Showcase and ELITE is EARNED events. He can be reached at chris@prospectsnation.com.