September Spotlights Indy I
Posted
2 years 8 months ago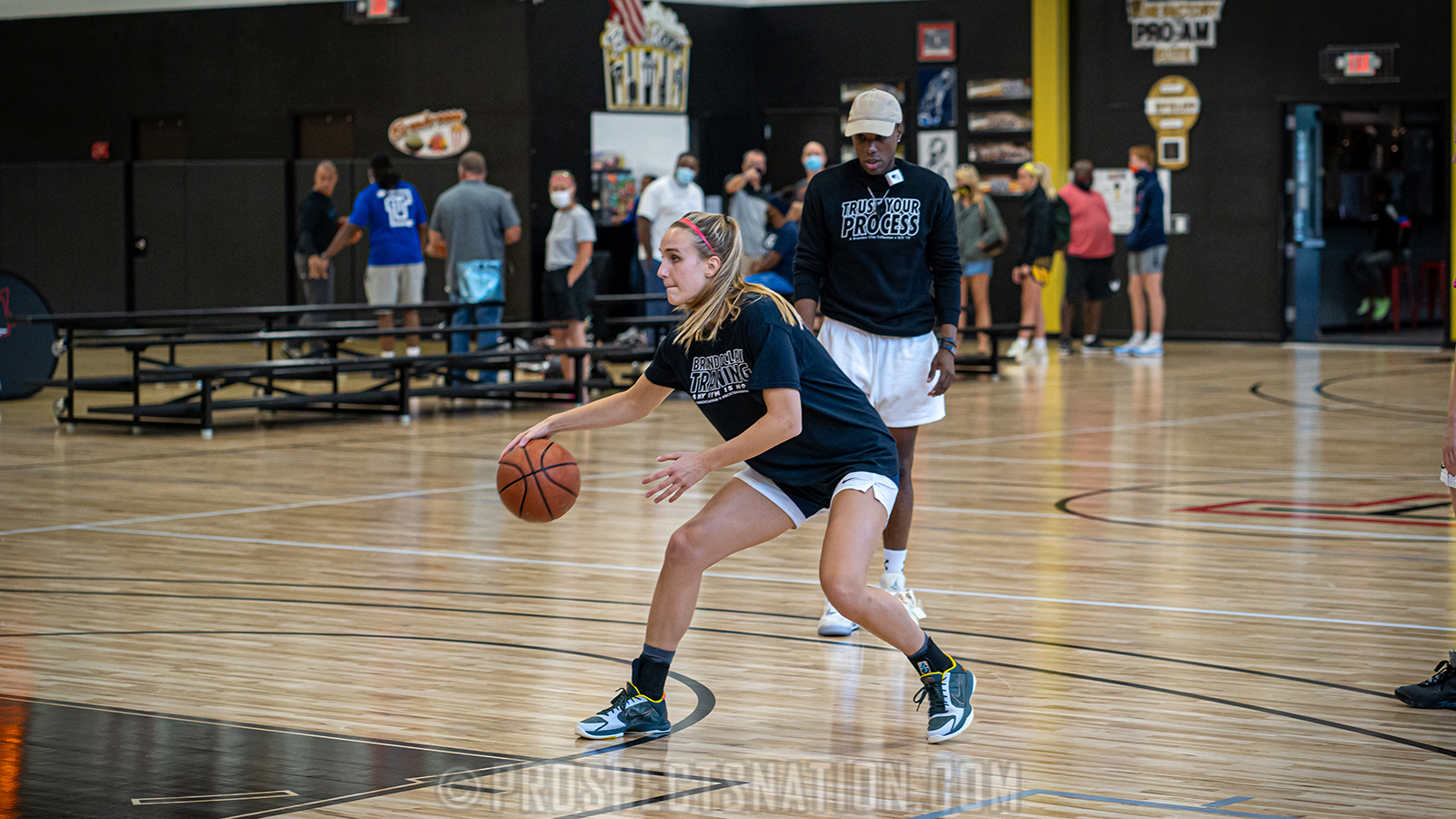 Oregon State commit Greta Kampschroeder spent the weekend in Indianapolis training with the Brandon Clay Training crew. *Photo by Tony Lugardo.
INDIANAPOLIS, Indiana – The Hoosier State has been a prime location for basketball this summer. We've held multiple training academies and club team games but this weekend might have been the best to date. Here's a first look back at the weekend with a Spotlight session in review:

Brown is such an attentive prospect in settings like this. She's grown since our June eval and is working to keep getting stronger as well. Brown, who has already committed to Northwestern, is playing like a guard capable of making an early impact for the 2020 Big Ten Champions. Her ability to stretch the floor is a plus with the intelligence to quarterback a team with her voice the next piece to the puzzle.
Brown has grown her game leaps and bounds since we saw her in June. The left-hand dominant wing player showed the type of versatility in her game that our staff saw glimpses of in June. Brown won a shooting competition that included the entire Academy competing displaying just how much she's improved in that area. She's a more than capable option off the bounce as well. Continuing to add strength to her frame will be the next step in her growth.
It's hard for most young prospects to still be effective on days where their offensive game isn't clicking. That was not the case for Brown on Friday night as she helped Brandon Clay Select battle to a hard fought victory with her energy on the defensive end of the floor. During the Academy on Saturday, Brown got back to her normal scoring ways attacking the rim and converting on open shot attempts. She never misses a chance to grow her game.
Simply put, Kampschroeder played this weekend like a potential All-American should. She was impactful in multiple phases of the game showing growth offensively and defensively in battles against some of the region's premier prospects. In that regard, the future Oregon State Beaver is a little ahead of the trajectory that former Corvallis star Mikayla Pivec was on at the same stage in her career. For Kampschroeder, picking her spots to assert herself early is key.

The growth in Newman's game over the past 12 months was on full display here. She was able to battle some of the nation's top frontcourt prospects on the interior than grab rebounds and take it coast to coast for the score. Newman has the size, ability and activity level to keep progressing like this again over the next year. She's a player who is at her best when keeping the game simple, not living and dying with every mistake made but embracing the wins inside the process.

Much like Newman, Shade's growth since our Indianapolis Academy is largely tied to her progress in skill development. An elite level athlete, Shade has been impressive with how her jumpshot keeps growing. She's a willing rebounder, defender and passer. The next step in the progression is continuing to work on making plays using her left hand. Shade's work ethic speaks for itself so it's only a matter of time if history repeats itself here.
Smith is a unique player with her skill set and athleticism. She has the ability to walk into Purdue and be an impact player early in her career. Much of Smith's progression will depend on her continuing to add strength and picking her spots to get a basket early. Smith showed throughout the day on Saturday that she is one of the Hoosier State's top prospects in the senior class. In that way, she's more than earned her seat at the table.
Stewart was an integral part of Brandon Clay Training Select getting a victory over 1Nation. Our staff has praised Stewart's offensive development but it was her defensive work that earned her minutes throughout the duration of the Fourth Quarter here. With multiple Elite 100 ranked prospects on the floor, Stewart's willingness to do whatever it took to keep lightning quick guards in front of her has to be mentioned.

Wilson's trajectory has been largely focused on her ability to make the open shot time and time again. While that rang true again this weekend, she too showed a willingness to compete on the defensive end of the hardwood that caught our staff's attention. Wilson has the size and strength to rebound well from the wing putting that to use in multiple games this weekend. She's a must add for programs needing a wing with size.

Williams is a smooth option in the backcourt who still has room to grow her game over the next 12 months. She's a more than capable defender who will see her game go to another level as she becomes more comfortable talking on the floor, calling out what she sees. When Williams is able to add that to her diverse skill on the offensive end, expect her production to rise a level yet again.

Brandon Clay serves as the Director of Scouting for ProspectsNation.com and owns The BrandonClayScouting.com Evaluation Report, which is read by more than 200 colleges and universities nationwide. He also serves as the Executive Skills Director for the Brandon Clay Scouting Academy Series.