September Spotlights Indy II
Posted
2 years 2 months ago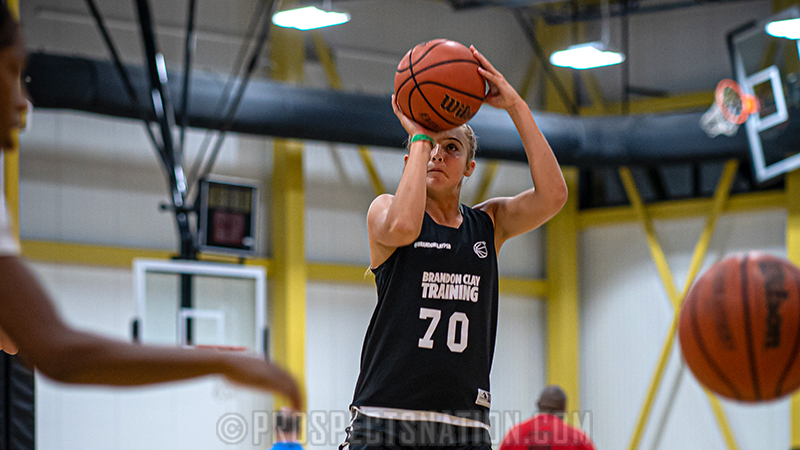 Chloe Spreen has taken her game into hyperdrive this summer. *Photo by Tony Lugardo.
INDIANAPOLIS, Indiana – The Hoosier State has been a prime location for basketball this summer. We've held multiple training academies and club team games but this weekend might have been the best to date. Here's a first look back at the weekend with a Spotlight session in review:
Brooke Highmark (St. Louis, Missouri), Blue Star St. Louis – 2022
Highmark came into this eval with a couple of scholarship offers already in hand and for good reason. She is a shot maker from the outside capable of playing either guard position if need be based on her skill set, athletic ability. That said, putting Highmark off the ball to allow her to be the recipient of pindown and double stagger screens appears to be the most efficient use of her overall offensive ability. As she adds strength to her frame, her production will just continue to increase.
Kinslow's size and physical build give her room to grow still as a player over the next couple of years. She is more than willing to battle on the inside defensively then turn around and knock down the open trail 3 on the offensive end. Kinslow is the type of prospect who can be impactful with her effort and energy alone. That's a rare trait especially in the modern era frontcourt prospect.
Jaya McClure (Louisville, Kentucky), Lady Gym Rats – 2022
McClure is shifty on defense with the skill to be both a shot maker and play creator on offense. She has multiple scholarship offers as her recruiting begins to level up. In that way, McClure is a true dynamic option at the lead guard position putting me in the mind of former Tennessee Tech standout Akia Harris at the same stage. The next step for McClure is simply to continue sharpening up what she already does well. She can be a premier on ball defender nationally.

McGinley has shown in both of our training sessions that she can be a solid option in the backcourt as a shot maker. She has the size to be a true off the ball threat with the skill to handle minutes as a primary ball handler as well. McGinley's next level up will revolve around her willingness to be a communicator on the floor. She doesn't have to be loud but conveying what she sees on the floor goes a long way towards covering up mistakes or exploiting mismatches for everyone involved.

Ellery Minch (Indianapolis, Indiana), Team Teague – 2024

Minch showed the potential size and current length to be a versatile wing player. The way the game is being played now, I can even envision her serving as a small ball 4 player giving the offense another 30 plus percent 3-point threat on the floor for drive and kick opportunities. Minch's willingness to be coached jumped out to me in this evaluation. As she adds physical strength to match her length, her game will continue to grow.
Karysn Norman (Bedford, Indiana), Lady Gym Rats – 2023
Norman has the bounce and moxie that we love to see from point guards. We talked about the finishing mechanics on her jumpshot in an effort to make her a consistent shooter from beyond the arc as opposed to a rhythm shooter. Even with a slighter frame, Norman has all the tools to be a high level point guard in the class nationally before it's all over. She can put the ball in the hole, find the open player and really believes in her game.

Osborn's competitive yet always upbeat nature is ideal in these type of environments. She is an energy provider in seemingly every aspect with a game that keeps improving at the point guard position. Osborn is continuing to put in work on her outside shot. Being a 35 plus percent 3-point shooter is a key for smaller point guards like Osborn who need to keep opposing defenses honest to create driving lanes for paint touches.

Pollock was impressive here with her size around the basket. She also showed the touch facing the rim out to the free throw that colleges like to see from their interior threats. Pollock seemed much more comfortable than our first session and June. As a result, even more of her game came to light including the willingness to consistently run the floor in transition. For Pollock, being able to run rim to rim possession after possession will only enhance her game.

Right now, Smith is playing like a future college lead guard. She is limiting turnovers, taking care of the ball and picking her spots to make shots. Smith's ability to play both ends of the floor is coming around as well. She is more than talented enough to be a factor in that way and is putting forth the concerted effort to do so. For Smith, keeping the ball pocket above her waistline is the next step in her progression.

One of the premier guards in her class nationally, Spreen uses these elite level training academies to start working on what's next for her game. Last September, it was starting to work on raising her release point on her jumper. Spreen has more than made the adjustment. Next up, it's putting everyone on full notice that she is one of the elite rebounders and scorers from the two guard spot regardless of class.

Brandon Clay serves as the Director of Scouting for ProspectsNation.com and owns The BrandonClayScouting.com Evaluation Report, which is read by more than 200 colleges and universities nationwide. He also serves as the Executive Skills Director for the Brandon Clay Scouting Academy Series.