She Got Game 2018 -- First Look
Posted
4 years 11 months ago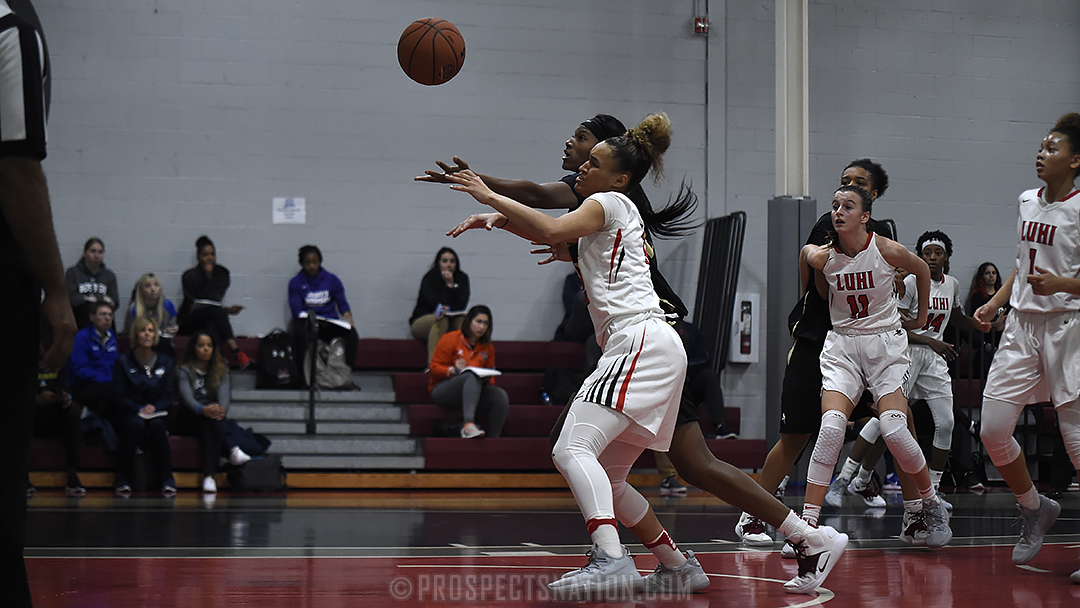 Celeste Taylor (white) of Long Island Luterhan battles Sania Fegain of Forest Park at the 2018 She Got Game Classic. *Photo by Chris Hansen.
UPPERMARLBORO, Maryland – The She Got Game Classic once again provided a terrific cross section of teams from across the eastern region as well as a few teams from Canada and Australia. Here is a look at some standout players from the D.C. area event.
Class of 2020 point guard Bella LaChance of St. Thomas Aquinas (FL) committed to Vanderbilt in the fall. With her future Commodore assistant coach Shereka Wright sitting courtside, LaChance showcased herself as a tough floor general. We'll keep an eye on LaChance's progress over the next year but she has our attention.
Class of 2020 forward Madison Scott of Bishop McNamara (DC) is a major reason why they are a consensus national title contender. Scott's unique blend of athleticism and playmaking ability on either end was on full display for PSBFamily member Team Takeover EYBL at the PeachStateBasketball.com Elite 32 last summer. It was on display yet again Saturday night with a gym full of college coaches watching her every move.
Class of 2019 guard Celeste Taylor of Long Island Lutheran (NY) continues to grow her game each season. A Texas signee, she serves as both a capable ball handler and shot maker for LuHi. With her future college assistant coach, George Washington, in the stands, Taylor had a bigtime performance here against nationally ranked Forest Park keeping her team in the game until the very end.
AROUND THE RIM
They say a team takes on the persona of its' coach. That statement rings especially true for Penn Hills (PA). Much like their leader on the sidelines, Robert Cash, this team plays with a tenacious attitude that makes scoring difficult for the opposing team.
Chris Francis brought his J. Addison roster down from north of the border to make a major impact on the big stage. Their ball movement and shot selection was second to none while their Hi-Lo game was arguably the most consistent that we've seen in the early stages of this school season.

Brandon Clay serves as the WNBA Director of Scouting for ProspectsNation.com and owns The JumpOffPlus.com International Report, which is picked up by more than 150 colleges and universities nationwide. He serves as the Executive Camp Director for the Elite Basketball Academy Camps. He serves on the Naismith Trophy Men's / Women's College Player of the Year Academy and is chairman of the HS Boys / Girls Board of Selectors and is on the McDonald's All-American Selection Committee. He also is the publisher of PSBPopCulture.com.