She's Ballin Extravaganza Part I
Posted
5 years 1 month ago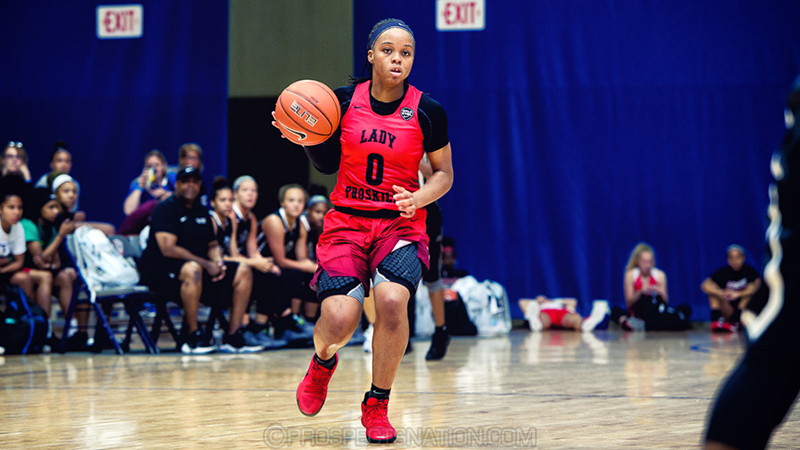 SAN ANTONIO, Texas -- Our first look at the talent from the She's Balling Extravaganza showcases a blend of top end talent and new faces that are must see this summer.
Ranked as the No. 2 prospect nationally in the Class of 2020, Andrews came in here focused and ready to get to business. She plays with a demeanor of a lead guard much older than her actual age. Andrews showed here that she can finish plays in traffic with a bump then knock down the ensuing free throw to complete the And-1. She also possesses an uncanny court vision to go along with her size, strength at the point guard position.
#EBASuper64 Individual
June 2-3
ATL#PSBRealDeal NCAA Showcase
July 8-9
San Antonio@ShesBallin Stock Up

Hannah Gusters
Jada Malone
Jaden Owens
Jessie Paz y Puente
Chelsea Wooten

JOIN US https://t.co/0xmrEZQDjp

INSTAGRAM https://t.co/jSr8AvCdZB @CoachRich12 pic.twitter.com/Ed9OFUPYaZ

— Brandon Clay (@BrandonClayPSB) April 7, 2018
Ranked as the No. 1 post in the Class of 2020, Hannah Gusters of Texas has established herself as one of the nation's premier interior threats. Keep an eye on her this summer. She'll rep Nike Lady Pro Skills EYBL at the #PSBPower48 on July 25th.
Class of 2019 guard Jaden Owens of Plano, Texas showed the ability to make quick, precise decisions at an elite level.
AROUND THE RIM
Class of 2021 post Jada Malone of Houston, Texas is the real deal in the paint. We'll host her Cy-Fair Premier squad on July 23-25 at #PSBSummerInvite and #PSBPower48.
Class of 2019 guard Jessie Paz Y Puente of San Antonio, Texas is a smooth guard for San Antonio's Finest. She can shoot it from the outside and is crafty off of the bounce. Finest will be at #PSBRealDeal in San Antonio on July 8-9 and #PSBSummerInvite on July 23-24.
Class of 2020 wing Chelsea Wooten of McKinney, Texas is one to keep an eye on with Drive Nation. She's a talented prospect in the backcourt.

Brandon Clay serves as the WNBA Director of Scouting for ProspectsNation.com and owns The JumpOffPlus.com International Report, which is picked up by more than 150 colleges and universities nationwide. He serves as the Executive Camp Director for the Elite Basketball Academy Camps. He serves on the Naismith Trophy Men's / Women's College Player of the Year Academy and is chairman of the HS Boys / Girls Board of Selectors and is on the McDonald's All-American Selection Committee. He also is the publisher of PSBPopCulture.com.