She's Ballin Kicks Off Club Season
Posted
3 years 8 months ago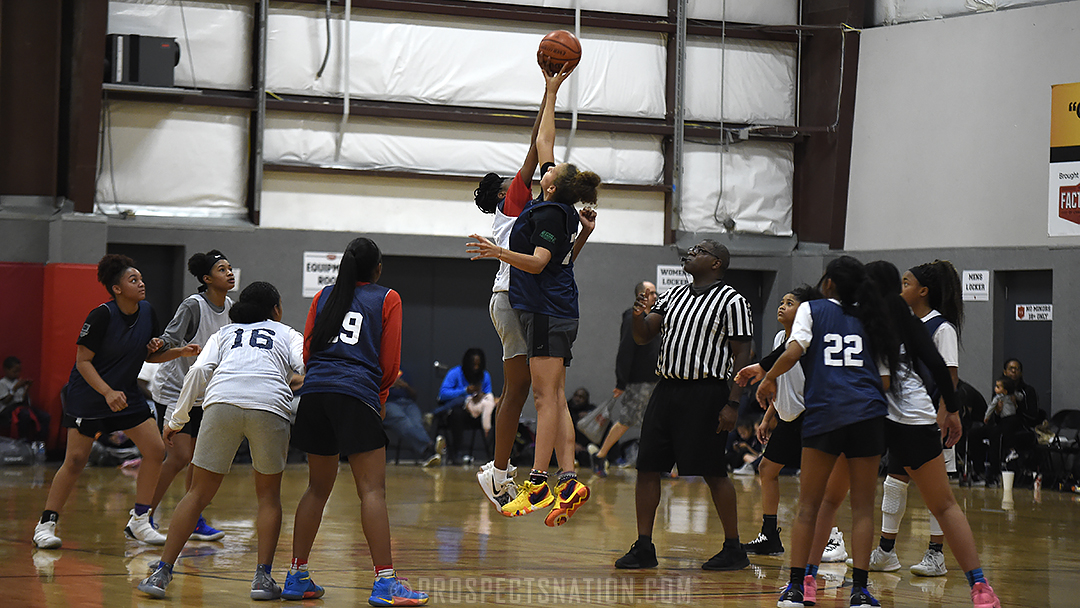 Sahara Jones and Paetynn Gray get up for the jump ball at the 2019 She's Ballin Showcase in San Antonio, Texas. *Photo by Chris Hansen.
SAN ANTONIO – Year after year the official start of the club season in the Southwest is the She's Ballin Showcase. This packed two-session event at the Factory of Champions did not disappoint.
The Level Up
Three players who are well established names on the circuit showed us this weekend that their games continue to evolve.
Deja Kelly of Cedar Hill, Texas, has been a player of note since she committed to Texas in the seventh grade. Now open and considering multiple Power 5 programs, including Oregon and Stanford, the game has really slowed down for this 5-7 combo guard. In Saturday's 4 on 4 action she was on an absolute roll scoring the basketball. She scored at all three levels but it was her mid-range pull-up game that was truly special.
Myra Gordon, like Kelly, has been under the microscope and talked about as a prospect since middle school. Being the younger sister of Jordan Brand Classic selection Lexi Gordon, the comparisons have been seemingly unending. She seems infinitely more comfortable in her game as a slasher and mid-range scorer. She is also showing improvement shooting the long ball. Her real upside is being a versatile and physical perimeter defender as well. Being able to impact the game in multiple areas will make her value skyrocket at the next level.
Sahara Jones of San Antonio, Texas, is a player celebrated for her upside in recent years and her performance this weekend shows she is not satisfied with that as the final description of her game. For such a quick and long perimeter player, she's showing the patience to slow down and let defenses make mistakes and exploit them. She's also improved her perimeter shooting tremendously, which has to be a big part of her ability to slow the game down and read on offense.
QUICK HITTERS
Zeryhia-Lee Tuimoloau of Amarillo, Texas, stood out immediately in the underclass session Saturday morning. Physically she is gifted and used that advantage throughout. She is hard to stop on the drive and is showing signs of a mid-range game that will be tough to stop when she dials it in.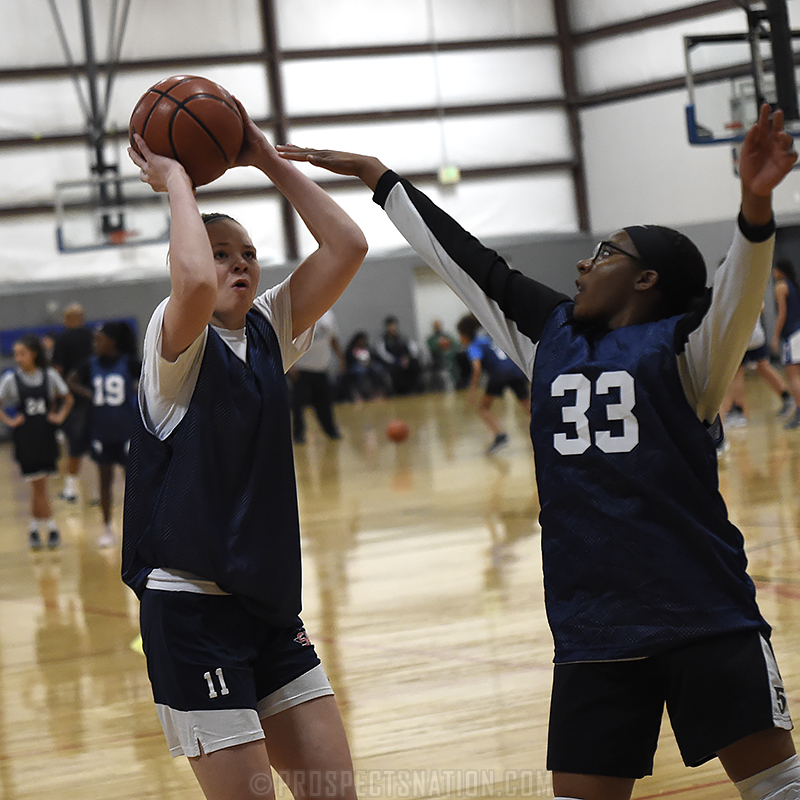 Samantha Wagner elevates for a jumper.
*Photo by Chris Hansen.Sammie Wagner of Irving, Texas, is a 2023 that is on everyone's radar, already. Her combination of front court size and perimeter ball skill are fun to watch. She's using her body really well offensively to take advantage of her frame and find her space to score.
Reagan Jackson of Kennedale, Texas, was a fierce competitor on both ends of the floor. She was patient on the drive and multiple times took the bump from her defender and was still able to elevate and score. Her change of speed moves are her go-to in breaking defenders down.
LA Sneed is only a 2025 and already has a reputation as being one of the most fierce on-ball defenders in Texas. She is a one-person press but does a great job of beating her opposition with her feet and not trying to reach every dribble. Offensively she plays so much faster than everyone she's really hard to guard with one person.
It's not often that a developing post player stands out at an early age but Marlie Cox showed a lot of promise. Her hands and touch around the the basket were on point and she used her size advantage in the paint without blasting through players and getting fouls.
Pace Rickard of Austin, Texas, has a confidence about her. She has clearly been working on her game and her ball control and breakdown moves grow each time we see her. She's fearless and next year she'll have a year of high school basketball under her belt.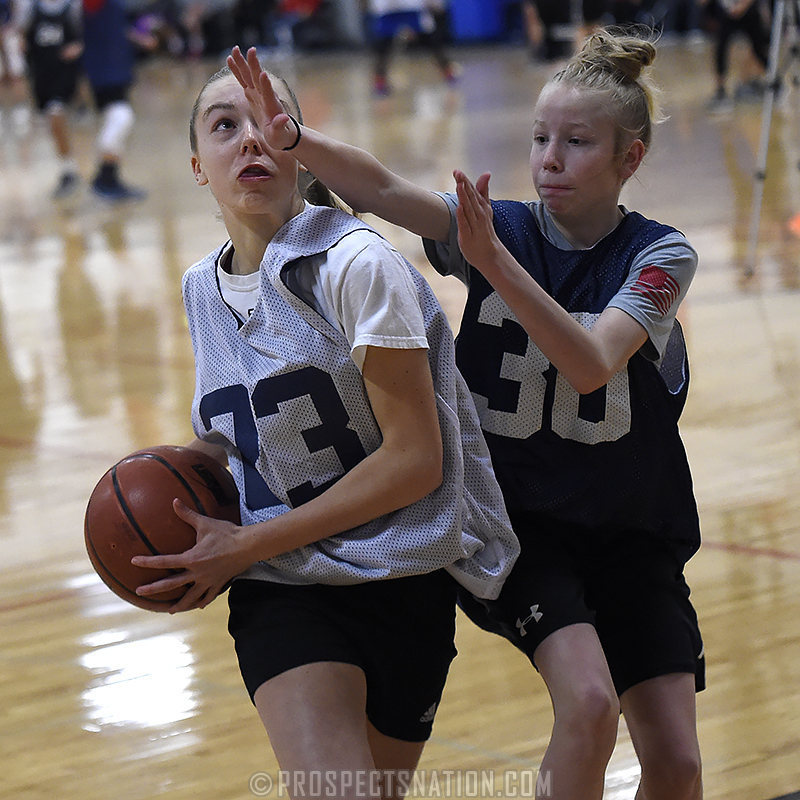 Pace Rickard attacks the basket at the 2019
SB Showcase. *Photo by Chris Hansen.Another young post player to keep an eye on is 2024 prospect Makayla Balderas. She's a lefty who showed she could over-power smaller defenders in low but also showed some face-up game in the mid-post.
Chelsea Wooten of McKinney, Texas, was a playmaker with the ball in her hands this weekend. She did a great job of creating off the dribble and she has her snap behind kill dribble down and can always relieve pressure or create a closeout with it.
Paetynn Gray of Round Rock, Texas, is the new age stretch 4-player. She's fluid running the floor but has the length and bounce to be an effective rebounder in the front court. A year behind Gray, 2021 Zoe Nelson of Pflugerville, Texas, has a lot of the same physical upside. The 6-1 swing player is one to keep an eye on this spring.
Sierra Dickson of Carrollton, Texas, is a 5-7 point guard who finished the showcase on a high note. She got on a scoring roll in her final 5 on 5 game, knocking down back to back jumpers from the top of the key and then scoring it off the bounce, finishing left on left after contact from her defender.
Bria McClure is another name that's been on the map for a long time. She's small in build but big when it comes to intensity at the point guard position. Her maturity and ability to control tempo both impact games.

Chris Hansen is managing editor of ProspectsNation.com and serves on the McDonald's All-American and Naismith Trophy selection committees. He was a co-founder of and the national director of scouting for ESPN HoopGurlz from 2005 until 2012 and is the director of the Check Me Out Showcase and ELITE is EARNEDevents. He can be reached at chris@prospectsnation.com.