Spotlight On 2024 In Austin
Posted
2 months 2 weeks ago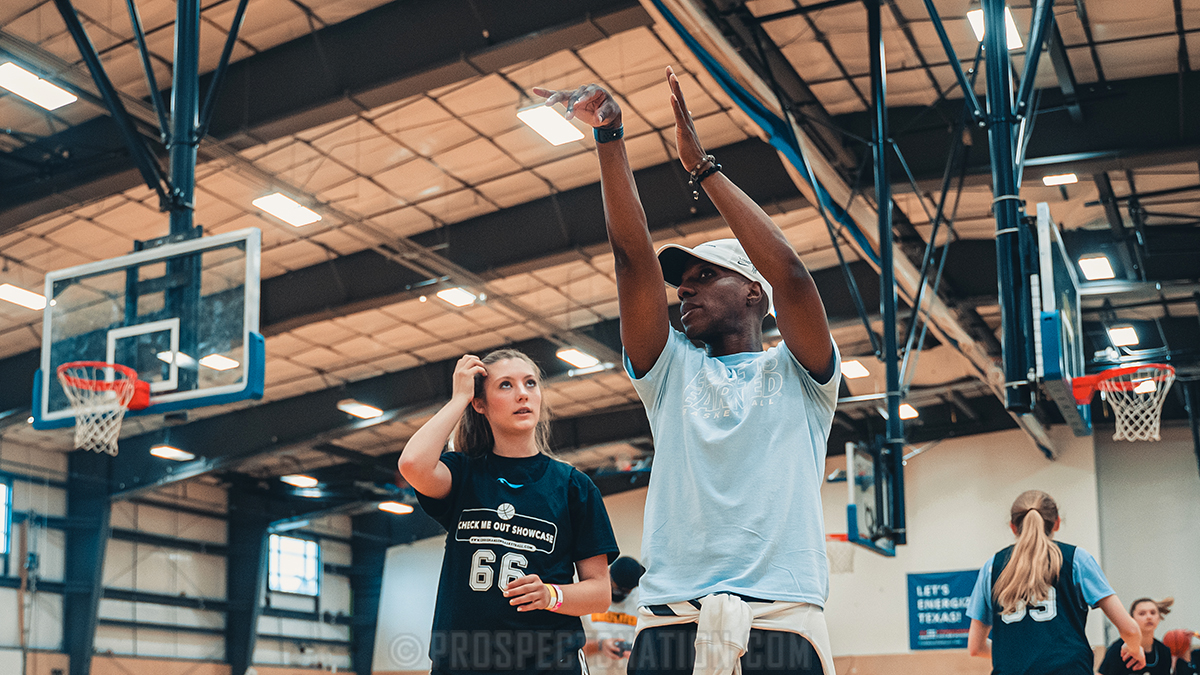 Madison McKinnon of Fredericksburg, Texas, works with Brandon Clay on her jump shot. *Photo by Anthony Lugardo.
AUSTIN, Texas – The CheckMeOut Showcase amongst the elite when it comes to premier individual showcases throughout the year inside the state of Texas. With elite level talent coming from as far away as Iowa and Washington to take part, there was no doubt that the event director Chris Hansen had the place to be for new faces and established names alike this weekend. Brandon Clay Spotlight Shooting Sessions held before hand are designed to give prospects a chance to work on their shooting technique specifically prior to the start of the event:
Mackenzie Amos (San Antonio, Texas), Judson High – 2024
In our first time together on the hardwood, Amos displayed a high shooting pocket but set the ball just a bit before letting it go. The ball consistently takes a nice trajectory with a good wrist snap but in time will need to come out in one motion not two.
Heather Baymon (Houston, Texas), Houston United – 2024
Baymon made a splash in multiple facets of the day's activities. As far as the individual shooting session goes, her ability to put the ball in the basket caught our staff's attention from the very beginning. In addition to her shooting, Baymon's is a capable offensive weapon off the bounce even using the show fake that Rajon Rondo has made so popular against Bailey Maupin in a 1 on 1 drill to get a bucket.
Borchardt was a new fact to the shooting session academies. She came in right away flashing a compact release and mechanics that keep her left hand out of the way of her shot. We envision Borchardt's progress to include continuing to build her starting shot pocket a little higher above her waistline to her stomach area. That said, her current form and mechanics are a great place to start from.
Nayeli Espinoza (San Antonio, Texas), Brennan High – 2024
This was my first chance to work with Espinoza on her mechanics. She showed a nice, tall release though smaller in stature at the guard spot. Going forward, Espinoza's ability to consistently be in stance ready to let the ball fly is a place she can improve on.
Forestier has grown since we worked together on her shot at multiple academies in 2020. She has the length to be a big guard in the most modern day sense. When Forestier locks her follow through in tall without fading, she's a dynamic shooter capable of being a threat from anywhere inside of 23 feet. The greatest part of Forestier's game is that she's shown that she's willing to put the time in to make it happen.
Kamryn Griffin (San Antonio, Texas), Player First – 2024
Griffin caught the attention of both as well as myself National Director of Scouting, Jonathan Hemingway, with her ability to make shots throughout the session. Afterwards, Hemingway remarked that "Griffin's mechanics are in a really good place but making sure that her left hand doesn't fly off the ball before the release would only enhance her shooting percentage."

McKinnon showed this weekend that she's not afraid of the work we'll put in to help grow her game. She's a solid shooter already but has a slight hitch that reminds our staff of NBA Most Improved Player candidate Lonzo Ball this time a year ago. Like Ball, McKinnon has the work ethic to make the mechanics correction needed to get the ball up and out quickly and efficiently.
Ella Nietz (San Antonio, Texas), Player First – 2024
Nietz is my kind of perimeter player. She's got the length and fluidity to use screens, exchanges to get open with the long term ability to be a consistent outside shooter. Nietz already has a nice, tall finish to her shot but can improve by keeping her left hand straight and on the side of the ball when she shoots. That adjustment will take her shot to the next level before we re-connect in Dallas the first weekend of October.
Kierstin Rink (The Colony, Texas), DFW Elite – 2024
Rink caught my eye with her size and mobility. The way the modern day game is played, prospects like her who can master the 1-2 step perimeter footwork while still being effective inside are hard to come by. The release point on Rink's jumper will keep getting taller the more we get together to train but the tools are in the box without question.
This was our first time on the floor together and Smith made a favorable impression. She already possesses a high release point on her jumper which is a major plus. She needs to play a bit lower in her stance to utilize her legs on every possession when she gets ready to explode into her shot. Like most young wings, Smith can continue to emphasize keeping her left thumb out from under the ball on her jumper.
Enyce Williams (Bedford, Texas), DFW Elite – 2024
Wing players with Williams potential aren't easy to find. Despite her slender frame, she is a capable two-way threat. Offensively, look for Williams to grow as a shooter by the time we train again in Dallas this fall. She currently has a slight hitch in her release that will smooth out with a shooting pocket around her stomach and elbow under her wrist as she lifts the ball to shoot it.

Brandon Clay serves as the Director of Scouting for ProspectsNation.com and owns The BrandonClayScouting.com Evaluation Report, which is read by more than 200 colleges and universities nationwide. He also serves as the Executive Skills Director for the Brandon Clay Scouting Academy Series.