Posted
3 years 1 month ago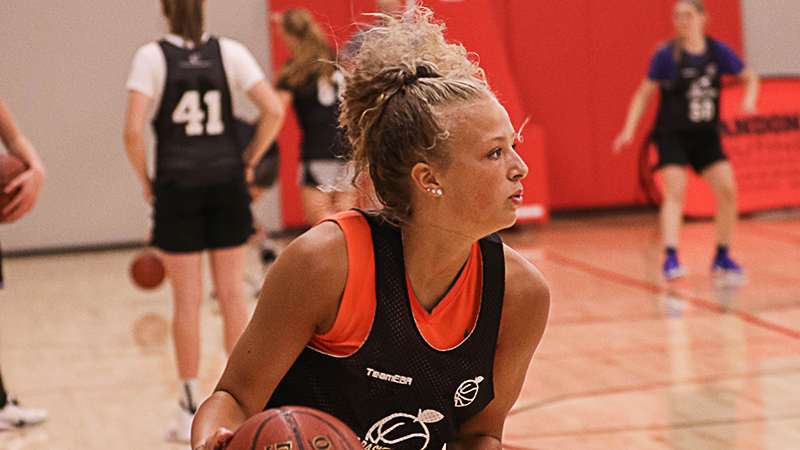 Avree Antony competes at the Appleton installment of the Brandon Clay Scouting National Training Academy.
APPLETON, Wisconsin – The BrandonClayScouting.com National Training Academy has become the nation's premier proving ground to train with and compete against elite competition. With 85 campers representing the best that the Badger State has to offer, this edition was no different. Our favorite part of the showcase is working with campers during our Spotlight Session Workout. Here are the takeaways from the second full session on Thursday night:
Antony showed early that she has the bounce and explosiveness that college coaches covet from perimeter players in this modern era of the game. She's an effective driver, slasher off of the catch and go showing the ability to be a playmaker in that regard. As Antony learns how to utilize her athletic ability with pace, her game will keep climbing.
Beyer is a guard who showed here that she can make the right read and complete the play. She has good size coupled with strength. Beyer's skill set to keep defenses honest with the 3-pointer will play a major role in her game longterm. She is a competitor even in drill work. If Beyer made a mistake, she wanted another turn right away to correct the error. That menatality will take her a long way in this game.
Breunig's game and versatility was on display here. She can shoot the ball, has length on the perimeter and showed the ball skill needed to be a consistent option in the rotation late in games. Breunig's effort and energy was never in question here. If she can show that an open jumper is essentially a guaranteed make, Breunig's stock rises as a result.
Bugajski represents another quality option in the new wave of frontcourt options capable of keeping defenses honest on coverages in addition to closeouts all the way to 21 feet. She has the size, style of play to see time at either forward position based on matchups and personnel. Bugajski's ability to rebound and position defend will help determine just how productive she is at the college level.
Derlein a smooth, slender-framed shooting guard. Our staff was impressed with her ability to stick the open shot as well as take instruction on the fly then make the needed adjustments to get it right. She's a more than capable shooter who should excel at the next level playing alongside a dynamic guard who gets downhill to create space for her then kick for an open look.
With the modern day game favoring forwards and/or post players who can stretch the floor with their outside shot, Dix has a chance to fill that role nicely over time. She showed the willingness to catch, look and even take the faceup jumper here in gameplay. Can Dix be a legitimate 33 to 35 percent 3-point shooter from the frontcourt? Those numbers translate to any college level.
Drout came in with a great work ethic and ready to improve her game. She's got a chance to be a high level guard in terms of putting the ball in the basket. Drout is a capable shooter in that regard already and should only improve with time, quality reps. If she can showcase herself as a consistent floor spacer, then it'll be hard for coaches to keep her off the floor in key moments.
Jacobson has the size, length to be a factor at multiple positions. She's got a nice pace and athletic combo to her game. Continuing to build on her outside shot will only enhance Jacobson's overall skill set. In that area, Jacobson is a real swiss army knife right now as she does a multitude of things well serving as her specialty.
Jaenke has trained with our staff on multiple occasions. To say we were pleased with her growth in this setting would be an understatement. She has blossomed into a consistent outside shooter along with the ability to attack the lane off the bounce. As Jaenke continues to add physical strength, look for her to take another leap over the next year.
Magestro-Kennedy is a slightly smaller guard with good skill and footwork. She was locked in from the moment we got started not afraid to assert herself in the drills or competition making reads and shots alike. Magestro-Kennedy has the skill to play a combo role though long term she might be best suited to play the point as her primary position. Her physical strength will be a big factor in her next level production.
Ouimette was one of the most naturally gifted middle schoolers in the Academy. Add that to her willingness to be taught throughout the sessions and it's easy to project her as an impact player when she gets to high school. She can shoot the open 3-pointer, has the skill to be an inside / outside threat and the length to play multiple positions. She's firmly on our radar.
Torres attitude was amongst the best in the Academy. She had a smile on her face throughout the duration even as we pushed her game to the limit. That energy rubbed off on the campers at her bucket and our staff alike. Torres has a solid jumpshot to go along with a deceptively potent ability to attack the basket. Like most young wings, Torres can add to her physical strength before we train again in the fall.

Brandon Clay serves as the Director of Scouting for ProspectsNation.com and owns The BrandonClayScouting.com Evaluation Report, which is read by more than 200 colleges and universities nationwide. He also serves as the Executive Skills Director for the Brandon Clay Scouting Academy Series.