Posted
2 years 3 months ago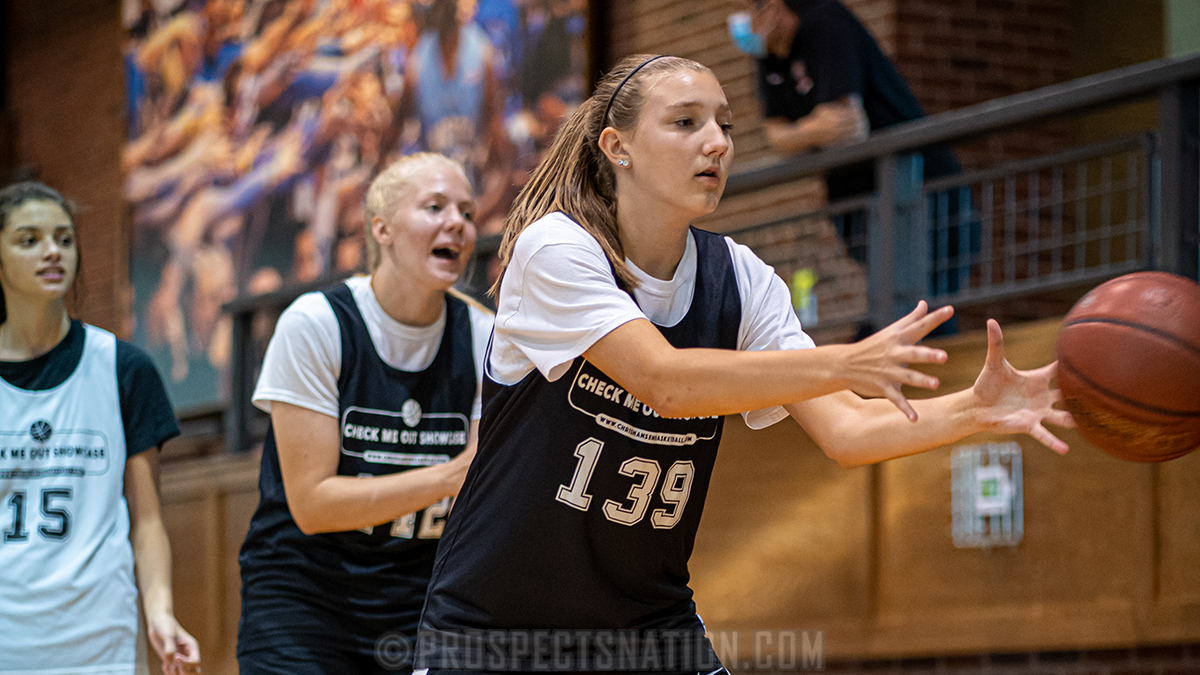 Emily Monson has been to multiple Training Academies over the past few years. *Photo by Anthony Lugardo.
KNOXVILLE, Tenn. -- The Brandon Clay Training Academy has crisscrossed the country this year to bring skill development, team concepts and competition to a single stop. The spotlight workouts add some extra court time and additional opportunities to be evaluated.
LISTEN TO BRANDON CLAY'S TAKE ON THE KNOXVILLE ACADEMY
Class of 2022 guard Kenzie Campbell of Chattanooga, Tennessee, keeps growing her game. She was a standout during our Alabama Academy and did the same here. When Campbell quarterbacks a team vocally, her game goes up a level. She's a shot maker and a team leader in every aspect.

At her current trajectory, Class of 2026 guard Andrea Flores of Elizabethton, Tennessee, is going to have a chance to train with our staff as much as any Volunteer State prospect since the Alexa Middleton era early last decade. Flores keeps growing physically with her shot looking smoother as a result. If history repeats itself, Flores will have a chance to leave a lasting impression on the state like Middleton did.

Class of 2024 guard Sydney Mains of Knoxville, Tennessee was right at home on her home floor. Fresh off of 29 point, 14 rebound performance the night before in a win. Mains has shown advanced poise for a young prospect but has all the tools to be an elite option before it's all said and done.

Class of 2023 wing Emily Monson made the trip from Murfreesboro over to train for the fourth time this calendar year. The difference in her game is starting to show. Her jump shot looked much cleaner here mechanically than it did earlier in the summer. In that regard, Monson's athleticism and feel for the game jump off the page while her jumper is starting to really make strides to match.

Class of 2024 guard Izzy Proffitt of Jacksboro, Tennessee, is a dymanic playmaker with the ball in her hands. She's capable of setting the table and making good things happen as a result. Proffitt's speed with the ball and overall moxie on the floor make her a point guard to keep a close watch on.

Class of 2022 guard Rachel Smith of Kentucky has become one of the Bluegrass State's top perimeter threats. She can flat out shoot it and her commitment to the game is never in question. That said, Smith is at her best when she takes the time to steady her team leading them with their voice.
Class of 2021 post Maggie Vick of Morristown, Tennessee, has signed with Iowa State and is an Elite 100 prospect nationally. She has continually shown growth and improvement in her game every time our staff gets to work with her. Vick's size and skill package is still just developing with a lot of run room to help her get even better in Ames.
Class of 2023 guard Tambryn Ellenburg of Greeneville, Tennessee has the ability to put the ball in the hole. She comes from a high school program that is run like a small college one and showed it here in this eval. Ellenburg has the IQ and work ethic to be a high level skill guard who can pitch and handle with either hand.
Class of 2024 guard Ellie Linx of Dandridge, Tennessee, showed the ability here to be a trusted shot maker. In a game that is always looking for scoring options, Linx showed the footwork in the session to get her shot off with balance consistently. As she adds physical strength over time, expect Linx to be a major factor in the state's talented 2024 class.
Class of 2022 guard Hailey Markworth of LaGrange, Illinois, has a combination of good size and skill. She's got a good bounce in her step that should allow her to be a factor both off the bounce plus the catch and shoot. Markworth came in with a focus that usually signals positive things at the next level and reminds me a lot of her M14 training mate Kenzie Hare, who just committed to St. Louis last week, in that regard.
Class of 2023 guard Halli Stuffle of Tennessee, showed the skill to be a true marksman from the outside. She can shoot the ball from beyond the arc and will have the ball skill to serve as a legitimate in option against pressure or in the half court. As Stuffle keeps filling out physically, her shooting range will continue to increase as a result. She's got a chance to be a true floor spacer.
Class of 2023 guard Juleigh Anne Tucker of Seymour, Tennesseec has the concentration and focus to be a highly skilled perimeter option. Tucker was dialed in from the moment that we started to work inside the shooting session. Her footwork adjustments were quick and precise. She has the ability to make reads, understand what she's saying. In time, Tucker will get more comfortable verbalizing what she's seeing.

Brandon Clay serves as the Director of Scouting for ProspectsNation.com and owns The BrandonClayScouting.com Evaluation Report, which is read by more than 200 colleges and universities nationwide. He also serves as the Executive Skills Director for the Brandon Clay Scouting Academy Series.