Standouts At 2016 Reds Super 64
Posted
7 years 2 months ago
LAKELAND, Fla., - Although outside the NCAA Division-1 viewing period, prospects in Florida were still able to gain exposure at the Red's Super 64 Showcase. The event sold out for the third straight year with 80 prospects from within the State of Florida. Over 40 Division II coaches were on hand to evaluate the talent. While unsigned seniors used the platform to generate interest, many underclassmen used the weekend as a way to emerge as prospects on a national level. Here is a recap of those players who made the biggest impression on Sunday afternoon.
Alexis Forbes (Lakeland, Fla.), McKeel Academy – 2018
It is hard to undervalue low-post production. Forbes may lack a few inches in height, but she makes up for it with production on the pivot. Standing 6 feet tall, she works the high-low game well. She is particularly good at scoring with her back to the basket in one-on-one situations. Her soft touch allows her to be a steady producer from the forward position. When she is able to maximize her athleticism, expect her production to increase as well.
A year ago at this event Meertens emerged as a playmaker of national interest. Twelve months later the 5-7 point guard completed a season on the EYBL circuit with Central Florida Elite and is committed to Stetson University. This year she exerted herself as the best player in the gym. She scored the ball in a variety of ways. Her dribble moves are definitive and explosive, which keeps defenders on their heels. She is equally unselfish as she dumps the ball to open teammates when the help rotates. Her blend of athleticism, skill and efficiency has her firmly within the ELITE 150 nationally.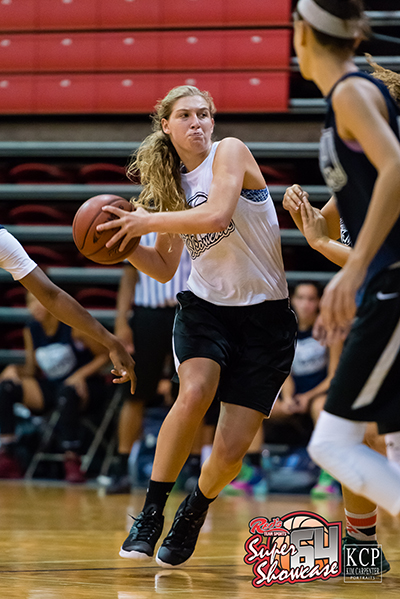 Hannah Pratt at the 2016 Reds
Super 64 Showcase. *Photo by
Kim Carpenter.The most intriguing storyline of the entire event could be the upside of Pratt. Listed at 6-0 even, she plays the game much bigger than that. Her long limbs and accurate timing to jump for rebounds give her presence of a player taller than her actual height. Pratt's skill set lends itself to the age of a small-ball 4-player. She is a mismatch for most power forwards because of her perimeter skill. She can stretch the floor with the jumper or deliver on-point passes from the high post. Yet her activity on the interior makes it impossible to defend her with a smaller player. Once her production catches up with her actual skill set, expect her recruiting interest to spike.
Jalyn Spurlin (Brandon, Fla.), Brandon HS – 2019
There is always a spot on a roster for the player who plays harder than everyone else. Spurlin fits that role while also being one of the best athletes in the gym. The 5-8 shooting guard displayed her hustle and energy at the camp. See tracks rebounds out of her area while also being a very solid on ball defender. Spurlin's offensive skill is not far behind. She slashes hard to the bucket while also displaying 3-point range with her feet set. Polishing her offensive skill set should allow her to become a more efficient scorer in the future.
Yoke Tassant (Ormond Beach, Fla.), Spruce Creek HS – 2018
Tassant impacted games with her shot making ability and ball handling abilities. Standing at 5-8 she has good size and athleticism to compete in the back court. She looked particularly good in transition where she pushed the ball and attacked with both hands. She is breaking her reputation as a spot shooter and turning into a combo guard who score both off the catch and off the bounce.
Short Seconds
Madeline Morales of Orlando, Florida, should be on any 2020 must-watch list. She is a smooth ball handler who ran the pick and roll well this weekend.
Class of 2018 Audra Leipold continues to be a consistent performer at this event. She makes shots, plays smart and rarely tries to do too much.
Class of 2017 twin sisters Briana and Ayanna Trigg of Tampa, Florida, are fun players to watch. Both stand at 5-10 as athletic forwards who bring great energy to the court. Their versatility and athleticism should make a college coach happy next year.
Do not overlook the potential of class of 2019 Audrey Ramsey of Boca Raton, Florida. She is coming into her own as a player and competitor. The argument could be made that she was the most impactful player, outside of Meertens, at the Showcase.
Class of 2019 guard Brylee Bartram of Seffner, Florida, looks to have polished her overall game well. She is known for her long range shooting but the rest of her game is coming into focus.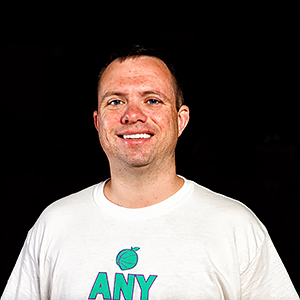 Jonathan Hemingway is the Assistant Director of Scouting for the JumpOffPlus.com National Scouting Report, is on the Naismith Trophy Board of Selectors and owns CoachHemi.com, the go-to source for coaches for X's and O's. He is the floor director of #TeamEBA camps, a site director for #TeamPSB tournaments and can be reached at jonathanhemingway@peachstatebasketball.com.