Posted
1 year 10 months ago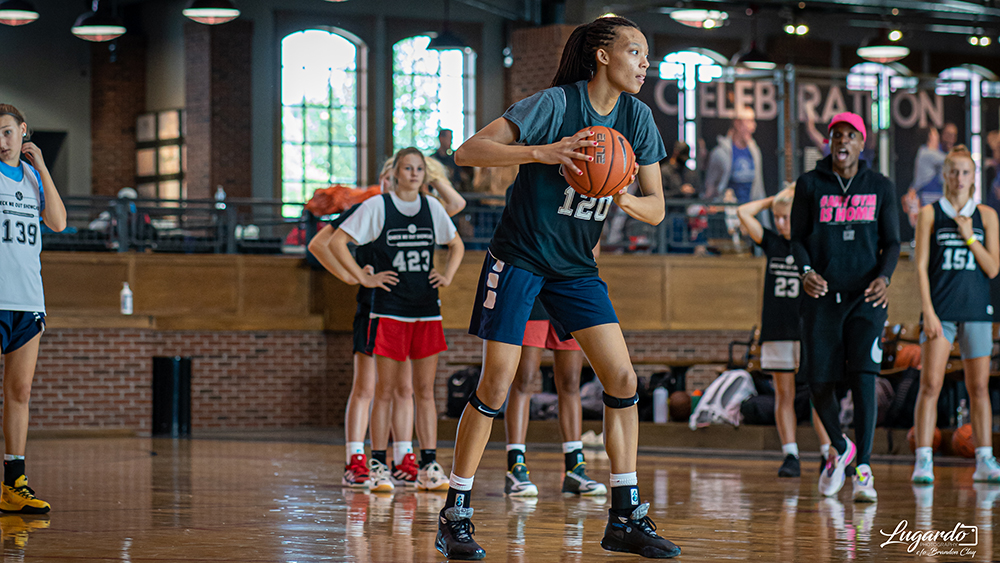 Ndjakalenga Mwenentanda of Sioux Falls, South Dakota, was a standout at camp. *Photo by Anthony Lugardo.
AMES, Iowa -- The 2020 Check Me Out Midwest Showcase took a detour from it's previous home in Minneapollis and saw players from 14 different states train and compete in Iowa. With staff of both Brandon Clay Training and Elite Is Earned Basketball in the mix, the competition was fierce.
Aumer is a bright spot at camp year after year. Her dedication to her craft shows in her growth. The 5-foot-9 combo guard has balance, shift, handle and is a competitor. She did a great job on the weekend making the initial read to get her teammates looks.
Sania Copeland (Olathe, Kansas), Missouri Phenom – 2022
Copeland is another regular who always brings it at this event. What was evident on this weekend was that she could get a paint touch off the bounce, almost at will. She drove and finished both right and left. What really stood out was her control even at a full speed. Spot shooter
Henderson-Artis is yet another player we've been on the floor with several times. Her length at 5-10 plays well on the wing. Defensively she standouts out with her anticipation and that length. Offensively she slashed in the lane and showed her feel and touch. She also showcased a nice spin move to score off the drive as well.
Mwenentanda had an absolutely fantastic weekend. At 6-2 she's a rare inside-outside threat. Facing the basket her length, quickness and bounce were all apparent. In the post she was patient and smooth as well. She can play either spot in the pick and roll game as well. Her effort and coachability were all top notch as well.
Hannah Stuelke (Ames, Iowa), All Iowa Attack – 2022
Stuelke is an intriguing player who could be a match-up problem at the forward position. The Iowa commit is smooth on the floor. She's showing expanded range on her jumper. She was pretty automatic in the midrange. In the pick and roll and pick and pop game she was a real threat. Similarly in pin down action she's a threat to slip or as a second cutter. She finished well around the rim as well.
Valentino impressed over the weekend with both her ball skill and her knowledge of the game. Her vision and shift allowed her to make plays with the ball in her hands. She has the size to play both off and on the ball as well. She diagnosed defensive reads quickly and some added strength would allow her to make even more plays with what she sees.
Sahara Williams (Ames, Iowa), All Iowa Attack – 2023
Williams is a bright young talent to track over the next several years. For a rising sophomore she showed real strength with the ball in her hands. When she got down hill off curl cuts and dribble penetration she showed the explosiveness to play through contact and elevate to score.
Holman is a terrific athlete and she's starting to use her physical gifts more and more on the floor. Her ballhandling has really improved to the point she can use her first step and hesitation to create often. For a player her age to embrace contact and make plays. Her confidence shooting the ball is growing as well.
In the last year we've seen Dirks game grow tremendously. Her growing confidence and understanding of the game makes everyone on the floor better. She's a consistent communicator and a leader on the floor. Her skill set allows her to make passes and handle with either hand effectively. She's on a good trajectory at an early age.
AROUND THE RIM
Alli Tanke of Johnston, Iowa, is a 2024 prospects who hits the floor ready to work. She showed a solid skill set and a grittiness to how she plays as well.
Divine Binion of Ames, Iowa, is just a 2025 and has real size already. She has good ball skill and played the game with terrific pace.
Journey Houston of Ames, Iowa, is another 2025 with real promise. She's 5-10, is a dynamic athlete and has a real bounce to her game.
Lanelle Wright is a quick and shifty guard prospect from Farmington, Minnesota. She showed she can create off the dribble and is in the mix to watch for the next wave of young talent from the Twin Cities area.
Nari Powers of Gurnee, Illinois, started with us a year ago. Seeing her be more assertive and aggressive is a big plus. She's got the size and mobility to be a real problem.

Chris Hansen is managing editor of ProspectsNation.com and serves on the McDonald's All-American and Naismith Trophy selection committees. He was a co-founder of and the national director of scouting for ESPN HoopGurlz from 2005 until 2012 and is the director of the Check Me Out Showcase and ELITE is EARNED events. He can be reached at chris@prospectsnation.com.