Posted
6 years 3 weeks ago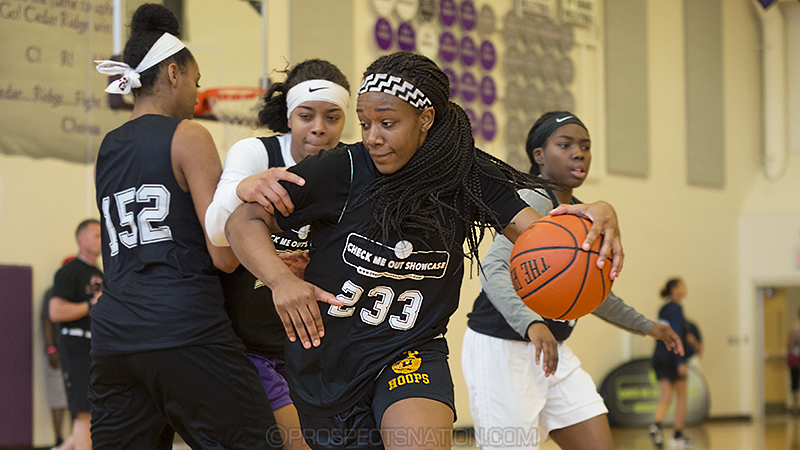 At times during the Check Me Out Showcase in Texas there is nothing that could hold Liz Scott back. *Photo by Chris Hansen.
ROCK ROCK, Texas – The Check Me Out Showcase returned to Texas last weekend. As was the case last year in San Antonio, the star power leading the way was impressive and helped elevate the platform for everyone at the event.
Owens had a fantastic weekend. The 5-9 point guard impressed with her ability to be an impact player on both sides of the court. Her ability to penetrate and pitch was a known commodity as her play at EYBL Hampton had her among the best on the Nike circuit with 5 assists per game. But in a camp full of fantastic ball handlers and dime droppers, Owens was special because she could put handcuffs on the player she was guarding and she made it look easy in the process. She was also highly coachable throughout the weekend.
The progress Egbo has made since last summer is impressive. The 6-foot-3 post impacted both ends of the floor. From blocking shots across the gym to finishing in transition, Egbo was a force. She showed poise on the blocks as well, catching, assessing the defense and then going to work. Her performance this weekend puts her in the conversation as one of the best post prospects in the 2018 class.
Smith is Check Me Out veteran, having attended events in multiple regions. She was a part of one of the coolest moments of the weekend, joing Egbo and Sedona Prince in a dunk contest. The 6-3 wing has really put work in on her jumper and has extended her range out to 3-point range. Her explosiveness off the bounce gives her two levels of scoring and it's no wonder she is one of the most sought after prospects in the class.
Prince, like Smith, is a multi-camp vet. She attacked the skill sessions as hard as she did the live action play. Her confidence has hit a new high and it's allowing the 6-7 post to showcase her versatility. Her ball skill, shooting touch and length pose mismatches all over the court. When she goes into her turn around jumper it's nearly impossible to stop because of the release point.
If you watch Caldwell run the point long enough you're going to see multiple plays created with fantastic passing skill. They say the art of passing is dead or dying, but with Caldwell the court is her canvas. She has mastered the hesitation move much the same way her older sister, Recee (Texas Tech), has but they use it differently. Caldwell's improved jumper from distance has made her tougher to guard because you can't lay off and wait on dribble penetration.
The combo guard that goes by the nickname "Slow Mo" has been fast to grow her game. The 5-10 White draws comparisons to a young Jordan Adams (USC) in that her length and smooth change of speed moves make her hard to guard. White has added some strength which allowed her to assert her will more often in live game play. Her footwork and ball skill shined in both skill sessions as well.
The 6-5 Gusters may have been the biggest surprise of the weekend. After seeing her briefly last weekend with her Pro Skills team, the camp setting allowed her more reps and chances to see how this talented freshman works. She used her size well, held position and finished her power moves consistently. For a player with her size she stood out with her ability to run the floor as well.
This 6-3 sophomore is a model of consistency in the post. Her poise and patience on the pivot stood out both Saturday and Sunday. In the spotlight round, where players are called out to play one-on-one in front of the camp, Jones set up her defender middle, pivoted outside, added a shot fake then finished with a perfectly executed step-through. When given space on the blocks you just expect a bucket from Jones.
Carter is electric with the ball in her hands. She creates a lot of stress on defenses as a whole because you never know when a pass, shot or drive is coming. The weekend showed she has been hard at work on her finishing ability. It was also clear she's growing confidence shooting the ball from range. As that skill continues to develop it will only make her that much harder to guard. Her court vision and passing skills shined in live play.
The versatility Holmes' displayed throughout the two-day camp should have Steele in the mix the next four years in the region. Her nimble feet at 6-0 make her a mismatch. For a freshman to play with such strength is impressive. She attacked the ball handling drills and made plays in transition in full court game-play.
AROUND THE RIM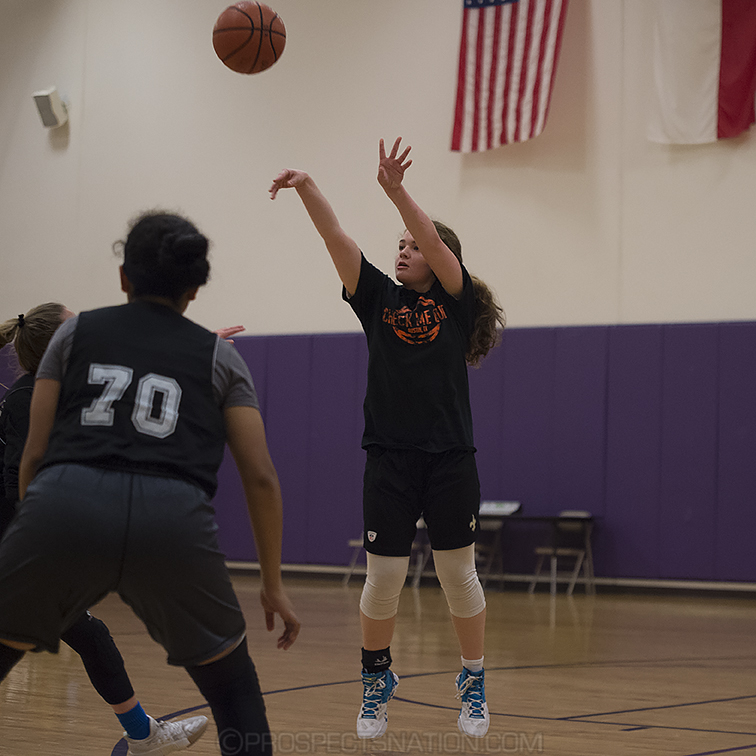 Kaitlyn Ghavidel strokes a long jumper at Check Me Out
Texas in Round Rock. *Photo by Chris Hansen.It may get old for 2018 guard Kaitlyn Ghavidel hearing about her sharpshooting ability but when you rip nets like she does, you have to get over it. Her ability to create for herself has really improved as she used multiple change of speed moves to create space with ease in 3-on-3 action.
Nicole Leff of Cedar Park, Texas, is a freshman forward with some perimeter scoring ability as well. Her strength in straight line drives and post flashes made her one of the better finishers on Saturday's 3-on-3 and 4-on-4 action.
The biggest change for Myra Gordon of Fort Worth, Texas, in the last year is physical strength. She is evolving from a big point guard to one that can play multiple positions both offensively and defensively.
Texas verbal commit LoLo Davenport showed why the Longhorns offered her in the first place with her ability to do everything. The 6-0 wing was in full swiss army knife mode at Check Me Out Texas.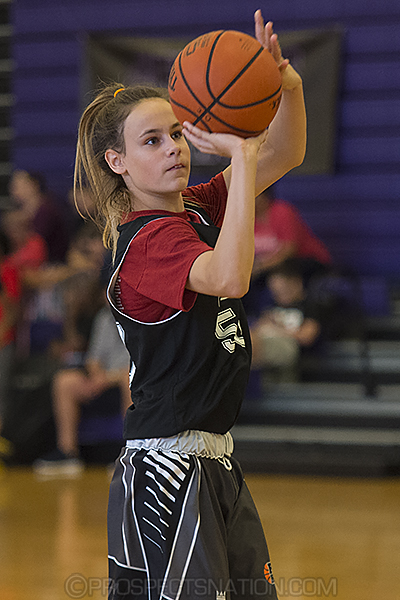 Carleigh Wenzel impressed with her
court savvy. *Photo by Rob Kinslow.The combination of length, ball skill and swagger keeps Carleigh Wenzel in the mix at all times. The 5-9 2022 guard was relentless in live play action using her hesitation move to create plays for herself and her teamamtes.
Jenna Villa was nearly 2,000 miles from home competing in a deep pool of Southwest talent and the 2023 guard looked like a vet on the floor. As the youngest player in camp you would never have guessed as the 5-7 guard showed her ability to create off the dribble as well as make timely passes.
Hannah Wheeler of Cedar Park, Texas, showed her quick feet and handles at the point guard position. Her shift was in full effect in the 5-on-5 game play.
The shear ability to score the ball is what Ginger Reese of Lawton, Oklahoma, brings to the table. She got her shot off at will and was an impact player rebounding the ball as well.
With Liz Scott you get an elite athlete but more than anything this weekend her work ethic stood out. Coaches often say "take no plays off" and when an elite talent commits to that you get weekends like the 6-0 Scott had.

Chris Hansen is managing editor of ProspectsNation.com and serves on the McDonald's All-American and Naismith Trophy selection committees. He was a co-founder of and the national director of scouting for ESPN HoopGurlz from 2005 until 2012 and is the director of the Check Me Out Showcase and ELITE is EARNED events. He can be reached at chris@prospectsnation.com.