Posted
6 years 10 months ago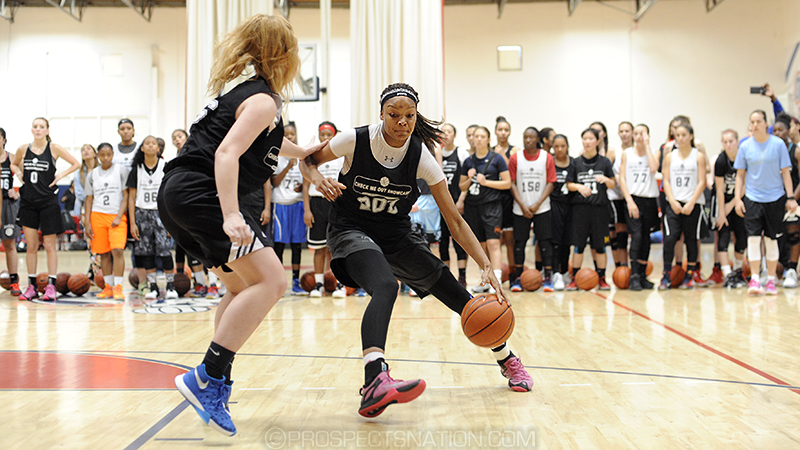 Alaysia Styles has been a standout at Check Me Out SoCal for the last three years. *Photo by Chris Hansen.
The Cal Bears have had a good spring on the recruiting front adding two key pieces to their 2017 recruiting class. The first domino that fell was the commitment of 5-foot-9 point guard Kianna Smith, an ELITE 100 prospect. Fast forward two weeks coach Lindsay Gottlieb and her staff added another ELITE 100 player in Alaysia Styles.
"It's the best place for me because I got the 'I know this is home' feeling right when I got off of the plane," Styles said. "And it didn't feel like an official visit, it felt like a family gathering with all of my sisters."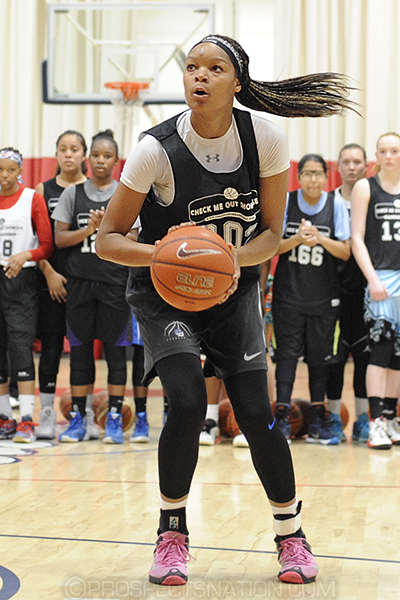 Alaysia Styles has seen her confidence
catch up with her tatlent. *Photo by
Chris Hansen.Styles, a 6-1 swing player from San Diego, Calif., who is ranked No. 44 in the class by ProspectsNation.com, fits the Cal mold of wing-forward, drawing comparisons to current players like Mikayla Cowling and Courtney Range. She has the length to defend on the interior, which she has done plenty in her high school career, but she also has the agility to be effective as a perimeter player.
The duo of Styles and Smith will join the two 2016 signees the Bears signed, Jaelyn Brown, a 6-1 wing from Murietta, Calif., and Celeste West, a 6-3 post from Bakersfield, Calif. In addition Cal signed Sara Anastasieska, a transfer from UTSA, who will sit the 2016-17 season and have three years of remaining eligibility.
The 2017 additions and Anastasieska will have two years with All-Pac 12 post Kristine Anigwe.
Cal is also in the running for Nebraska transfer MiCole Cayton, a 5-9 combo guard from Stockton, Calif. She is a 2016 class prospect who was granted a release after the coaching change in Lincoln.
Regardless of how the spring winds up, the additions in 2017 will give the Bears the depth they lacked this past season as the staff attempts to rebuild to the Final Four level of 2013.

Chris Hansen is managing editor of ProspectsNation.com and serves on the McDonald's All-American and Naismith Trophy selection committees. He was the national director of scouting for ESPN HoopGurlz from 2005 until 2012 and is the director of the Check Me Out Showcase. He can be reached at chris@prospectsnation.com.