Summer Invitational '15 -- Day Two
Posted
8 years 2 months ago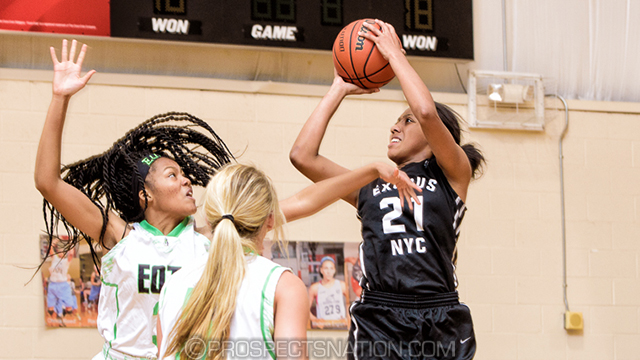 The addition of Arella Guirantes has helped Exodus find its stride this summer. *Photo by Ty Freeman.
MARIETTA, Ga. – In a repeat of the 2014 PSB Summer Invitational, the NW Blazers Orange, a top adidas program, will get to square off against a top Nike EYBL team for the championship of the @BrandonClayPSB bracket. Last year it was DFW T-Jack, but 2015 will pit Steve Klees' Blazers against Danny Riego's Indy Gym Rats.
The Blazers reached the championship game by knocking off All-Ohio Black 62-42 with Boise State commit Riley Lupfer leading the way again, this time with six 3-pointers in the win.
The Gym Rats had to fend off a hot West Virginia Thunder team in a game that went back and forth, outlasting Scott Johnson's team 46-43.
In the @JLHemingwayPSB bracket, Exodus NYC, or Epiphanny Prince Elite as they are also called, showed something we haven't seen all summer, grit and consistent energy. The New Yorkers outlasted a scrappy NW Blazers Black squad in the opening round and brought maybe the upset of the day in beating San Antonio's Finest 66-47.
The play of 2016 wing Arella Guirantes made a huge impact for Exodus as she scored on a host of isolation plays to thwart any runs by Finest. Exodus also enjoyed an advantage on the boards, taking advantage of Finest being without Nalyssa Smith, their starting post. Exodus will play Cy-Fair Premier Blue in Saturday's bracket championship.
In the @KeilMoorePSB bracket the game of the day was Kentucky Premier EYBL outlasting a talented New Mexico Heat squad and will face West Virginia Thunder Gold in the bracket final Saturday.

Ae'Rianna Harris, a 6 foot 1 forward out of Indianapolis, Ind., was one of the best athletes on the floor today. She is an explosive player who altered every shot in her area and finished with power as well. The Gym Rats rising senior is committed to Purdue.
Briana Laidler of Port Orange, Fla., showed her versatile scoring ability. She showed good footwork down on the block and also the ability to step out and make shots on the perimeter. The left handed forward gave Blue Star Florida an offensive punch, both inside and out.
Erin Boley scored from everywhere in Kentucky Premier's 67-59 win over New Mexico Heat. The Notre Dame commit, a 6-3 wing out of Hodgenville, Ky., dropped 29 points in the victory.
Kylee Shook of Colorado Springs, Colo., is a 6-5 forward with good lateral speed and great touch from the perimeter. She is capable of knocking down the mid-range jumper and will pull from the 3-point line as well. The New Mexico Heat rising senior is committed to Louisville.
Shayna Harmon is a 5-8 guard from Ashville, Ohio, and plays with great effort for West Virginia Thunder. Harmon, a 2016 prospect, has a high basketball IQ and great court awareness.
North Carolina commit Joceyln Jones of Richmond, Va., is a steady scoring option for the Carolina Flames 16U EBYL. The 6-0 wing shows soft touch on pull-ups and finishes a high percentage in the lane.
Kacie Hall of South Webster, Ohio, is contributing at a high level for coach Scott Johnson's West Virginia Thunder team. The 5-6 combo guard is a shot-maker who brings energy to the floor.

The sharpshooting of Lupfer wasn't the only thing carring the Blazers today as Aleah Goodman of Battleground, Wash., came ready to play as well. She backed up what we saw from her in the spring at the Check Me Out SoCal Showcase today with terrific court awareness and the ability to make plays with the pass against pressure.
There may not be a better athlete in the class than New Mexico Heat's Michaela Onyenwere. The 6-0 swing player from Aurora, Colo., was impacting the game defensively but also making a killing off of the offensive glass. She fuels Robert Sanchez's squad with her energy.
Grayce Spangler of Fayetteville, Ark., doesn't pass up many shots. The impressive thing is her shot selection. The class of rising junior shooting guard is adept at making good decisions when she sees scoring opportunities.
Kayla Brown of Belleville, Mich., showed her ability to score the ball off the dribble effectively. The 5-6 lead guard proved that she can get into the lane as well as any today.
Purdue commit Dani Lawson of Beachwood, Ohio, showed her ability to score and rebound in the lane today in a win. The 6-2 post for the Toledo Thunder is a problem for defenders to keep off the glass.

Queen Egbo of Houston, Texas, found ways to utilize her 6-3 frame. The class of 2018 post gave Cy-Fair Premier a solid foundation in the post, which in turn created scoring opportunities for her team.
Dara Mabrey of Belmar, N.J., put on a show for Ephiphanny Prince 15U today. She scored 26 points with four 3-pointers while only missing one shot. Watch for the 5-6 point guard to be one of the better shooters nationally in her class.
Alexis Starks of Cincinnati, Ohio, put in work today for Cincinnati's Finest by scoring 31 points in a win in the opening game of the @KTaylorPSB bracket. The 6-1 post player showed soft touch around the rim.
Chris Hansen is managing editor of ProspectsNation.com and serves on the McDonald's All-American and Naismith Trophy selection committees. He was the national director of scouting for ESPN HoopGurlz from 2005 until 2012 and is the director of the Check Me Out Showcase. He can be reached at chris@prospectsnation.com.
Jonathan Hemingway is the Assistant Director of Scouting for the JumpOffPlus.com National Scouting Report, is on the Naismith Trophy Board of Selectors and owns CoachHemi.com, the go-to source for coaches for X's and O's. He is the floor director of #TeamEBA camps, a site director for #TeamPSB tournaments and can be reached at jonathanhemingway@peachstatebasketball.com.
Stephen Peck is the owner of Dream In Motion Athletics and is a national evaluator for the JumpOffPlus.com National Scouting Report. He also serves as a on-floor skills coach at the Elite Basketball Academy events. He can be reached at StephenPeck@peachstatebasketball.com.
Gray started working for Peach State Basketball as an evaluator in 2012. She's been in the community as a columnist since 2008 and also serves on the Naismith Awards selection committee. She played college ball at both Kentucky and North Carolina.