Summer Invite Delights In 2017
Posted
6 years 1 month ago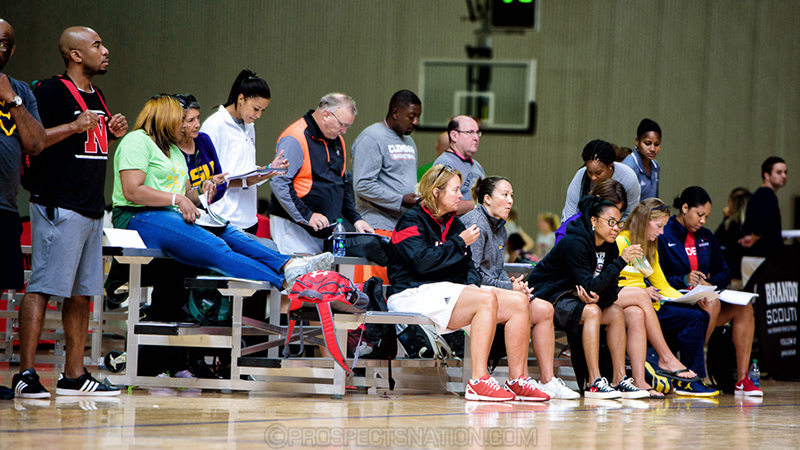 Coaches from across the country locked in on marquee matchups at the PSB Summer Invitational. *Photo by Ty Freeman.
CARTERSVILLE, Georgia – The epicenter of the girl's grassroots shifted from Chicago to Atlanta the second half of July. The PSB Summer Invitational hosted many of the nation's premier travel programs. Teams from the EYBL circuit, Adidas Gauntlet and several top independent teams from across the country competed in front of more than 175 college coaches on July 23-24 at Lake Point Sporting Community. Here is a run-down of the top themes from the event. See the social media coverage here: #PSBSummerInvite
Star Power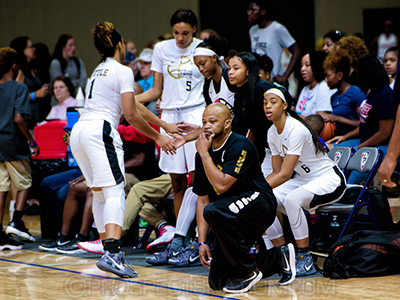 Chad Hubbard leads his Team Elite squad to
another championship over the summer. *Photo
by Ty Freeman.The talent on court was non-stop at PSB Summer Invite. Nearly every game slot featured a top 100 prospect and quite often McDonald's All-American game candidates. After completing an unprecedented back to back 'Sweep of the Swoosh,' Team Elite EYBL held off all challengers and left champions. Chad Hubbard's squad defeated All Ohio Black EYBL for the #PSBEndoftheRoad championship. Kaila Hubbard continues to prove that she is one of the nation's premier play-makers regardless of position. While her teammates, Victoria Saxton and Robyn Benton (Auburn commit), solidified their reputation as ELITE in the class of 2018. For coach Jay Bee Bethea's All Ohio group, Jordan Horston is a lock as a top five prospect in the class of 2019. She is a play-maker and shot-maker as a 6-foot-1 foot point guard. Meanwhile Valencia Myers of All Ohio Black is equally as effective scoring the ball as she is blocking shots. She is ranked No. 15 in the class of 2018.
Independent Draw
Just because a team does not compete on a tourney circuit sponsored by a shoe company does not mean that program is not filled with ELITE caliber players. For example, the West Virginia Thunder program cranks out talented players year after year. The class of 2018 team features Youngstown State commit Gabby Lupardus. Expect all of the players on Tim Lupardus' Junior team to sign college scholarships at season's end. However, class of 2018 post Rayven Peeples could be a sleeper prospect nationally. The 6-3 post has the ability block shots, rebound and hit 3-pointers. The class of 2019 team could be even more talented led by ELITE 100 point guard Savannah Wheeler, who is a Marshall commit. Post player Emily Saunders lit up the recruiting world after de-committing from Marshall. Saunders at 6-5 can do what few players can do, which is block shots and work the pick and pop efficiently. She is garnering interest from across the country. Nila Blackford will be a prospect who will become a hot name in recruiting in the next six months. The 6-1 forward provides versatility on both ends of the court.
Alabama Southern Starz won their fair share of games and championships this summer while also putting players on the big stage of recruiting. Class of 2019 point guard Skyla Knight became a consistent play finisher while playing for the 2018 Starz team. Forward Karleigh Sledge should be a class of 2018 prospect that gains offers from an array of conferences this fall. Richmond commit Claire Holt anchored this team with her shooting and ball handling. Ajah Wayne is one of the summer's new names that should garner interest from Power 5 schools. The 2019 team featured post Destinee McGhee, point guard Sania Wells and guard Moriah Taylor.
The Michigan Storm returned to the Summer Invitational with several prospects to note. Class of 2018 wing Lasha Petree is one of the summer's top new names. Their class of 2019 team have players that will be fun to track in their development. Wing Destiny Strother is a 5-9 lefty that has offers in interest from schools within the Big Ten Conference. Point guard Moira Joiner had a very good showing in the tourney scoring in double digits multiple games.
Lone Star Talent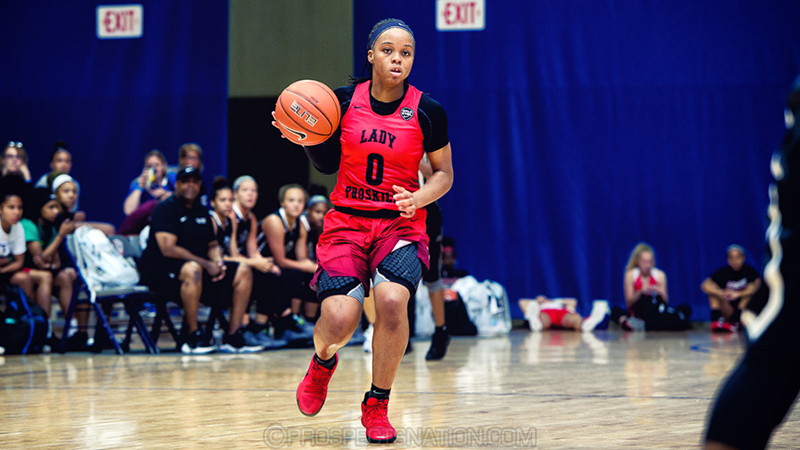 Sarah Andrews play against elite U17 competition has her ranked No. 2 in the 2020 class by ProspectsNation.com. *Photo by Ty Freeman.
The state of Texas was well represented at Summer Invitational as programs such as San Antonio's Finest, Lady Pro Skills EYBL and the Urban Heroes headlined the July event. Established prospects from the San Antionio's Finest such as point guard Desi Caldwell (No. 13 in the Class of 2018) and Nyah Green (No. 1 in Class of 2019) lived up to expectations. While class of 2020 players from the Lady Pro Skills EYBL point guard Sarah Andrews (No. 2) and post Hannah Gusters (No. 9) cemented their place in the newly released rankings. Urban Heroes post Taylor Jones, currently ranked No. 13 in the class of 2019, also had dozens of coaches tracking her every move at Summer Invitational.
West Coast Represented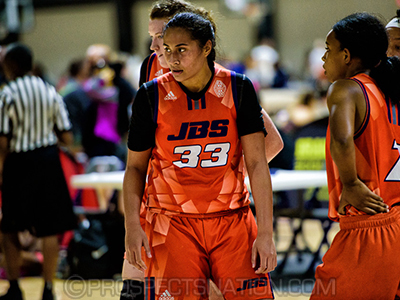 Sirena Tuitele was a tough matchup for teams at the
power forward position. *Photo by Ty Freeman.There was not any overlooking the fact that players on the 'Left Coast' can move the needle in recruiting competition. JBS Elite brought perhaps the biggest lineup to the tournament with multiple prospects listed over 6-foot-2. ELITE 150 post Shyaley Harris, committed to UCLA, stands 6-6 and can change the game in the paint on both ends. She is paired with Ariana McCurry, who also listed at 6-6, which brings a nightmare for opposing slashing guards. Forward Kassiday DeLapp is an intriguing player given her passing ability and versatility and is listed at 6-4. However, the July stock-riser of this group is Serina Tuitele who brings energy, hustle and a scoring touch as a 6-2 wing-forward.
The ECBA Swish performed well on a national stage with several rising underclassmen. Class of 2020 post Dalayah Daniels solidified our opinion of her as an ELITE prospect with her play in July. Her ability to block shots, run the court and be an effective passer were highlighted during bracket play. She debuts at No. 14 in her class nationally. She is joined by class of 2019 guard Grace Sarver who blends skill and energy plays in the back court.
Florida Front And Center
Like Texas, Florida is a state that produces many of the country's top prospects year after year. Central Florida Elite EYBL won the #EBAFallFinale bracket championship this year behind the leadership of Jenna Brown who was freshly committed to Stanford. Brown, ranked No. 12 in the class of 2018, looked to be in superb shape and actively attacking the bucket as well as ever. However, the hottest name of the CFE roster this July is Kari Niblack, ranked No. 54 in the class of 2018. Her play earned her an offer from Ohio State after this tournament. Her high energy defense and rebounding make her an attractive prospect at the next level.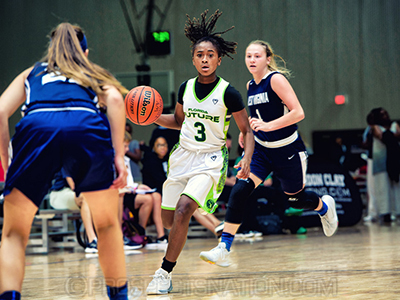 O'Mariah Gordon put herself on the map with her
Florida Future team at the PSB Summer Invitational.
*Photo by Ty Freeman.Team Dupree of the Tampa Thunder organization is on the rise as a must track program yearly. Class of 2019 guard Yasmine Chang went toe to toe with some of the best guards in the nation and proved why she is an ELITE 100 guard. Her slashing and finishing ability is special. She is flanked by another guard in the class of 2019, Brylee Bartram, who is a dead-eye shooter from range. She finished the week with multiple games netting more than five 3-pointers. In the process, the No. 96 ranked player and had coaches talking about her on the sideline of her games at Lake Point Sports.
Florida Future has re-stocked their roster with young talent that projects to be some of the best in the country in upcoming years. Point guard O'Mariah Gordon, just in the class of 2021, had South Carolina head coach Dawn Staley sitting courtside for multiple games. Her game puts in the mind of a young Crystal Dangerfield (UConn Sophomore). Chaniya Clark is a 6-4 post player that is already displaying an impressive skill set. She is finishing with either hand around the basket while also being an immovable defensive presence. Add in point guard Janay Outten who has a mature floor game already and Florida Future will be a program to track.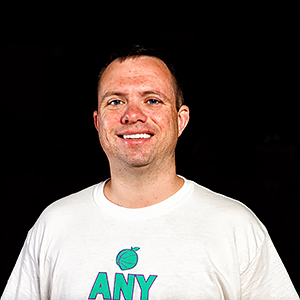 Jonathan Hemingway is the Assistant Director of Scouting for the JumpOffPlus.com National Scouting Report, is on the Naismith Trophy Board of Selectors and owns CoachHemi.com, the go-to source for coaches for X's and O's. He is the floor director of #TeamEBA camps, a site director for #TeamPSB tournaments and can be reached at jonathanhemingway@peachstatebasketball.com.