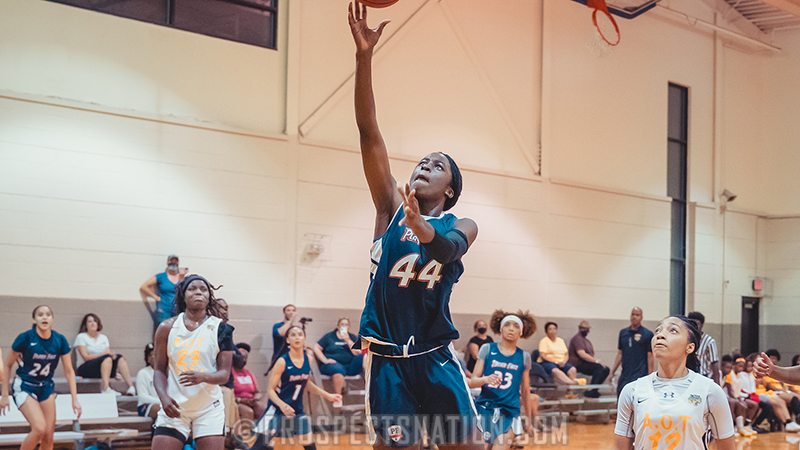 Vivian Iwuchukwu is one of the talented 2024 prospects playing with Player First out of San Antonio, Texas. *Photo by Anthony Lugardo.
CARTERSVILLE, Georgia – With numerous Power 5 head coaches on hand inside the beautiful Lake Point Indoor Complex to start the second half of the July evaluation period, the Brandon Clay Summer Invite was arguably the premier independent event in the country to be seen. The wide range of coaches in attendance ranged from newly minted Washington coach Tina Langley traveling 2,700 miles to current Georgia Tech coach Nell Fortner who was able to sleep in her own bed. Here's a look at some of the standouts from the action:
Amaya Bonner – Jason Kidd Select Jr. – Fremont, California – 2022
With her future Cal coach, Charmin Smith, on hand for multiple games, Bonner went to work on both ends of the floor here. She has the length on the perimeter to serve as a big guard and long range shot maker. Bonner also showed the skill to get downhill as a straight line driver too. On the other end, she has all the tools to be a high level defender both on and off the ball.
Abbie Boutilier – Pro Skills National – Flower Mound, Texas – 2023
Boutilier started off her way in a big way during the event. Shortly after the Summer Invite ended, she committed to Texas. Before making that pledge, she showed the size needed in the frontcourt of the Big XII en route to the SEC where the Longhorns seem to be headed before Boutilier gets into her upperclass college years. Keep an eye on her game with her size.
Vivian Iwuchukwu – Player First – San Antonio, Texas – 2024
Iwuchukwu has the frontcourt athleticism and size colleges nationwide covet. She already has multiple offers already for good reason. Iwuchukhu's play here earned a scholarship offer after the week ended from the aforementioned Fortner and her Yellow Jacket staff. The best part of Iwuchukhu's game is that there is still plenty of room to keep improving her skill set.
Zoe Manning – Urban Heroes Elite – Shreveport, Louisiana – 2022
Manning was the apple of SMU coach Toyelle Wilson's eye during the event. Wilson was front and center on every game that Manning played. It worked out as the first-year head coach landed a large commitment after the fact from a post prospect in Manning who could be a high level contributor to the SMU frontcourt.
Harper Peterson – Jason Kidd Select So. - Rocklin, California – 2024
Peterson walked into the facility with a reputation that seemingly grows by the day then backed it up with her play. Her willingness to play the game inside and outside on both ends caught my attention. With offers from multiple NCAA Tournament caliber schools already, Peterson a name for everyone who recruits west of Texas to become very famillar with over the next 12-18 months.
Sayvia Sellers – Team Kidd Alaska – Anchorage, Alaska – 2023
Sellers is a hyper dynamic option at the point guard position. She projects as one of the nation's best in the class with another summer of club basketball left to go. It will be worth tracking to see how her recruitment goes through the winter. Both Gonzaga and Oklahoma have offered. Conventional wisdom says it should only continue to go up from here.

Brandon Clay serves as the Director of Scouting for ProspectsNation.com and owns The BrandonClayScouting.com Evaluation Report, which is read by more than 200 colleges and universities nationwide. He also serves as the Executive Skills Director for the Brandon Clay Scouting Academy Series.