Summer Kickoff Championship Sunday
Posted
8 years 3 months ago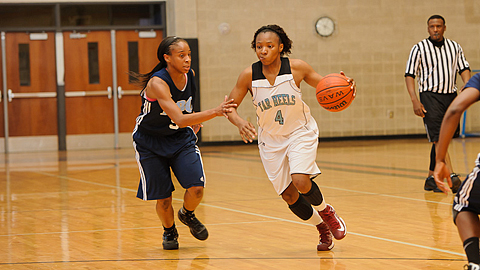 Morgan William of Birmingham, Ala., has a strong showing at the Summer Kickoff. *Photo by Ty Freeman.
Tweet
MARIETTA, Ga. – During day two of the Summer Kickoff a number players made key plays to lead their team to the championship stage. Although it is early in the viewing period, we saw players fight through fatigue and adversity to climb to the next level. Even though the period is focused on exposure, several prospects gave great efforts to ensure that they played on Championship Sunday. In the end, the best players made the most plays.

Morgan William (Birmingham, Ala.), Alabama Tar Heels – 2014
William had a signature performance Sunday afternoon with a game high 26 points in the semifinal game versus Carolina Hoopzters. The 5-foot-4 dynamo point guard hit 18 straight free throws before missing her final attempt late in the game. William who is known for her defensive prowess continued that here Sunday by picking passes off much like a free safety would in football. However, what is most impressive about William is her never-ending effort. She literally willed her team to victory after being behind by double digits in the first half. She made plays in a variety of ways, which included hitting two second half 3-pointers and dropping well-timed assists. With the University of Alabama-Birmingham, Mississippi State and South Alabama all in the building to watch William, it is safe to say that she has created a college coach following.
ProspectsNation.com Recruiting Analyst Brandon Clay breaks down the Day Two activity at the PeachStateBasketball.com Summer Kickoff.
AROUND THE RIM
♦ Another player that continues to make plays is Malaya Johnson of Mount Airy, N.C. The 6-2 post is a legitimate lock down post defender. She seemingly gets a blocked shot or a deflection on every possession. Johnson is a game-changer on the defensive end. She also showed the skill set on the block to score with her back to the basket.
♦ Nora Berry of Cleveland, Tenn. continues to impress our ProspectsNation.com staff with her potential. The bigger wing player has always been known for her ability to drop the long range shot. However, we saw her potential to be a high level wing defender at the Summer Kickoff.
♦ Jada Wallace of Pacolet Mills, N.C., had a good showing today with several nice post moves. The 5-10 forward is a hard match up with in the paint.
♦ The Georgia Blazers picked up a championship today behind the effort of Curteeona Brelove of Malone, Fla. Her ability to rebound and score in the half court kept a number of college coaches around to watch.
♦ FBC locked up a championship on Sunday evening powered by the No. 49 ranked prospect in 2014, Brielle Blaire of Salisbury, N.C. Blaire's inside skilled presence in the post was too much for the Alabama Tar Heels to handle. Add in the speed of 5-6 point guard Marquita Daniels of Atlanta, Ga., and Brian Harmon's group overwhelmed their opponents all tourney long. Follow @JLHemingwayPSB

Hemingway is the Assistant Director of Scouting for the JumpOffPlus.com National Scouting Report. He can be reached at jonathanhemingway@peachstatebasketball.com.