Posted
9 years 2 months ago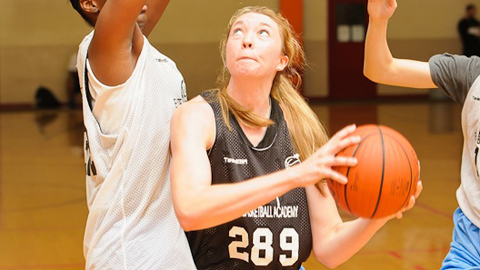 '14 four-star post Erin Mathias has grown her game and in stature. *Photo by Ty Freeman.
SUWANEE, Ga. – There was so much talent in the gym during the high school session of the Elite Basketball Academy Super 64 Camp that we had regular matchups between elite players at multiple positions in the same game. And to the players' credit, the rock was shared and everyone got a chance to shine, allowing us to expand our usual Four To Know into a Super 64 Six Pack
Erin Mathias (Pittsburgh, Pa.), Fox Chapel HS – 2014 (Duke)
Mathias, who is headed to Duke to play her college basketball, is a kid who has been on the Elite Basketball Academy radar since the summer before her ninth grade year. At 6 feet 4, Mathias is a skilled post who is learning to be more aggressive and assertive on both sides of the ball. When she plays with the activity level that she played with today she is a nice interior option.
Lindsey Corsaro (Indianapolis, Ind.), Roncalli HS - 2016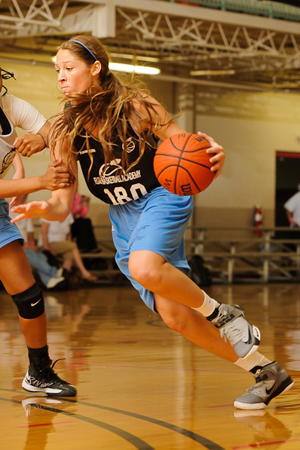 '16 ELITE 100 watch list
guard Lindsey Corsaro. *Photo by Ty Freeman.
A kid who came in and played with great activity and skill was Corsaro of Indianapolis. The 5-10 wing was simply impressive to watch on the offensive side of the ball. She showed an advanced feel for the game while also having a polish that was beyond her years. Her ability to use both of her hands to make an offensive move or shoot the ball as a class of 2016 prospect is also worthy of noting. She has the size and skill to be a good option at either wing spot and was very competitive this morning on both sides of the ball.
Victoria Patrick (Orlando, Fla.), University HS - 2016
Patrick a Central Orlando native is a 2016 prospect with the ability to score the basketball from the wing positions. She had a couple of nice possessions where she showed poise and made a solid basketball play while also managing to pick spots where she should be aggressive and attack offensively.
Meredith Schulte (Braselton, Ga.), Mill Creek HS – 2014
Schulte is a glue player who does all of the little things on the floor that help teams win. She has good size at 5-10 and can make plays on either side of the ball. Her energy and effort allowed her to show well in the morning session of camp.
Jayde Christopher (Federal Way, Wash.), Cleveland HS - 2015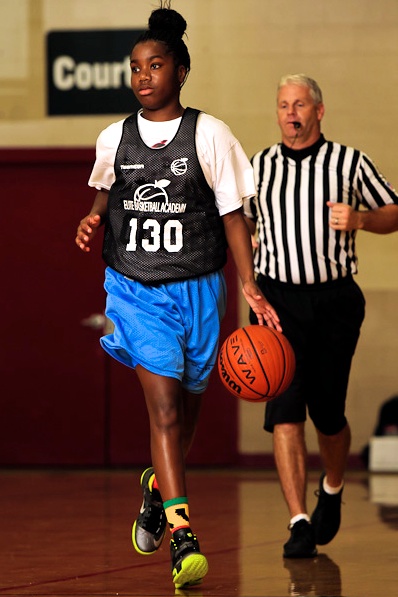 '15 ELITE 100 watch list point
guard Jayde Christopher *Photo by Ty Freeman.
Christopher, who came to Atlanta this weekend from the Seattle area, is a smooth point guard with the ability to handle pressure and make plays for others. She is a thin prospect right now and a college strength and conditioning program will benefit her as she makes the transition from prep basketball to college hoops, but the feel for the game and talent is there.
Alexis Carter (Tigard, Ore.), Tigard HS - 2014
Carter is a scoring-minded combo guard from the Portland suburbs, her ability to create her own shot and play inside of an offensive frame work allowed her to show well here today. At 5-9 she is a kid who can put some points on the board for you. Follow @KeilMoorePSB

Moore is the National Director of Scouting for the JumpOffPlus.com National Scouting Report. He can be reached at keil@prospectsnation.com.