Texas Rising -- 2018 ELITE 60 Revised
Posted
6 years 9 months ago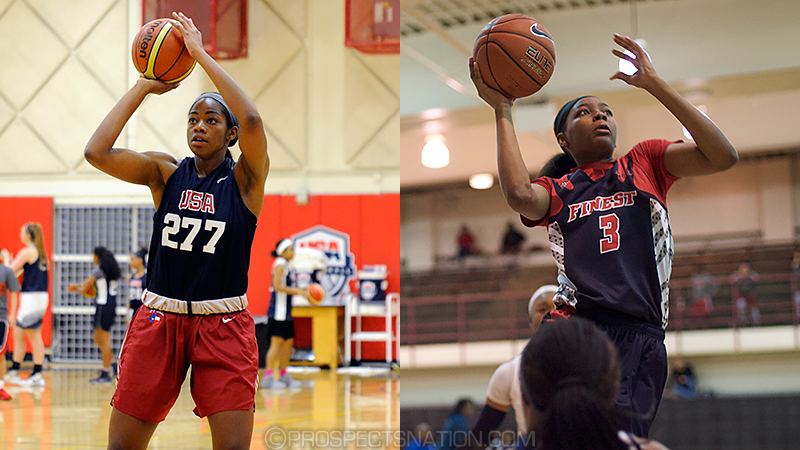 Charli Collier (left) and Nalyssa Smith (right) headline a crop from the Lone Star State that has 10 players ranked in the ELITE 60 for the 2018 class. *Photos by Chris Hansen.
This spring could easily be called a breakout season for the 2018 class. Part of it is the natural evolution of becoming a rising junior, having experienced the circuit for multiple years and logged countless hours honing one's craft. But the group made huge waves by earning nine of the 12 roster spots in the USA Basketball U17 national team just a few weeks ago. A year ago the 2018's comprised half of the bronze-medal winning team in FIBA Americas and clearly the USA Basketball Selection Committee saw the path to gold needed to include more from this group.
There is a new face at No. 1 in the class, Charli Collier of Mont Belvieu, Texas, a 6-foot-4 post. Her jump coincides with a maturation of her game. She is one of the hardest posts in the country to matchup with because she has the ability to step out and knock down jumpers but also punish defenders on the block.
Just over a year ago Collier came into USA Basketball U16 national team trials with plenty of buzz and high expectations. She put in a solid four days of work but was criticized for settling for too many jumpers. That tendency appears to be long gone and Collier's impact in undeniable.
Collier isn't the only Texan making moves in the top five nationally. Nalyssa Smith of Converse, Texas, the 6-3 frontcourt prospect is fresh off a dynamite showing at the Check Me Out Texas Showcase and strong performance at USA Basketball trials. The growth in her game as a dynamic, high energy forward is on par with the improvement of any elite player in the class.
"Over the last calendar year we have seen Smith make great strides to improve her overall game," Keil Moore, ProspectsNation.com director of scouting, said. "Her ability to put the ball on the floor, make shots from the perimeter, and still being active scoring in the post, has separated herself from a majority of her 2018 peers. She has a rare trio of size, athleticism, and skill and is starting to put it all together."
Another long and athletic frontcourt player making strides in the 2018 class in Olivia Nelson-Ododa of Winder, Ga.
"At 6-4 Nelson-Ododa has coupled her elite size with a well-developed face-up game," Moore said. "She can step out and make jumpers from the perimeter and is comfortable attacking the rim from the high post. Defensively her long, thin frame allows her to be a more than capable shotblocker while also giving her the ability to rebound at a high rate."
The improvement of elite prospects is not limited to the bigs in the 2018 class. Two points guards have shown progress as well – Jordan Nixon of New York, N.Y., and Jazmine Massengill of Harrison, Tenn. Nixon was ranked in the top 20 heading into the spring and moves up to No. 13 in the class. Massengill moved up 10 spots to No. 18 after multiple standout performances with the Tennessee Xtreme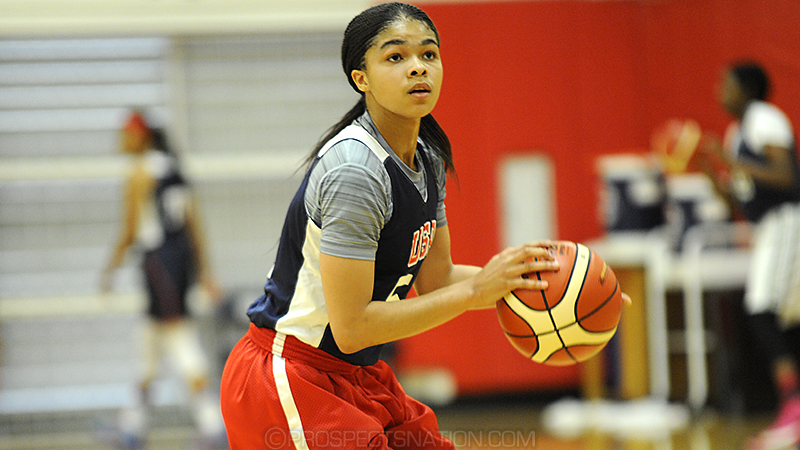 Jordan Nixon of New York, N.Y., is a blur with the ball.
*Photo by Chris Hansen."Watching Nixon play is always fun as she has the flair of a classic New York City point guard but adds a great feel for spacing and how to share the ball with teammates in the halfcourt," Moore said. "Nixon in a one on one cover situation is just terrible for the opposition. She is explosive off the bounce and has an excellent pull-up jumper. However, as a point guard, what separates her game is her feel and ability to get the ball to the right people at the right time."
There are five new faces in the ELITE 60 in this update, two of whom cracked the top 25 – Morgan Jones of Jonesboro, Ga., and Catherine Reese of Cypress, Texas.
"Jones is one of the most athletic wings in the 2018 class," Moore said. "Because of her length and quickness, she can be a game changer defensively and often she finds herself starting the break off of a steal or deflection that she has created. Offensively she is developing her ability to make perimeter shots which will balance her strength of attacking the rim off the bounce."
Reese is one of 10 Texans making the pre-summer ELITE 60, leading all states.
"Reese is a skilled post with good bounce and touch around the rim. She can rebound in traffic and is a talented shot-blocking threat as well. At 6-3 Reese is a quality option as a 2018 post."
There is no doubt the 2018 class has ample talent. To date there are only three players from the top 60 that have given verbal commitments – No. 9 Desiree Caldwell of Lubbock, Texas, to Texas Tech; No. 41 Shae Routt of Sugarland, Texas, to Texas; and No. 51 Mya Bhinhar of Owasso, Okla., to Arkansas – so there are plenty of options out there for programs to upgrade their rosters.

Chris Hansen is managing editor of ProspectsNation.com and serves on the McDonald's All-American and Naismith Trophy selection committees. He was the national director of scouting for ESPN HoopGurlz from 2005 until 2012 and is the director of the Check Me Out Showcase. He can be reached at chris@prospectsnation.com.