Posted
4 years 2 months ago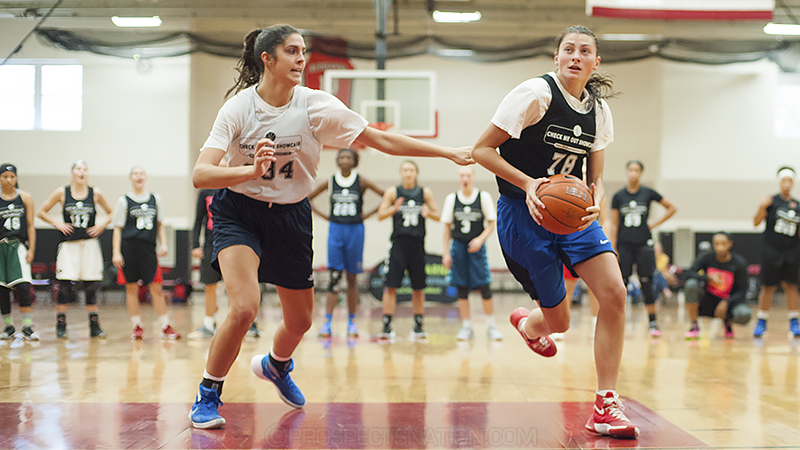 Kallie Theisen of Plymouth, Minnesota, attack Micah Linthacum of Jefferson City, Missouri at the 2016 Check Me Out Showcase. *Photo by Chris Hansen.
Class of 2019 forward Kallie Theisen of Wayzata Central (Minnesota) chooses South Dakota State.
#CommitmentCentral via #BrandonClayScouting Report

South Dakota St made Kallie Theisen a priority two years ago. It paid off with a pledge from an Elite 100 '19 nationally.

IND. SHOWCASE INFO: https://t.co/vTyxJdYHmA

CLUB TOURNAMENT INFO: https://t.co/vTyxJdYHmA #SMPMember pic.twitter.com/cwUoYmMxQh

— Brandon Clay (@BrandonClayPSB) May 29, 2018
The Jackrabbits made Theisen a priority in the class two years ago. It's paid off with a commitment. ProspectsNation.com Managing Editor, Chris Hansen said after the Check Me Out Midwest that "Theisen keeps getting better every season. She is quick and long at the forward position but looked as poised with the ball as well have seen. She attacked from the trail and the high post. She shot the ball well in drill work. Theisen was active on the offensive glass and has shown the skill to be one of the premier stretch 4 players in the class nationally."

Brandon Clay serves as the WNBA Director of Scouting for ProspectsNation.com and owns The JumpOffPlus.com International Report, which is picked up by more than 150 colleges and universities nationwide. He serves as the Executive Camp Director for the Elite Basketball Academy Camps. He serves on the Naismith Trophy Men's / Women's College Player of the Year Academy and is chairman of the HS Boys / Girls Board of Selectors and is on the McDonald's All-American Selection Committee. He also is the publisher of PSBPopCulture.com.