Three Emerge From JUCO Jamboree
Posted
5 years 1 month ago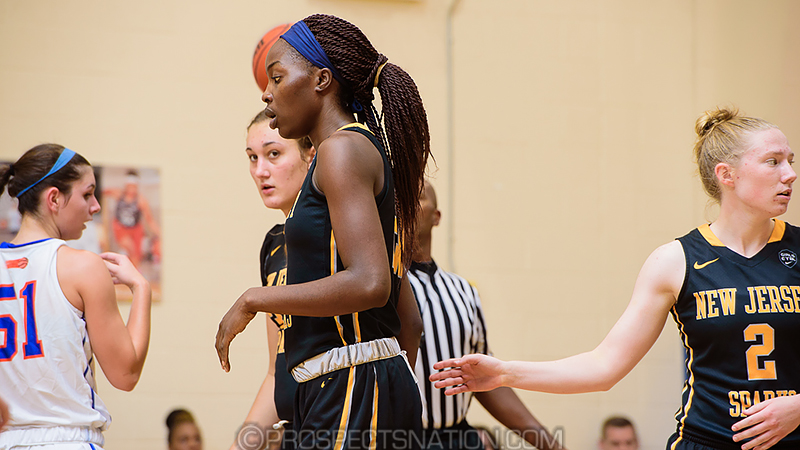 Blessing Ojiofor took her game to Chipola College which has led to her West Virginia commitment. *Photo by Ty Freeman/2015.
ALBANY, Georgia – Hosted by Lea Henry, the Albany State JUCO Jamboree has become the nation's premier event on the first Saturday of October. Henry's staff assembled more than 30 of the top programs from around the southeast to play in front of more than 150 college coaches and scouts. Here are three players who stood out during the day:
Ricka Jackson of South Georgia Tech commits to Texas Tech
MY TAKE: Jackson is a slashing option on the perimeter. She showed that she's a willing attacker off the catch to the rim. Jackson is also a legit option as a defender. In that regard, she was one of the best available wing prospects in JUCO this season.
Georgia Gayle of Northwest Florida State commits to Central Florida
MY TAKE: Gayle is a big wing standing right at the 6-foot mark. In this evaluation, Gayle showed on a loaded Northwest Florida roster that she can consistently shoot the outside shot. She has the size, ball handling ability to play either wing position and possibly some "small ball" as well.
Blessing Ejiofor of Chipola College commits to West Virginia
MY TAKE: At 6-4, Ejiofor has size that can't be taught. She is still developing her skill set on both ends but is one of the more physically gifted post players in JUCO basketball this year. She'll get plenty of reps to prepare for Morgantown by manning the middle this season for one of the country's premier programs.

Brandon Clay serves as the WNBA Director of Scouting for ProspectsNation.com and owns The JumpOffPlus.com International Report, which is picked up by more than 150 colleges and universities nationwide. He serves as the Executive Camp Director for the Elite Basketball Academy Camps. He serves on the Naismith Trophy Men's / Women's College Player of the Year Academy and is chairman of the HS Boys / Girls Board of Selectors and is on the McDonald's All-American Selection Committee. He also is the publisher of PSBPopCulture.com.