Tip-Off Classic: Four To Know
Posted
10 years 7 months ago
Some of the country's best prospects will be just outside Atlanta, in Suwanee, Ga., for the Peach State Basketball Tip-Off Classic. Last year's event saw the Carolina All Stars and the Georgia Hoopstars go head to head in one division championship while the West Virginia Thunder and the Georgia Pistols battled in the other. This year's Tip-Off Classic should be as deep as any in years past with an abundance of individual talent sprinkled throughout the event.
Here is a look at four of the storylines that we will be looking for in Atlanta during the April evaluation period.
Deep Club Programs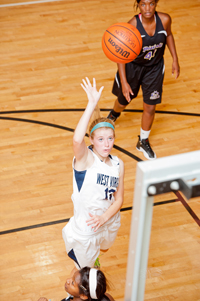 '14 ELITE 100 watch Jenna Burdette.
*Photo by Ty Freeman.
There are an abundance of summer programs with top talent on their "elite" team and then a drop off at the younger age groups. This weekend in the Greater Atlanta Area, college coaches and fans will be able to look at some of the strongest top down programs in the country with clubs like the West Virginia Thunder, Tennessee Flight, Philly Freedom Stars, Blue Star Florida, Georgia Hoopstars, Georgia Exposure and Carolina All-Stars all bringing multiple teams to Atlanta with talent on their elite and in their "farm system". The Thunder for example have an "elite" team with top 2014 prospects Mychal Johnson, Jenna Burdette, and Griffin Dempsey, while their 2016 group could be even deeper as it is led by multiple BCS Conference-caliber prospects including Shayna Harmon, Taryn McCutcheon, and Lexie Barrier.
The Hype Kid
It's a phrase we've coined for the kid that jumps on the map and garners national attention because of her play during the April evaluation weekend – the hype kid.
Two years ago it was Tatianna Jackson and Jasmine Jenkins. Both players had a couple of mid majors express interest before the April evaluation period, but after strong weekends in the Spring and then quality play in the summer both Jackson and Jenkins were on high demand from a recruiting standpoint. Ultimately Jackson, who had multiple BCS offers in the summer of 2011, decided to pick UT-Chattanooga, while Jenkins signed Vanderbilt over Georgia and Clemson.
Last summer it was Brianna Richardson who became one of the most highly sought after prospects in the country after a strong April weekend last year. She signed with Mississippi State.
If history is any indicator this year will give us another instant hype prospect. It could be Jasmine Cincore, a 5-8 guard or Amber Holmes, a 5-8 point guard, both from Memphis, Tenn. It could be Chelsea Woods, a 6-0 forward from Philadelphia, Pa., or a truly new face on the scene.
Size And Post Play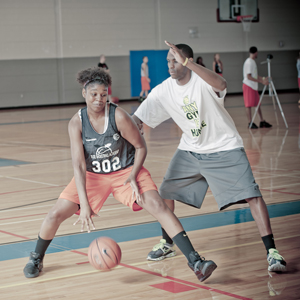 '14 ELITE 60 post Erin Garner.
*Photo by Ty Freeman.
Whether it's class of 2014 post Erin Garner of the Philly Freedom Stars, Ivy Aktism of Deep South Elite or 2015 prospects Victoria Harris of Lilburn, Ga., Mone Jones of Durham, N.C., and Kelsi Mahoney of Concord, N.C., there is an abundance of quality bigs set to be in Atlanta this weekend for the Tip Off Classic.
Garner is a 6-foot-4 post player being recruited by schools such as Texas A&M, Memphis, Georgia Tech, Northwestern, and Dayton. Atkism, a 6-1 forward, has North Florida and Western Carolina in the mix. Jones is a 6-3 forward who is highly sought after by programs like Notre Dame, Duke, and North Carolina.
That and we've not mentioned Katelyn Lee, a teammate of Atkism's on Deep South Elite. The 6-3 junior post has an offer from Alabama heading into the weekend.
Live Streaming On iHigh
For all of you who can't be at the Suwanee Sports Academy to watch the games this weekend, iHigh will broadcast a number of the best match ups from the weekend live and on demand. Go to the Peach State Basketball page of the iHigh website. It is a great opportunity for coaches and fans to see some of the best prospects in the country from their home or office. Follow @KeilMoorePSB
Moore is the National Director of Scouting for the JumpOffPlus.com National Scouting Report. He can be reached at keil@prospectsnation.com.