Tip-Off Classic Underclassmen
Posted
1 month 4 weeks ago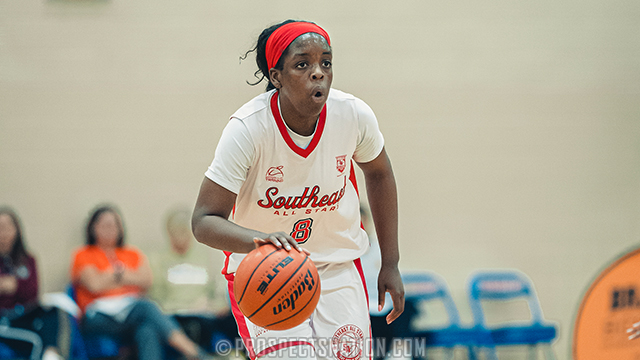 Gabbie Grooms used the Tip-Off Classic to jumpstart her recruitment. *Photo by Anthony Lugardo.
BIRMINGHAM, Alabama -- The Brandon Clay Scouting Tip-Off Classic saw some elite talent from across the Southeast competing in Birmingham during the first live period of the 2022 calendar year.
Class of 2024 guard Gabbie Grooms (GA) led the way for Southeast All Stars on the weekend, earning an offer from Georgia Tech in the process. Grooms is a dead eye jump shooter from the outside with an elite mind for the game.
Her backcourt mate for the All Stars, Tianna Thompson, added a Florida State offer after her play during the event. Thompson dislocated a finger on Friday night and came back Saturday and Sunday to finish this weekend out strong.
Schools were out in full force to watch class of 2024 guard Terren Coffil of Lake City Pride (LA) have herself a weekend. Head coaches from Houston, Louisiana Tech, Southern Miss and UL-Monroe all pulled up.
Class of 2024 guard Trinity Vance (SC) of Upward Stars 3SSB showed and proved during an eval back in the school season. She was in go mode throughout the weekend as Charlotte, NC State and Wake Forest all watched her.
Keep a close eye on Class of 2025 forward Kylee Kitts (FL) of Southeast All Stars. She has all the potential and upside to be an Elite 60 ranked player.
Class of 2025 frontcourt prospect Janaye Walker (GA) of Porter Sports has the tools to be a real force on the inside over time. Walker's physicality is an asset.
Speaking of the future, it's bright for both of the All Stars Class of 2026 guards Kate Harpring and Taryn Thompson. Playing with and against some of the country's top 2023 and 2024 recruits, the young guns each earned their first scholarship offers from Nell Fortner's Georgia Tech staff in the process.

Brandon Clay serves as the Director of Scouting for ProspectsNation.com and owns The BrandonClayScouting.com Evaluation Report, which is read by more than 200 colleges and universities nationwide. He also serves as the Executive Skills Director for the Brandon Clay Scouting Academy Series.