TOC 2018 Lasting Impressions
Posted
4 years 9 months ago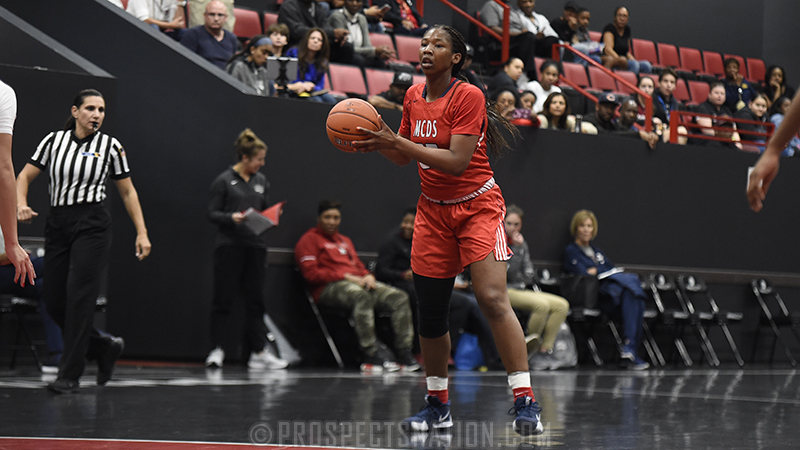 Koi Love was a big part of her Miami Country Day team's run to a championship in the toughest high school tournament in the country, the Nike TOC. *Photo by Chris Hansen.
PHOENIX, Arizona – While it wasn't expected, it sure was impressive to see Miami Country Day School (Fla.) run the gauntlet in the Arizona desert to win the top division of the Nike Tournament of Champions. That four-game stretch led to wins over the top rated team coming into the tournament, St. John's College Prep (D.C.), a super talented New Hope Academy (Md.), battle tested Long Island Lutheran (N.Y.).
It was a pre-TOC loss to Tampa Bay Tech (Fla.) that is keeping some polls from putting Country Day No. 1 in the country, but with more marquee matchups in the northeast and back home in Florida in New Year, an undefeated run the rest of the way would make for a compelling argument for the mythical national title.
FEATURE PLAYERS
Having signed with Vanderbilt last month, class of 2019 forward Koi Love of Miami Country Day is putting together a banner senior campaign before heading to the West End next season. She played with the type of activity and energy that makes voters for postseason All-American games take notice. Love has proven at multiple Elite Basketball Academy showcases that she is not going to back down from anyone. That was the case again here.
Like Love, Class of 2019 center Angel Jackson of Salesian (Calif.) made her case to be represented in multiple postseason All-American games with her play here. Jackson, who has signed with Southern California, continues to display a unique blend of traditional post size with the ability to run the floor and make plays facing the rim offensively. On the other end, Jackson consistently changes shots on opposing slashers.
Class of 2019 post Malu Tshitenge-Mutumbo of St. John's College HS (D.C.) has emerged as one of the top interior threats on the East Coast. When the future North Carolina Tar Heel was active around the rim, she made it difficult for opposing players to attack to score. Mutumbo continues to work on polishing her offensive skill set even hitting a faceup 17-foot jumper here.
Sophomore Brooke Demetre of Mater Dei High School (Calif.) has a unique and versatile game. Where the forward position is quickly becoming outside-centric offensively, the 6-2 Demetre is a throwback to the inside-out player that is hard to match up with. She can spot up in the corners, come off a pin down screen or post up and score. She is a creative coach's dream with all the ways she can make players. Teaming her with the high energy point guard play of Cal signee Cailyn Crocker makes the Monarchs a fun team to watch this season.
There was a lot of buzz around the nation's No. 1 player, Haley Jones, and for good reason, but the next wave of talent at Archbishop Mitty is on its way paving the way for the Monarchs next run. Throughout the tournament you could see the confident play of junior point guard Ashley Hiraki and the savvy playmaking of sophomore Hunter Hernandez. With last year's senior class gone, look for the recruitment of Sue Phillip's underclassmen to heat up this season.
AROUND THE RIM
Keep an eye on emerging frontcourt prospect Kayla Blackshear of Lake Highland Prep (FL). She made her presence felt at the PeachStateBasketball.com Power 48 last July. Her school coach, Al Honor, has a lineage of Division One players who have come out of LHP including Destinee Walker, Jordan Lewis and Jiselle Havas.
Nat Marshall of Christ The King (N.Y.) started taking her game up a notch at the PeachStateBasketball.com Summer Invite last July with Exodus PSB EYBL. She keeps going up and proved that here again with another quality showing for her school team.
Beaverton (Ore.) point guard Mary Kay Naro is one of the most intriguing underclassmen in the Pacific Northwest. The 5-11 sophomore has terrific size for the point guard position and is a fluid athlete. She played with strength and confidence here and she has two-and-a-half more seasons to continue to develop.

Brandon Clay serves as the WNBA Director of Scouting for ProspectsNation.com and owns The JumpOffPlus.com International Report, which is picked up by more than 150 colleges and universities nationwide. He serves as the Executive Camp Director for the Elite Basketball Academy Camps. He serves on the Naismith Trophy Men's / Women's College Player of the Year Academy and is chairman of the HS Boys / Girls Board of Selectors and is on the McDonald's All-American Selection Committee. He also is the publisher of PSBPopCulture.com.

Chris Hansen is managing editor of ProspectsNation.com and serves on the McDonald's All-American and Naismith Trophy selection committees. He was a co-founder of and the national director of scouting for ESPN HoopGurlz from 2005 until 2012 and is the director of the Check Me Out Showcase and ELITE is EARNEDevents. He can be reached at chris@prospectsnation.com.