TOC Champions League Finale
Posted
4 months 1 week ago
CHICAGO – The Champions League, a new basketball circuit powered by the Nike Tournament of Champions, concluded its inaugural season at McCormick Place. The first year culminated in the 17U Champions League finale live on ESPNU right after the Nike Girls EYBL crowned its champions, the Cal Sparks.
CHAMPIONS LEAGUE
Champions League Final – 17U
CHAMPION: Sanford Sports
RUNNER-UP: Southeast All-Stars White
Champions League Final – 16U
CHAMPION: Missouri Phenom
RUNNER-UP: Essence Prime
Champions League Final – 15U
CHAMPION: Sanford Sports
RUNNER-UP: All Iowa Attack
The CL Finals for the 17U division saw seeded bracket play after some terrific matchups during the April and May viewing periods. The teams to the East competed at the historic Boo Williams Nike Invitational in Hampton, Virginia, while out west teams played at The Spring Classic powered by the TOC in Mesa, Arizona. Midwest teams showed out at the Attack May Madness in Ames, Iowa, including the CL 17U Champion Sanford Sports Black who ran the table.
Behind the terrific play of Katelyn Vasecka and Emilee Fox, Sanford Sports shot out to a big early lead and cruised to the trophy over the Southeast All Stars White. Ironically it was a rematch of an exhibition game from earlier in the week which saw Sanford escape with a two-point win.
But in the championship the South Dakota-based crew left no doubt that this was their moment and after surviving a 32-team single elimination bracket it was an impressive way to crown the first Champions League title.
Some bright spots included a double-overtime thriller in the first round between a loaded Player First team out of San Antonio, Texas, and Seattle-based Team Stuck. Team Stuck would advance to the quarterfinals after that 61-58 win where they had to overcome the No. 11 player in the 2024 class, Arianna Roberson, as well as a host of other talented rising seniors like Chloe Mann, Vivian Franklin and Kamryn Griffin. Team Stuck got terrific play from Gia Powell and Aniya Hooker.
Southeast All Stars had such a strong weekend the White team had to knock off the Red team in overtime to make it to the Final. And those two teams didn't even include one of the top underclassmen in the country, Kate Harping of Atlanta, Georgia, whose SAS Black team made it to the round of eight.
Sagebrush Hoops Black came into bracket play as one of the favorites from the West after terrific showing at both the EIE Spring Invitational in April and the TOC Spring Classic in May. Behind Lauryn Madsen, Chloe DeHaro and Aubrey Herrin, Sagebrush made it to the semifinal round before running into eventual champions Sanford Sports.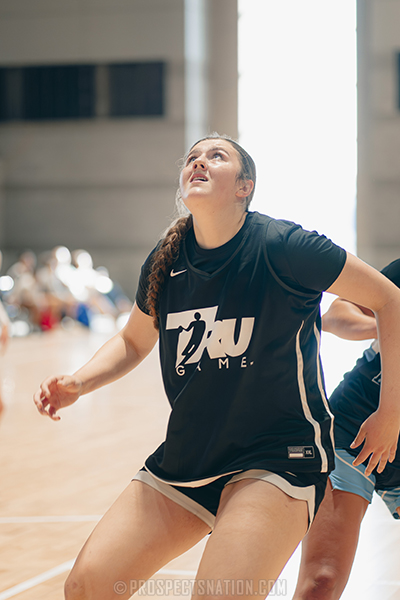 Layla Hayes of Alaska TruGame.
*Photo by EliteyeMedia.Another program drawing droves of college coaches to their games was Alaska TruGame 17U. Post play runs a premium and 2025 interior standout Layla Hays had an incredibly consistent tournament from first tip to last game. Her recruitment exploded on the heels of her play with TruGame.
The squad from New England, the Mass Huskies, had a terrific showing as well. The play of Alanna Phillipo, a Bryant commit, and Cecilia Kay, an American commit, complemented stellar performances from Hannah Grudzien, a 2025 from Wilbraham and Monson Academy, and standout 2024 Shea Montague from Central Catholic.
Throughout the 2023 season, Cap City Ballers were one of the League's deepest teams. Dylan Wood can really shoot the ball from the outside. Aniyah Foster is a creator off the bounce and Amirah Washington is capable of doing a little of both. And you can't talk about Cap City without mentioning Sira Theinou who puts a ton of pressure on you in transition and as a slashing scorer in the halfcourt.
SW Premier made it to the round of eight behind stellar play from a pair of 2024's Ava Pautz of Phoenix, Arizona, and Jocelyn Chavez of Surprise, Arizona. Savvy play from Isabella Majarucon of Glendale, Arizona, and Maureen Ulrich of Scottsdale, Arizona, made for a great run in Chicago.
VK Hoops from British Columbia, Canada, had a resurgent summer. After struggling a bit in the Spring, our neighbors to the north got it rolling in Chicago. After dropping a tight first round matchup to the Cal Stars, VK never found an L the rest of the tournament, winning the back side of the bracket. Do-it-all guard Avery Sussex of Port Coquitlam, B.C., was as good as her reputation and the team got a boost from Maya Jurosevic of Vancouver, B.C.
The younger divisions of the Champions League brought plenty to the table as well. Colorado Hoopsters 16U team got plenty of attention, starting with 6-foot-5-inch rising junior Alexandria Eschmeyer of Lafayette, Colorado. Mackenzie Bucker and Aiyanna Perkins of Phoenix, Arizona, with Sophie Morales and Mia Dipuccio of Chandler, Arizona, were a dynamic core for Southwest Premier 16U.

Chris Hansen is managing editor of ProspectsNation.com and serves on the McDonald's All-American and Naismith Trophy selection committees. He was a co-founder of and the national director of scouting for ESPN HoopGurlz from 2005 until 2012 and is the director of the Check Me Out Showcase and ELITE is EARNED events. He can be reached at chris@chrishansenbasketball.com.