Posted
5 years 5 months ago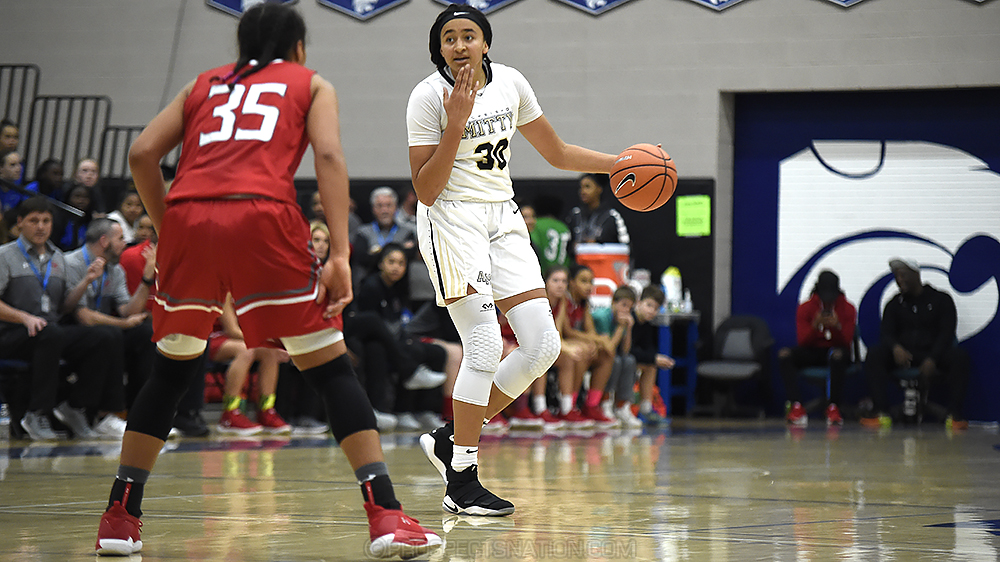 Haley Jones of Archbishop Mitty sets up her team's offense in a matchup against St. John's College out of DC. *Photo by Chris Hansen.
GILBERT, Arizona – The Nike Tournament of Champions is a unique event in the scholastic season in that it carries a lot of weight in determining who the top teams in the country are going to be as well as offering up a terrific setting for player evaluations. Here are some players showing out throughout the course of the event.
Haley Jones – Archbishop Mitty (San Jose, Calif.) – 2019
Jones sits at No. 14 in the ProspectsNation.com ELITE 100. Her versatile play helped lead the Monarchs to a championship in the top bracket of the TOC, including a wins over the former No. 1 team in the country, Riverdale (Tenn.), in the semifinal and No. 2 St. Mary's Stockton (Calif.) in the championship. Her combination of size at 6-1 and fluid athleticism allows her to play four positions and at a high level. She sees over pressure, can be physical at this level on the interior, making her a matchup problem no matter who you throw at her. And with a talented supporting cast, including Penn State bound Karisma Ortiz and San Diego bound Nicole Blakes, utilizing those mismatches is almost seamless.
Madison Campbell – Clovis West (Fresno, Calif.) – 2019
This 5-foot-11 combo guard is really shining in her new role as floor leader and scoring threat. She scored well last year when needed but with one of the deepest rosters in the country a year ago, she didn't have the pressure she does now. A Thursday afternoon game with 41 points made quite a statement. Her poise under pressure coupled with not forcing shots to score make her a Power 5 level player.
Alexa Naessens – Germantown Acad. (Ft. Washington, Pa.) – 2018
There's just something about lefties and their ability to score, especially those with the build and strength of a player like Naessens. She is a power wing player who was good in transition Thursday and took advantage of smaller defenders on the block with regularity. Her versatility will due her well at the next level.
Brooke Demetre – Mater Dei (Santa Ana, Calif.) – 2021
Demetre is no stranger to our staff, having attended several Check Me Out Showcases as a youngster, so seeing her come into her own so early as a high school player is no surprise. She has elite size and mobility at the wing position. She's got an automatic turn around jumper and is shooting the 3-ball well. As she adds strength over time, sky is the limit for this freshman.
Shaylee Gonzalez – Mesquite (Gilbert, Arizona) – 2018
If Gonzalez were not an early commit to BYU, her recruitment would have been loaded with Pac-12 and Big 12 schools. Her savvy, court vision and range are all on par with ELITE 150 players. She handles pressure, plays fast, gets to the rim and shoots the long ball. Defensively she fits her team's high risk, high reward, aggressive style.
Yo'Myris Morris – North (Little Rock, Arkansas) – 2018
This 6-2 post showed why so many Power 5 programs were after her this fall. The TCU signee showed her strength on the blocks. She's very patient and difficult to guard one-on-one in the post. She rebounds in her area aggressively and is strong defensively in the post as well. Jonathan Hemingway mentioned her play on the first day as well: Read more.
Grace Berger – Sacred Heart (Louisville, Kentucky) – 2018
Berger was ultra smooth here in Arizona. She did a bit of everything for her Sacred Heart Academy squad but what was most telling was how she handled pressure. Teams were throwing double and triple teams at her and her posture and speed never changed. She saw the court so well and was strong with the ball allowing her skill set to shine.
Azzi Fudd – St. John's College (District of Columbia) – 2021
Much has been made of Fudd's game from an early age, and for good reason; she's incredibly talented. She is the early favorite for the top ranking in 2021 class and her smooth scoring skill set was on display in the desert. She has a graceful way about her even when playing through contact and the strength to finish those plays. Though she gave up several inches and some length to Jones in the match up with Mitty, her willingness to battle with her was telling about her mindset.
AROUND THE RIM
Alisha Davis of Grandview High School in Aurora, Colorado, continues to intrigue as a prospect. The 6-2 forward is a good athlete, solid defender and a terrific rebounder.
Dominque Phillips of Millinnium High School in Goodyear, Arizona, is a 6-0 combo wing who made plays both inside and out. She competed hard on both ends of the floor in the two games we watched.
Madison Conner of Perry High School in Gilbert, Arizona is a slick point guard prospect in the 2021 class. She has a flare to her game and a fearless demeanor.
Shakira Austin, the 6-6 Maryland signee continues to show growth in her poise and effectiveness for Riverdale Baptist. She is just scratching the surface of her potential as she has as much physical and athletic upside as anyone in the 2018 class.
Aislynn Hayes is a major cog for the powerful Riverdale (Tenn.) squad. Hayes showed that she is capable of using her build to take a bump and still complete plays. She can handle the ball in the open floor and push in transition some as well.
Kennedi Shorts is a GCU bound wing-forward for Long Beach Poly. She is slender in build but her quickness and height allow her to be effective as a high post option or as a wing player facing the basket.
Chloe Dworak of Lincoln Christian (Nebraska) is a Creighton-bound point guard. She is gritty and has the mentality of a kid who finds a way to make things happen.

Chris Hansen is managing editor of ProspectsNation.com and serves on the McDonald's All-American and Naismith Trophy selection committees. He was a co-founder of and the national director of scouting for ESPN HoopGurlz from 2005 until 2012 and is the director of the Check Me Out Showcase and ELITE is EARNED events. He can be reached at chris@prospectsnation.com.