Training Academy Spotlight Dallas II
Posted
1 year 10 months ago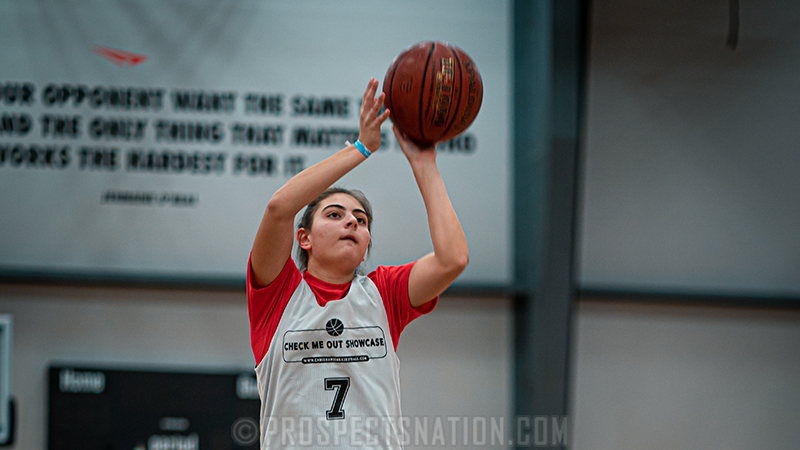 Anna Conza brought her game from Georgia to the Lone Star State to work and compete. *Photo by Anthony Lugardo.
DALLAS, Texas - The ProspectsNation.com National Training Academy is an alliance between Chris Hansen Basketball and Brandon Clay Training to bring a unique training atmosphere to gymnasiums across the country. Our favorite part of the Academy is working with campers during our Spotlight Session Workout. Here are the takeaways from the session:
Delaney Arredondo (San Antonio, Texas), SA Finest – 2026
Arredondo has a chance to be a major player in the Lone Star State as time goes on. She showed a vastly improved confidence level from our Training Academy in Austin to start off June. In that way, there don't appear to be many things inside her skill set that we shouldn't expect from Arredondo as time goes on. She can be an elite defend when she locks in to compliment her offensive tools and feel for the game.
Conza's game and confidence both seem to have gone up a level since our evaluation in the latter parts of the summer. As she keeps working on her shot release mechanics, more and more of her jump shots fell as a result during drill work and gameplay. Conza has the ability to pick up concepts and footwork instruction quickly giving her an edge on most of her counterparts at this same stage.

Rieyan Desouze (Glenn Heights, Texas), CyFair Nike – 2026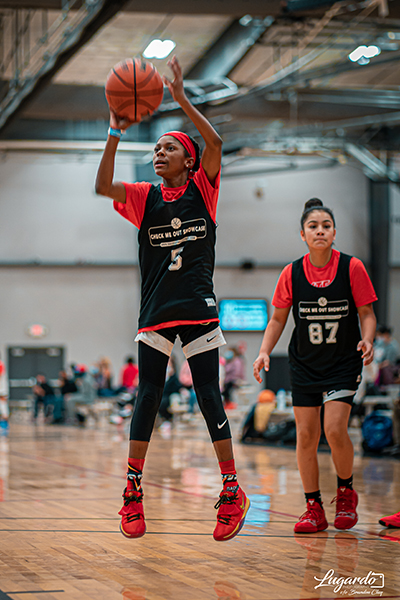 Rieyann Desouze of CyFair Nike
Elite. *Photo by Anthony Lugardo.Desouze has lightning quick speed at the point guard position. She can become more vocal on making sure her teammates are on the same page with her. In that way, Desouze has the chance to be an elite level threat similar to what De'Mauri Flournoy (Vanderbilt commit) has become over the years. Our staff is excited to keep tabs on Desouze's development as a playmaker and shot creator.

Jenna Hopp (Glennwood, Iowa), Nebraska Attack – 2023
Hopp has the size and skill set to be a major factor in the class. She showed in this elite setting the skill to be a shot maker as well as a quality position defender. Hopp's willingness to be coached did not go unnoticed by our staff. Former Big XII All League star, Maddie Manning, remarked that "Hopp has a world of potential going forward based on what we saw here in Dallas."

Ananda Jenerson (Arlington, Texas), ProSkills – 2025
Jenerson walked into the Drive Nation facility with the same confidence that she displayed during our Spotlight Workout in June. Her ability to make a shot is at a really high level for a middle school aged guard. Her mechanics and release are both consistent given her age. Jenerson is continuing to hone her craft on when and where to shoot the ball, assert herself offensively. That aspect of the game coupled with a desire to be top notch on D and the sky is the limit.
Stanley's game continues to evolve from our time in Austin this June. She is a turning into a consistent shooter with the IQ to be a contributor on both ends of the floor. As she continues to mature physically, we fully expect her game to grow with it. Like most young guards, becoming a high level defender and communicating on a consistent basis are areas from growth in her game.

Brandon Clay serves as the Director of Scouting for ProspectsNation.com and owns The BrandonClayScouting.com Evaluation Report, which is read by more than 200 colleges and universities nationwide. He also serves as the Executive Skills Director for the Brandon Clay Scouting Academy Series.