Upperclass BCT Northeast Spotlights
Posted
2 years 5 months ago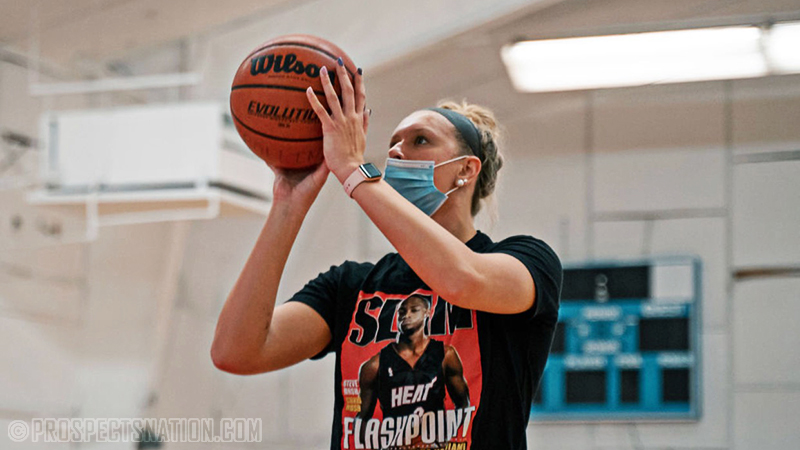 Duke commit Shay Bolin made the trip from Raynham, Mass., to train before the Northeast All-American Camp. *Photo by Anthony Lugardo.
NEW JERSEY – The Brandon Clay Training Spotlight Sessions in partnership with Brandon Clay Recruiting are designed to provide an add-on opportunity for some of the region's elite to get shooting instruction prior to a major individual event in the area. This time the sessions were held just before the Northeast All American Camp presented by SLAM. Here's a look back at the upperclass session:
2022 Checklist
For a player who opted out of the school season to let her body get much needed rest, Bollin looked like she hasn't missed a beat. She is turning into a consistent fixture at Brandon Clay Training Academies and showed growth in her mechanics from our work together last fall. At her best, Bollin projects as a versatile play maker who can score in the mid post, trail forward slot and even create off of the bounce.
Leyla Castro (Old Bridge, New Jersey), Rutgers Prep
Castro showed a compact shooting motion here with good range to make shots over and over from the outside. Her shot is smooth and is already converting at a high level in catch and shoot chances. Castro has the downhill first step to allow her to be an in-game shot creator off the dribble too.
Kendra Hill (Hamden, Conn.), Hamden Hall Country Day
When Hill locks in, sticks the landing and doesn't fade off of her jumpshot, she has a good chance of making most of what she takes. Armed with a compact build, Hill is able to play through contact when need be to make shots as well. Look for her footwork over the next 12 montha to go a long way in determining how effective of a next level shooter she becomes.
Amelia Ogilivie (Hyde Park, Mass.), Boston Latin
Ogilivie showed nice size at the guard position. She's got some bounce in her legs coupled with a quick release to her shooting mechanics. ProspectsNation.com National Director of Scouting Jonathan Hemingway says that "Ogilivie has all the tools a guard needs to be effective at the next level. I won't be surprised at all to see her have success shooting it in college."
Paris has the type of frame that should allow her to keep growing at the next level. She has a compact release on her shooting motion with the skill to be an effective floor spacer off the catch and shoot. As Paris keeps working on her first step to the rim, it'll be increasingly harder for elite defenders to guard her.
Paiyton Penn (East Windsor, New Jersey), George School
Penn has the bounce and game to be a true mid-range shooter to score. In the modern era, finding kids like Penn become harder with each graduating class. She's got some elevation to her shot with her willingness to pull the 15 footer being a separator right now.
Amber Silva (Raynham, Mass), Bridgewater-Raynham Regional
Silva is a slight framed guard who has all the tools and IQ to be a next level kid. She showed here that she is a guard able to make positive things happen with her shooting skill from the outside. If anything, Silva probably needs to assert herself a little more on the offensive end to get quality shot attempts while forcing defenses to focus on her shot making.
2023 Checklist
Keeley Baglio (Worcester, Mass.), Bancroft School
Baglio has a chance to be a modern day big wing with size and jump shooting capabilities. She has the range to keep opposing defenders honest. Like most players who shoot it as well as Baglio does, the challenge becomes reading when to catch and shoot versus when to attack the defenders momemtum downhill instead for an easy layup or dropoff pass.
Bre Camaj (Katanah, New York), Saint Francis Prep
Camaj has a combination of size and bounce on the wing that gives her long term versatility. That said, Camaj is in a place where she'll have to dial in to really take full advantage of that ability. The key to her longterm development will be in her willingness to slow her footwork down to ensure crisp movements, consistent results.
Rayne Durant (New Haven, Conn.), Hamden Hall Country Day
Durant has real size in the frontcourt. If she can master the 15 to 17 foot jumper to keep opposing defenders honest, Durant has a chance to be a recruit that schools on multiple levels of play are tracking for a potential roster spot in 2023-2024. Her upbeat demeanor throughout the session leads us to believe adding that skill is a definite possibility.
Izzy LeBron (Selden, New York), Holy Cross
LeBron showed that she's a capable spot up shooter with the understanding to also shoot the one bounce pull up effectively as well. For LeBron, continuing to add to her overall shooting package off of the move will only elevate her game to another level. She has the game to be a shot maker at multiple levels.
Casey Miller (Middlesex, New Jersey), Bound Brook
Miller is a slight framed guard with a fantastic aptitude and a skill set that has all the makings of a next level producer. She can shoot it though still needing to stretch the floor more consistently over time. Miller has the toolbox to keep growing her overall game plus keep the floor spaced.
Kaitlynn O'Brien (Lynbrook, New York), Home School
O'Brien came right out of the gate in the session showing the ability to make open shots with a solid shooting pocket to start her foundation. As she continues to add physical strength, her shot will become more and more consistent from long range. The table is set for O'Brien to be a consistent threat from deep.
Dallas Pierce (New Castle, Delaware), Sanford School
Pierce has great size and strength at the wing position for an underclassman. With an offer already on the table, she still came into the session with a laser like focus. Pierce possesses the ability to maintain both high level footwork and a soft touch on her shot. Her size at this stage leaves the door wide open for her future production.

Brandon Clay serves as the Director of Scouting for ProspectsNation.com and owns The BrandonClayScouting.com Evaluation Report, which is read by more than 200 colleges and universities nationwide. He also serves as the Executive Skills Director for the Brandon Clay Scouting Academy Series.